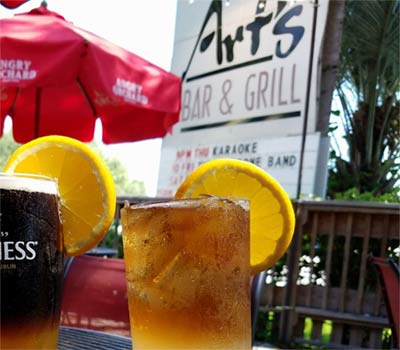 This February will mark 17 years since Kent Frits took over this local hangout from a guy named – are you ready? – Art. A self-described restaurateur-turned-bar owner, Kent has worked for almost a quarter-century for corporate restaurant chains such as Red Lobster and Chili's. When Chili's asked him to move one more time, he and his family declined because they had found their home in Mount Pleasant.
Guests at Art's Bar & Grill will usually find Kent and his wife, Candace, side-by-side in the kitchen, turning out fresh, local fare.
Kent takes well-deserved pride in leading the charge to support locally-sourced seafood. If shrimp is on the menu, it came straight off a boat at nearby Shem Creek. The oysters are also local, from not far away in Bulls Bay. His special relationship with sea-loving families has inspired him to sponsor many fundraisers. For instance, when a storm has damaged a vessel or a fisherman or family member requires extraordinary medical care, Kent is there to lend a helping hand. He also has a trusted kinship with local shrimpers and oyster purveyors.
Art's is the local place to go for oyster roasts. Whether for a charity fundraiser or just a typical weekend, Kent is roasting oysters from October through April. In fact, he is the largest procurer of local oysters in South Carolina. He manages to go through some 1,600 bushels annually, contributing over $60,000 back into the local economy on oysters alone.
Art's also has some of the best wings anywhere, along with burgers, sandwiches, salads and other seafood items. And it you help feeding a crowd, Art's prepares party platters and is a member of Uber Eats – so you can have your order delivered.
Art's Bar & Grill is a memorable piece of East Cooper lore.
Visit Art's at 413 Coleman Blvd. in Mount Pleasant, or call 843-849-3040 to place your order.