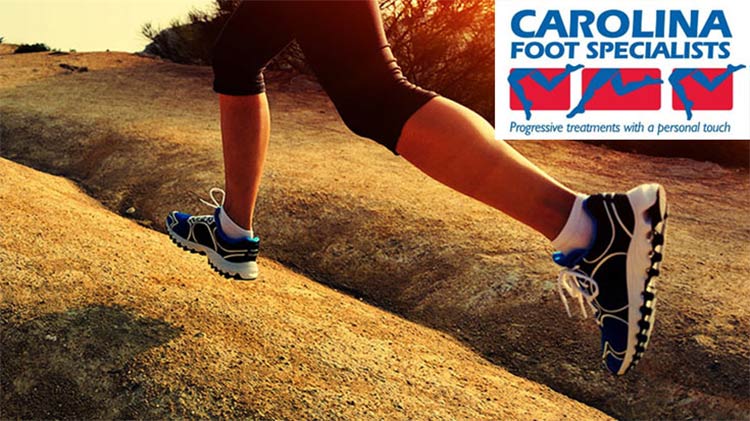 As a native of Charleston, Dr. Andrew Saffer looked forward to moving back to the Lowcountry after completing his podiatric medical training in Ohio.
When he returned, he joined forces with Dr. Adam Brown at Carolina Foot Specialists in 2006 with a desire to expand the practice into Mount Pleasant because of the town's growth potential and active population.
"Our practice has been received well in the Mount Pleasant community," said Dr. Saffer, who was voted Best Podiatrist by the readers of Mount Pleasant Magazine. "Patients recognized from the onset that I have a passion for my specialty. We have steadily grown our office over the past 12 years."
Dr. Saffer integrated his personal experiences and formal training into his practice.
"I suffered numerous foot injuries growing up playing sports, which gives me a good perspective on what my patients go through when they visit me. And our team ensures top-notch customer service by allowing adequate time to evaluate and treat each individual patient and laying out a detailed treatment plan to resolve various foot ailments."
Carolina Foot Specialists was one of the first podiatric medical practices to offer in-house digital X-rays and diagnostic ultrasound technology, which provides patients with fast and convenient results the day of their office visit.
"Most foot conditions that we treat can be resolved conservatively, but, if surgery is required, our specialists are board-certified in reconstructive foot surgery. We stay up-todate in the latest techniques and advances in foot surgery."
Dr. Saffer also offers a noninvasive surgical treatment in the office setting for chronic heel pain called EPAT.
"This technology sends sounds waves into the heel to break up scar tissue, increase blood flow and allow the body's healing mechanism to heal chronic heel pain," he explained.
Carolina Foot Specialists is located at 501 Bramson Court in Mount Pleasant. To learn more, visit www.carolinafootspecialists.net or call 843-654-8250.
By John Torsiello