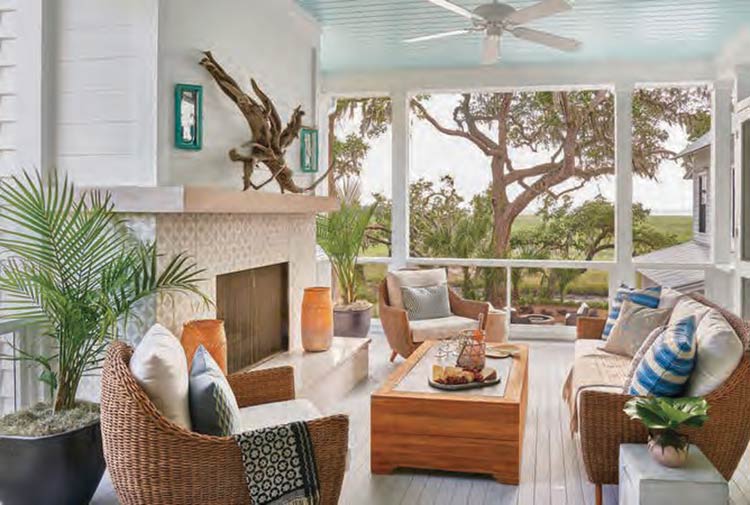 Creativity takes many forms, and Jan Clouse enjoys the opportunity to be creative within her business. As proprietor of Carolina Lanterns & Lighting, Clouse visits many spaces, both indoors and out, that would benefit from the warm light of a custom gas or electric lantern. Though she began her thriving business here in Mount Pleasant – and continues to earn annual respect and accolades from readers of Mount Pleasant Magazine in the Best of Mount Pleasant – Clouse has never stopped there. Her designs are seen in many other places, and the reputation of her business is glowing in every corner of the architectural world.
"About 30 percent of my business is local, and 70 percent of it is national and international," she pointed out.
Many of Clouse's clients discover her work while flipping through the pages of reputable magazines such as Coastal Living and Southern Living. Other times, it's not within the magazine's actual pages but inside what is known throughout the industry as an "Idea House" – a place built with custom architecture and filled with beautiful, decorative touches to reflect businesses endorsed by the publication. Clouse's custom lanterns and lighting touches have shown up in these Idea Houses more than once – in the Coastal Living Idea House located in Habersham, South Carolina, for example, the cozy fireplace on the screened porch was flanked by two beautiful, turquoise lanterns that featured distressed mirrors at the back, allowing an exceptional, reflective glow whenever they're lit. They were created specifically for the space.
"Projects like that are what I love to do most," Clouse commented. "It's so much fun to go out there and make something special."
When it comes to meeting people, finding out what they want and creating the finest custom lantern or other decorative piece for the space, Clouse values the entire process. She shared how a few lanterns always travel with her on each journey so they can be introduced to new clients.
"I'll bring a lantern along to get an idea of scale and everything else," she explained. "When I went to Crane Island, I brought three lanterns with me. They rode all the way down to Florida."
One of her newest and most engaging projects, Crane Island, a beautiful area incorporated into Amelia Island, is another place Clouse enthusiastically exercises her artistic flair. The logo for the island itself is etched onto the side of each copper lantern that appears in the private community, ensuring that the lanterns are exclusive to the area.
But it isn't all light fixtures these days either. Fans of the quality and design found at Carolina Lanterns & Lighting are also clamoring for one of Clouse's newest additions: wrought-iron posts with a beautiful copper mailbox at the top, a gorgeous way to add curb appeal to any home.
"I'm really having a lot of fun with those," she said with a smile.
Interested in lighting up your home and/or outdoor spaces? Visit www.carolinalanterns.com or call 843-881-4170.