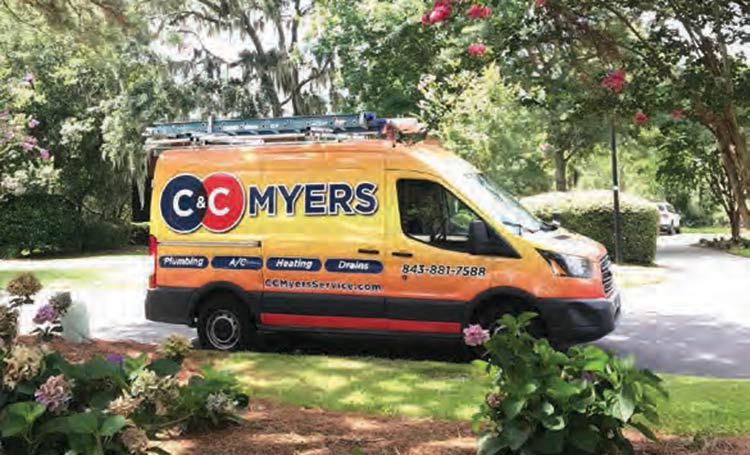 The highly awarded, respected and reliable C&C Myers Heating, A/C, Plumbing & Drains was founded in 1978, and the company's mission is as simple as it is effective – to provide overwhelming quality with outstanding customer service.
Jim Clark is owner of this private and locally owned family business. He credits the adherence to core values for the company's success: "We operate and live by our core values, which we practice with each other and with our clients."
Clark continued: "Our values include safety first for our family and yours, delivering 'wow' service by seeking to exceed every client's expectation, a great place to work – all working together for each other, and, last, demonstrating the highest level of integrity by doing the right thing – even when no one is watching."
With 76 employees, C&C Myers proudly offers services to the tri-county region. Clark has found that customers are attracted to the company because "We talk up our core values; it is not just lip service – we mean it."
"Potential employees are attracted to the company's values knowing that they share similar personal values," he added. "This helps create a business culture that is dedicated to serving our clients at the highest level."
As a complete residential home performance contractor, the company specializes in "taking the knowledge of building science and applying it to solve any home energy concerns." With a degreed mechanical engineer and certified indoor environmental consultant (CIEC) leading the company, these professional designations allow C&C Myers to use building science to discover, design and implement solutions to air conditioning, heating, energy loss, moisture/mold and allergy problems. Their experience and expertise allow them to make sure that "we are not creating another problem by solving the current one."
With the company in business for more than 40 years, Clark has been recognized and featured on NBC, ABC, Fox and CBS as a subject-matter expert. The company's numerous awards include being voted the Best Heating and Air Company for 2016 through 2018 by readers of Mount Pleasant Magazine; Best AC company East of the Cooper by a reader survey in the Moultrie News for nine of the past 11 years; a three-time winner for Charleston Choice Awards by the Post and Courier for the best Heating & Air Conditioning company in Charleston, Berkeley and Dorchester counties; and the Medal of Excellence – a national honor in 2015 for exceptional customer service and performance achieved by the top 15 Bryant dealers in the United States. Additionally, C&C Myers is honored to be vetted by Costco and chosen to be its only installing contractor in the Charleston/Mount Pleasant area.
Open 24 hours a day, C&C Myers Heating, A/C, Plumbing & Drains offers customers the comfort of always being available.
Call 843-881-7588 or visit www.ccmyersservice.com for more information.
By Eileen Casey