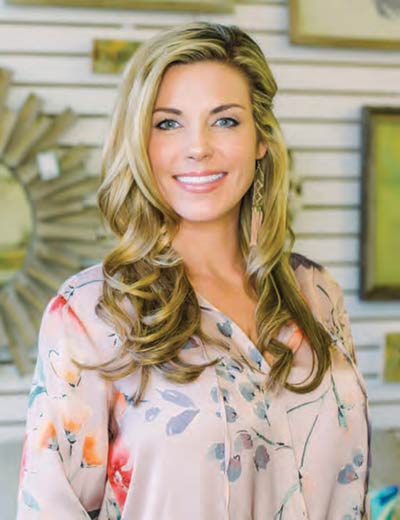 When Angie Balderson initially opened Consign Haven in Mount Pleasant a few years ago, her experience with furnishings and home decor – owed in part to her upbringing in the furniture mecca of High Point, North Carolina – helped cement the reputation of her business right away in East Cooper. Of course, the repeat accolades in Mount Pleasant Magazine's Best of Mount Pleasant haven't hurt either.
PODCAST: Angie Balderson Talks About Haven's Furniture on This Videocast!
Recently relaunched as Haven's Furniture & Home Decor, the well-loved community business is continuing to offer what her customers love best: chic furniture and expert advice on how to make a house a cozy home. And though Balderson said she'll continue to carry gently used designer furniture, she'll primarily offer brand-new pieces, customizable to fit the needs of the individual.
"Because I'm well-connected with manufacturers in High Point, I am able to offer a new sofa for the same price as a consignment piece," she pointed out.
Though Consign Haven started as exclusively consignment pieces, Balderson has reasons to make the change.
"So many times, customers would come in, stating they just purchased a sofa somewhere else and didn't realize I sell new, custom and stock sofas at typically at least half price what they just paid … hence the name change," she explained.
Thus, the additional new location for Haven's Furniture, open as of January, features a much larger showroom – 5,000 square feet, to be exact – and more new items. It will still have a few upscale consignment pieces, but customers can expect about 75 percent of the inventory to be new. Balderson will stock "one of every sofa," and customers will be able to touch and see various colors, fabrics and customizable touches.
"They'll be able to pick the color, the fabric, even the arms and the cushions," she said. "And we'll offer prices that no one else can touch."
So, what about the "home decor" part of the new business moniker? Balderson is looking forward to sharing more of her insight with customers who desire her artistic eye for creating the perfect space. Haven's Furniture offers design services to help make your home exactly what you have dreamed of.
In the 2019 Best of Mount Pleasant awards, Haven's Furniture was awarded in four categories under the name Consign Haven: Best Furniture Store, Best Consignment Store, Best Outdoor Furniture Store and Best Retail Customer Service, while Angie was named Best Interior Decorator.
Angie is both humbled by these awards and excited about the momentum created for her second location.
"New year, new name, new second location," she remarked with a smile. "My goal is to make my customer's home look beautiful at an exceptional price."
Visit one of the two Haven's Furniture locations to see why they were voted best: 1518 N. Hwy 17 or 492 A-B LaMesa St., both in Mount Pleasant.