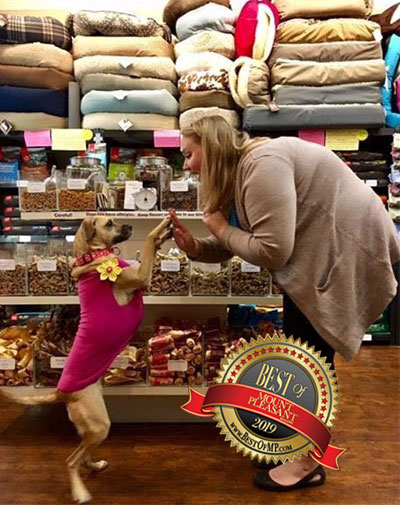 If dogs are man's best friend, then Hairy Winston must be dog's best friend. This boutique pet store, voted Best Pet Store by the readers of Mount Pleasant Magazine, is more than pet friendly.
One recent customer said, "This is absolutely the best pet store ever! Hairy Winston has healthy foods, treats, toys, leashes, harnesses, collars, candles and nontoxic products to repel fleas, ticks and mosquitoes. The employees have a lot of knowledge about their products. … My dog and I highly recommend shopping here." Jennie Dudley, a Mount Pleasant resident, opened Hairy Winston in 2008. She named the store after her hairy dog Winston, whom she always brought to work along with his sister, Sophie, until his passing from cancer in 2015.
"I love the small-town feel of Mount Pleasant," Dudley said. "People with pets are happy people. Our customers are our friends, and we truly want to help them have healthier pets."
Hairy Winston offers safe, healthy products for dogs and cats. The store also includes a self-serve dog wash room with shampoo, conditioner, towels, brushes, combs and stainless-steel grooming tubs for any size dog.
"People love the self-serve dog wash," Dudley said. "It's especially great when you are leaving the beach or a dog park and don't want to bring the sand and dirt home."
Located in Towne Centre, Hairy Winston welcomes dogs, cats and their humans seven days a week.
To learn more, visit www.hairywinston.com or follow them on Facebook and Instagram at Hairy Winston Pet Boutique.