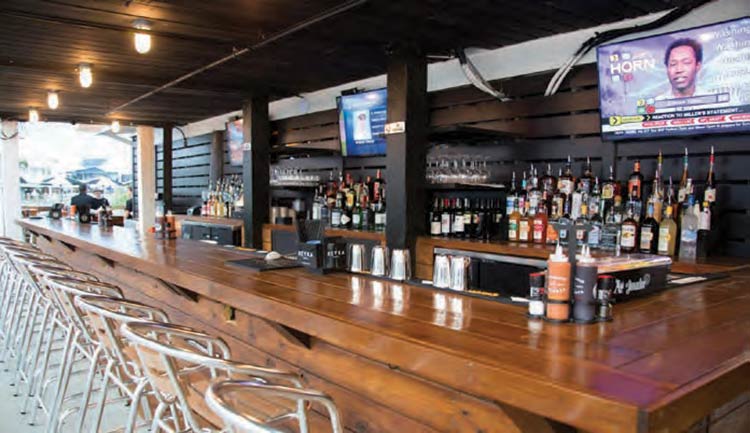 Saltwater Cowboys owners Wade Boals, Brett Yearout and Joel Olindo have created a dining establishment and atmosphere that will keep visitors humming "Happy Trails" for many years to come.
Boals, born and raised in Mount Pleasant, said, "I've never lived anywhere else, and my family has been in the food industry since 1933. We were the first family to do mustard-based barbecue in all of South Carolina. I kept that going through my catering business and now in our restaurants."
Located on beautiful Shem Creek, Saltwater Cowboys opened on March 1, 2017, and recently lassoed a slew of "Bests" by readers of Mount Pleasant Magazine, including Best Place to Take an Out-of-Town Guest, and one of the Best for Outdoor Dining, Happy Hour and New Restaurant. The Travel Channel recently filmed there for "Food Paradise."
Yearout and Boals are childhood friends, and also own The Noisy Oyster both in North Charleston and downtown, as well as Big Billy's Burger Joint in North Charleston.
"Joel is from France and is a co-owner of Saltwater Cowboys only with Brett and myself, and it has been terrific," Boals explained.
The idyllic location and exceptional views offered by Saltwater Cowboys has diners indulging in either the beautifully-appointed indoor dining space or on the large and comfortable outdoor deck. Affordable prices, and delicious, fresh-off-the-boat seafood or smoked barbecue and meats, as well as traditional Southern cuisine and other delectable items, assure that there is a delicious menu choice to please any palate. There is an extensive drink menu as well, with happy hour on tap Monday through Friday from 4 p.m. to 7 p.m.
The large and varied menu offers brunch, lunch and dinner, along with beautiful views, of course, and a bulk menu also provides options for family meals to go. Not forgetting our four-footed friends, there is even a menu for dogs, created in conjunction with Woof Gang Bakery.
Saltwater Cowboys hosts live music throughout the week, so be sure to visit their website for a list of upcoming artists, dates and times. Additional fun includes an all-youcan- eat oyster roast every Thursday and a weekday happy hour known as "5 on the Creek," offering $5 creek snacks and drinks.
As for the origin of the name Saltwater Cowboys, Boals revealed his true grit by stating only that it was derived from a road trip with Yearout to Florida and a big, stuffed fish.
Use the horsepower from your boat, cars, motorcycles or legs and let the wonderful ambience at Saltwater Cowboys remind you to "keep smiling until we meet again."
Saltwater Cowboys is located at 130 Mill St. in Mount Pleasant. For more information, call 843-856-0700 or visit www.saltwater-cowboys.com.
By Eileen Casey