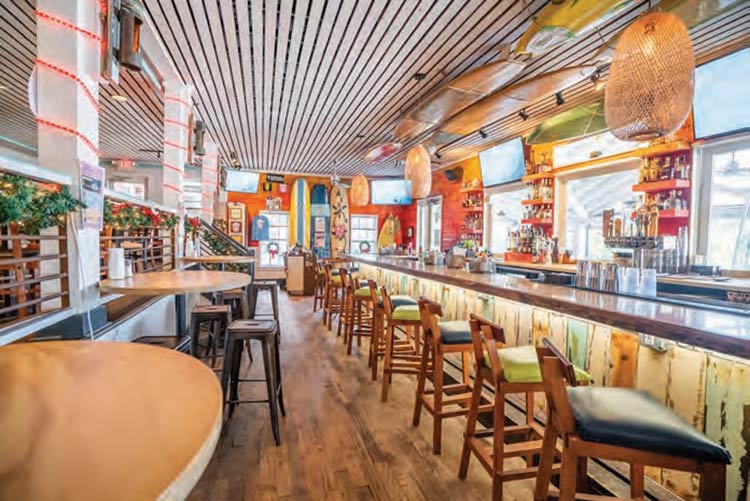 Many restaurants in the Mount Pleasant area say their food is great, but MEX 1 Coastal Cantina can prove it. How? According to the readers of Mount Pleasant Magazine, it's the Best Mexican and has one of the Best Tacos.
When asked about the best taco served at the restaurant, General Manager Morgan Hurley immediately responded, "Definitely the Bangin' Shrimp tacos – lightly fried regional, fresh shrimp with a spicy sauce on top."
And if that isn't enough, all of the mixed drinks are original creations, and the infusions are made with 100-percent agave tequila and freshly squeezed juices.
"It's really pretty when you walk in because you see the fresh fruits soaking in tequila. … We wanted to give customers the best experience with 100-percent agave tequila."
The No. 1 margarita Hurley recommends is the pineapple habanero margarita. With house-infused pineapple habanero tequila, the sweetness from the pineapple and spice from the habanero on the back end, that first taste will have you wanting to take another sip. If you're looking for something a little more light and refreshing, Hurley recommends The Hydrator – Tito's vodka, passion fruit puree and coconut water.
Although MEX 1 is named after the Mexican federal highway that runs along the West Coast of the Baja California Peninsula, the people of the Charleston area can still experience the environment and taste of Baja Mexican cuisine right here on the East Coast.
Hurley has surfed his entire life and traveled around the world, and he wanted to make MEX 1 appealing and surf-focused.
"Our food and brand reflect the cantinas in the Baha area. When you travel to Costa Rica or Mexico, and you're done surfing, you want to grab a cold beer and a couple of tacos. We wanted to replicate that in our restaurant," he said.
MEX 1 currently has three locations: one in West Ashley off of Highway 61, another on Sullivan's Island and a new location in North Mount Pleasant.
"We're just excited to be involved in the community at Park West and to get involved locally in that area. We want to get involved with the community, be a positive outreach and be a great area for customers to go and relax," stated Hurley. "As a community-driven restaurant, the Park West demographic fits MEX 1 a lot. We can get involved with the schools, track meets and summer clubs."
Hungry customers can find a tropical getaway right here in the Lowcountry. Go in, eat and get entranced with the surfing videos – it's better than watching the news or mainstream sports.
"Surfing is a big aspect of our lives. It's a big part of our restaurants' culture. The laid-back, fun vibes are what we want guests to feel."
To learn more, visit www.mex1coastalcantina.com.
By Valerie Smith