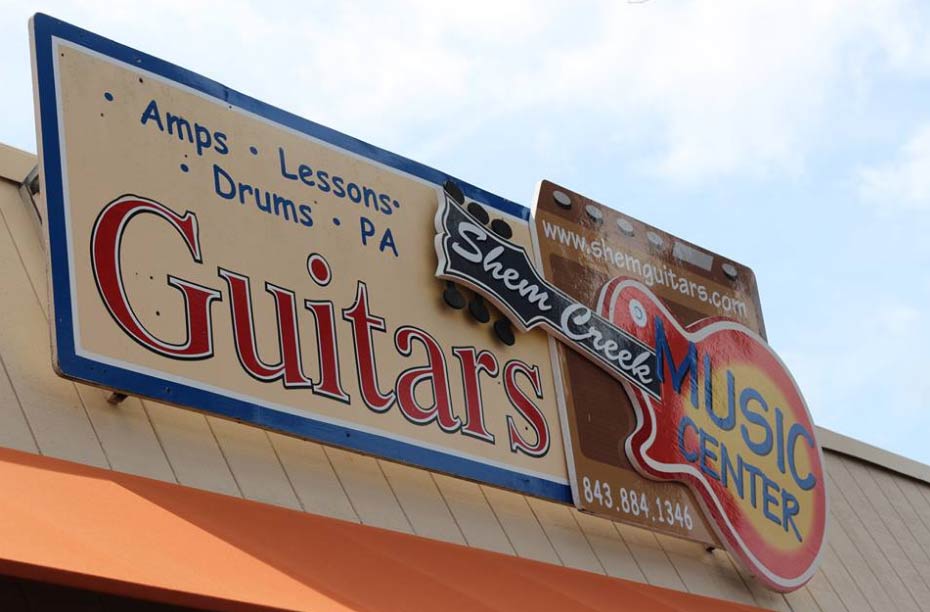 Shem Creek Music owner Phil Thomas knows that a personal touch and homey atmosphere are what set his store apart from others.
Whether someone is shopping for a new or used guitar, looking to take lessons or having a guitar or amp serviced, Shem Creek Music Center treats customers like family, and Thomas makes it clear that he's there for customers seven days a week, all year long.
"They know they can call me, even after hours, and get access to the store or services. Those kind of things – the Amazon world doesn't cover that," he said.
The primary aspect of the services offered at Shem Creek Music is the guitar-repair and setup department, headed up by Dano D'Amelio, a widely known, extremely talented guitar technician who attracts a continuous stream of satisfied guitarists.
Shem Creek Music has been in its Coleman Boulevard location since 2003, but the building itself housed guitar-related businesses in previous decades. And while it originally focused primarily on vintage guitars, the store has grown to include all components musicians might need, such as guitar-related accessories, amplifiers, microphones and much more.
"We've morphed into a rock-band equipment store. If you want to start a rock band, come here," Thomas said.
Guitar lessons are another staple of Shem Creek Music. Musician Eddie Bush, a nationally renowned recording artist who has released 17 original albums, is the lead instructor. Other highly regarded teachers are John Smith, Chris Dodson and Scottie Frier. Bush said he works with budding musicians to develop confidence in their playing skills and discover what they are capable of.
Bush said he enjoys seeing musicians grow and embark on a path of musical discovery.
"I become more of a guide in many ways," he said.
Shem Creek Music is located at 423 W. Coleman Blvd. For more information, call 843-884-1346 or visit www.shemcreekmusic.net.
By Michael Gibbons