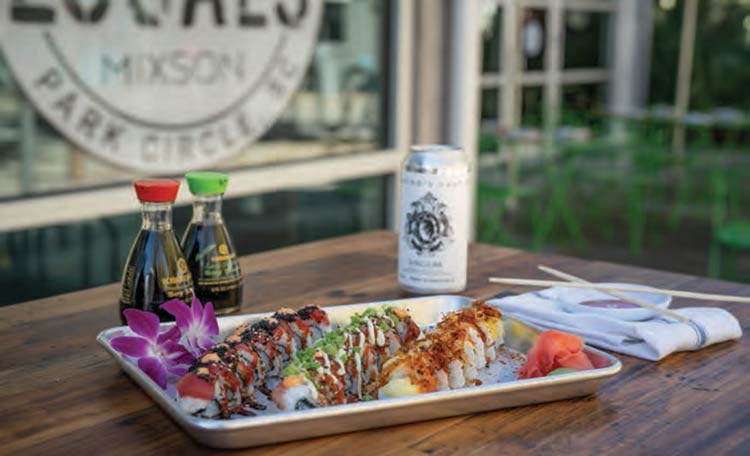 Locals has repeatedly been named the best place for top-notch sushi East of the Cooper, and this year is no exception. With the title of Best Sushi in hand, courtesy of the readers of Mount Pleasant Magazine, the beloved local establishment has opened a second location in Park Circle. While the sushi is certainly one of the main attractions, the unique combination of sushi and tacos in a sports-bar environment is what seems to appeal most to local residents.
"It just makes sense," said Krista Pernell, general manager of the Mount Pleasant location. "To our generation, sushi is a staple, and tacos are the other staple item. I'm not sure exactly why or when it first made sense, but it just kind of happened. And it works."
With the new Park Circle location in the fold, the establishment is able to offer a more extensive menu thanks to a larger kitchen. Head to Locals Park Circle for an incredible brunch experience, or stop by at night for your favorite sushi and taco menu items. Created by Locals partner Corey Lewandowski, executive chef and general manager of the Park Circle location, the brunch menu is an eclectic combination of classic Southern dishes, such as shrimp 'n' grits, and new takes on old favorites, including a dish of strawberries and brie as well as a backwoods chicken biscuit with house Cajun hollandaise sauce.
"Our chicken and waffles is one of our diners' favorite dishes and will eventually transition over to the full-time menu. It's amazing by itself, but, paired with our coffee and donuts cocktail, really changes the game," stated Pernell. "Corey is very, very talented. I don't know where he gets his magic, but he's mastered it in the kitchen, and it shows in his food 100 percent."
During brunch, the restaurant still lives up to its reputation for sushi, replacing rice and seaweed with tots on the breakfast roll, which is stuffed with bacon, brie and scrambled eggs before being drizzled with housemade maple syrup. The bacon brunch roll replaces the traditional sushi roll outside with a Belgian waffle rolled in pearl sugar and loaded with a blackberry compote, cream cheese and chocolate chips.
If you haven't experienced either Locals location yet, plan to make the trip during one of their weekday special nights, which vary by location. Half-price sushi night is a favorite in Mount Pleasant on Monday nights and is a growing phenomenon in Park Circle on Wednesday nights.
"We've always been known for our sushi, and our tacos have continued to be heavy hitters. We're very fortunate to have some seriously talented staff; they are truly the ones that make us successful," said Pernell. "There's something for everybody in what we offer, whether it's food, drinks or live nightly entertainment. Locals is the place where you can come for delicious, high-quality food, tasty local brews and craft cocktails – without needing to throw on your Sunday best. We welcome all walks of life around here. … straight from the office or right off the boat. Our home is your home, and I think people can feel that when they walk in. Because, well, that's just how we roll."
Visit Locals at 1150 Queensborough Blvd. in Mount Pleasant or 4399 McCarthy St. in North Charleston.
By Samantha Connors