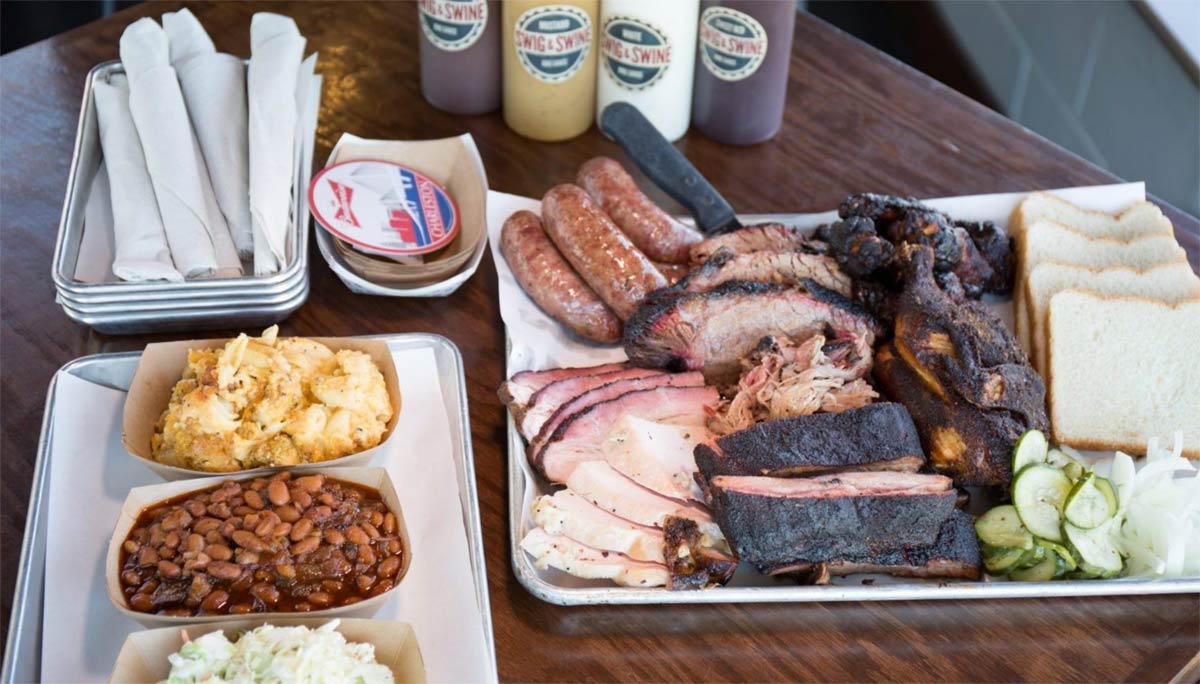 Swig & Swine, recently voted one of the Best Barbecue spots by the readers of Mount Pleasant Magazine, was opened by Anthony DiBernardo in collaboration with Queen Street Hospitality Group in 2013. As both pitmaster and owner, DiBernardo continually explores his passion for authentic, all-wood smoked barbecue, "smoked meat, delectable Southern sides and handmade sauces."
The U.S. Navy brought DiBernardo to the Lowcountry, where he has spent the past 25 years. He started young – at 14, he was a banquet cook. After four years as a cook on a submarine, he spent time at the Blossom Café; as the executive chef at Kiawah Island Resort; corporate executive chef at The Mustard Seed; and operating partner and head chef at Rita's. He also ran a barbecue catering business.
"It's a point of pride for us to cook the best barbecue in the Lowcountry. We smoke our meats slowly, locking in as much flavor and juice as possible. Our custom smokers burn only wood, and we add more logs to the fire every 15 minutes for a continuous burn. Our brisket takes nearly 14 hours to roast to perfection," said DiBernardo.
In partnership with Steve Kish, owner of Queen Street Hospitality, 82 Queen and Lowcountry Bistro, DiBernardo "is a founding member of the Chef Association, a Charleston Restaurant Association board member, a Taste of Charleston and Oyster Festival Chairman," and has a four-decade career making sure the food is great, the hospitality greater and the ambience the best.
If you enjoy barbecue, check out the delectable offerings at Swig & Swine, including pulled pork, beef brisket, smoked turkey, smoked pork belly, house-made sausage, chicken wings and ribs. Wash it all down with one of more than 50-plus craft beers, a wide selection of whiskies, along with wine and liquor selections.
Check out Swig and Swine's location at 2379 Highway 41 in Mount Pleasant. For more information, go to www.swigandswinebbq.com or call 843-416-7368.
By Eileen Casey