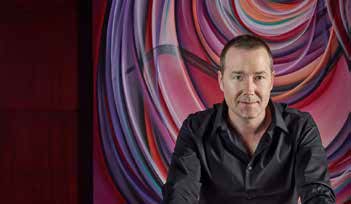 Walking into an eye exam at Waring Vision Institute is not just another one of your usual, mundane clinical visits; rather, it's a visual experience. As you are greeted by fine artwork and a gallery-like atmosphere – an ode to all that the best eyesight has to offer a person – a sense of serenity and quality health care immediately become evident in this practice of George O. Waring, IV, MD, FACS, founder and medical director.
Dr. Waring, previously an associate professor of ophthalmology and director of refractive surgery, founded the Waring Vision Institute in 2017 in honor of his father: "My father was a pioneer in refractive surgery and helped develop LASIK. He performed the first scientific studies in the history of this specialty of refractive surgery, and, due to his and his colleagues' efforts, we are here practicing today."
Offering a vision-correction solution for most people ages 18 and over and voted Mount Pleasant's Best LASIK Surgeon for 2019 and among the Best Eye Doctors in Mount Pleasant, Dr. Waring prides his practice on offering the gold standard in the industry. He stated that the Waring Vision Institute has become a "destination health care opportunity for many across the nation."
Besides staying active in research and development and offering the latest advances in technology, Dr. Waring now is the first – and only – in the state of South Carolina to perform iDesign high-definition custom LASIK (Johnson & Johnson Vision).
At Waring Vision Institute, there is no "one-frame-fitsall" approach to vision procedures, and, because of their ability to individualize per patient need, Dr. Waring is able to offer seven vision-corrective procedures. Additionally, the facility's advanced vision analysis center takes the patient on a digital tour of the entire under eye.
"Our clients enjoy this, and it really helps in the educational process as well as the decision-making process," Dr. Waring explained.
Dr. Waring also mentioned that because of his institute's "vision for a lifetime paradigm," not only is he able to manage a patient's eye care through his or her varying stages of ocular maturity but often a satisfied patient will refer family members, something he has found incredibly rewarding.
Expanding upon the vision for a lifetime paradigm, Dr. Waring stated, "You may wear contact lenses or glasses as a teenager or in your early 20s, and then in your mid-40s early 50s you may need reading glasses or bifocals and then in your 60s and 70s you may develop cataracts. … Whether you're 18 or 118, we have a vision solution for you at each stage of ocular maturity."
Reflecting on the success and renowned status his practice has gained in a relatively short amount of time, Dr. Waring concluded, "We've gone to great lengths to create a world-class experience that's second to none. We want our clients to say it's not only the best experience with their eyes but the best experience in health care – period."
The Waring Vision Institute is located at 735 Johnnie Dodds Blvd. in Mount Pleasant. To see more, visit www.waringvision.com or call 843-592-3955.
By Helen Harris