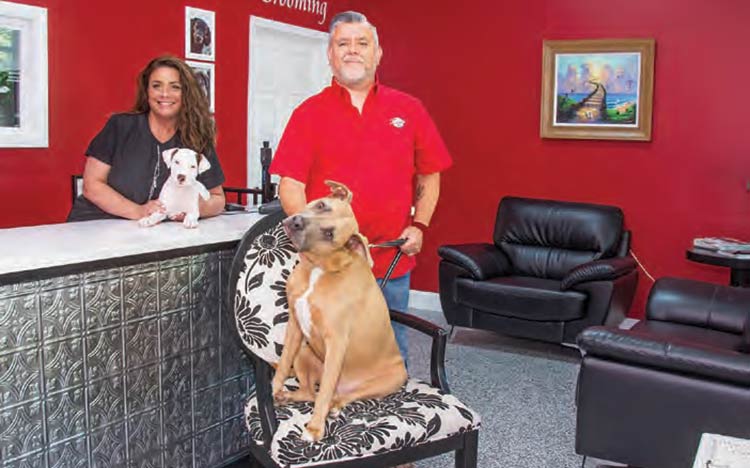 Ziggy's Dog Parlor, first-place winner for Best Pet Groomer and second-place winner for Best Kennel, as voted by the readers of Mount Pleasant Magazine, has established its relationships with clients based on trust and giving individualized attention to each dog placed in their care.
Opened in 2013 as a grooming-services business, Ziggy's expanded in 2016 to offer boarding services. They started with 10 condos and a few suites and then added five more suites and four more condos in 2018. The condos and suites are equipped with TVs in each room, and the luxury suites are more spacious individual rooms.
Although they recently acquired an additional unit for the aforementioned condos and suites, owner Kristin Villa said they want to remain relatively small and avoid becoming a facility that warehouses dogs. Their aim is to know every dog's name and unique personality.
Ziggy's puts a major emphasis on cleanliness, and Villa prides herself on the fact that many people seeing the dog parlor for the first time don't even realize it's a boarding facility.
"It's almost like a day care," Villa said. "We're just very individualized."
Staff spend one-on-one time sitting with each dog on a couch in a lounge area to simulate a home environment. They have an artificially turfed outdoor play area with a privacy fence, and Ziggy's doesn't charge extra for playtime with dogs, "because that's our job," noted Villa. There is no added cost for food or medications, either.
Ziggy's also places big importance on openness and transparency, which is why they invite people to come tour their facility any time of day without a prior appointment.
"We have nothing to hide," said Villa. "We want you to see it in its mode of operations."
She's now a seasoned pro, but Villa's career path to owning a pet grooming and boarding business was anything but conventional. She spent more than 20 years working as an accountant before deciding to ditch the corporate world and pursue her passion of caring for dogs.
Initially, she worked at PetSmart bathing dogs. Then she attended grooming school and opened Ziggy's soon after graduating. Although her original inspiration was grooming, her clients kept asking her if she would ever provide boarding services.
"I felt like I developed trust with clients and listened to their needs," Villa said. "We have a lot of repeat clients. We know exactly what to do with their dogs."
Her sentiment echoes with clients Will and Terry James: "Ziggy's is great, and they are wonderful with our rescue, Henry James. They're the only kennel we trust leaving our special boy with."
Customer Peggy Reese touted the individualized attention that Ziggy's strives to achieve with each dog: "Everyone is so kind, and I feel my pup is safe and loved. Very comforting."
The business is named after Villa's eponymous dachshund, a casual, laid-back canine.
"I want it to have a relaxed, easygoing feel, and that's Ziggy's personality," explained Villa. "It's my passion. I want to make sure each dog is comfortable and secure."
Learn more about Ziggy's at www.ziggysdogparlor.com or call 843-388-3422.
By Colin McCandless