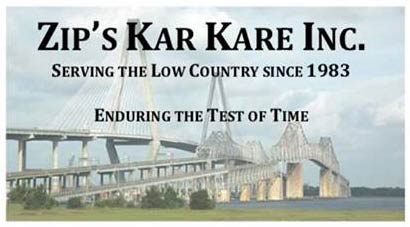 While several Mount Pleasant "family business" car-care and repair centers have closed their doors, Zip's Kar Kare is thriving. The reason? Good old customer service, superior workmanship and honesty.
"We've just about doubled our business in the last few years," said Craig Campany, manager of Zip's, named one of the Best Auto-Repair Businesses by the readers of Mount Pleasant Magazine. "We have long-standing relationships with our customers. When we detect a potential problem, we advise the customer but let them make the decision on whether or not to do the work."
The Navy brought James Zimmerman, owner of Zip's Kar Kare, to Mount Pleasant in 1973, but it was a love for the area that secured his and his wife's residence permanently. Zimmerman started working at Zip's as a mechanic in 1980, but, in 1983, he had to make some tough decisions regarding the business when he hit a financial snag.
Putting his faith in the business, Zimmerman got a cash advance on his credit card and financed the rest. The property originally belonged to the Darby family, and, in 1993, he was able to buy it.
"We have the oldest garage in Mount Pleasant; the main building has been here since the 1920s. I owe all the success of the business to Craig Campany, (whom) I hired to run this operation in 2004," he said.
The car-care and repair business changes almost annually, and Zip's ensures its mechanics have the proper training to undertake sometimes-complicated repairs on American and foreign (excluding European) vehicles. The shop spent $13,000 this year on a new vehicle-diagnostic system. Also, instructors from auto-supply and parts stores visit Zip's to conduct seminars to help mechanics stay abreast of changes in the industry.
Zip's Kar Kare is located at 412 Coleman Blvd. Give Zip's a call at 843-884-1171.
By John Torsiello