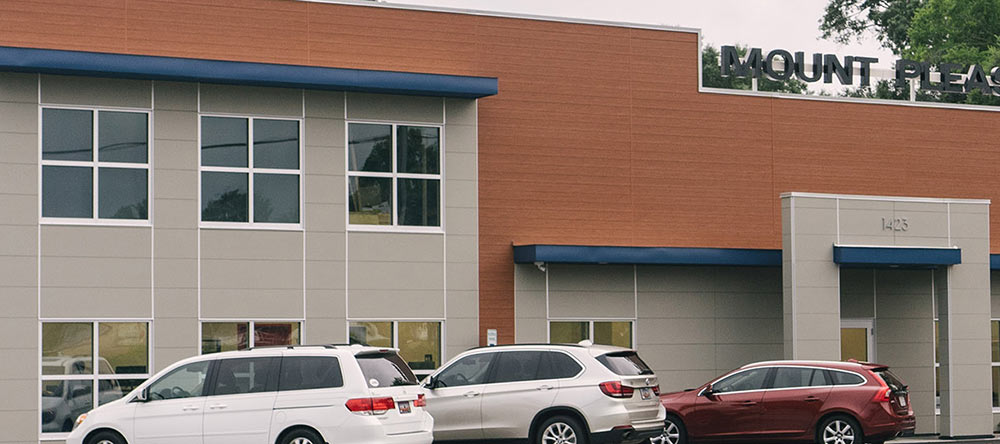 On a typical Tuesday morning, the lot at Mount Pleasant Collision is overflowing. Inside, sunlight streams through the floor-to-ceiling windows that flank the new customer reception area. Later that afternoon, Andrew Swift, general manager, and his staff of 25 seasoned car professionals will host a grand reopening to celebrate their expansion from an 8,000-square-foot facility to a nearly 20,000-square-foot, state-of-the-art collision repair center.
Owners Laurie and Stephen Berman opened their shop at the same Mount Pleasant location in 1998. With a staff of just six, they quickly made connections with local residents and continue to foster those ties today. "We build on the relationships we've established over all these years," said Swift.
Those relationships have enabled the business to grow and thrive. Over the past two years, Mount Pleasant Collision has serviced nearly 2,500 cars annually. And the new facility will increase both the capacity and the capabilities on which their customers depend. The expanded center includes over 16,000 square feet of dedicated workspace. They've invested in computerized diagnosis and programming systems to support modern safety and control systems found in newer cars.
"With this expansion, we're up to date with the latest technology needed to repair electric cars and the computer systems integral to car safety," stated Swift. And to keep staff on trend, Swift invests heavily in employee training. "Automotive technology is evolving every day," Swift explained, "and we are ready."
Mount Pleasant Collision makes it a priority to go out into the community — to give back to those who help make their success possible. They regularly sponsor local events and collaborate with neighboring charities like East Cooper Community Outreach (ECCO), Seacoast Vacation Bible School, Wando High School and the Charleston RiverDogs. "These relationships are part of who we are, what sets us apart," said Swift. "And we're here to stay."
Mount Pleasant Collision is located at 1423 Stuart Engals Blvd. in Mount Pleasant. Call 843-849-6122 or visit mtpcollision.com for more information.
By Jen Glekas