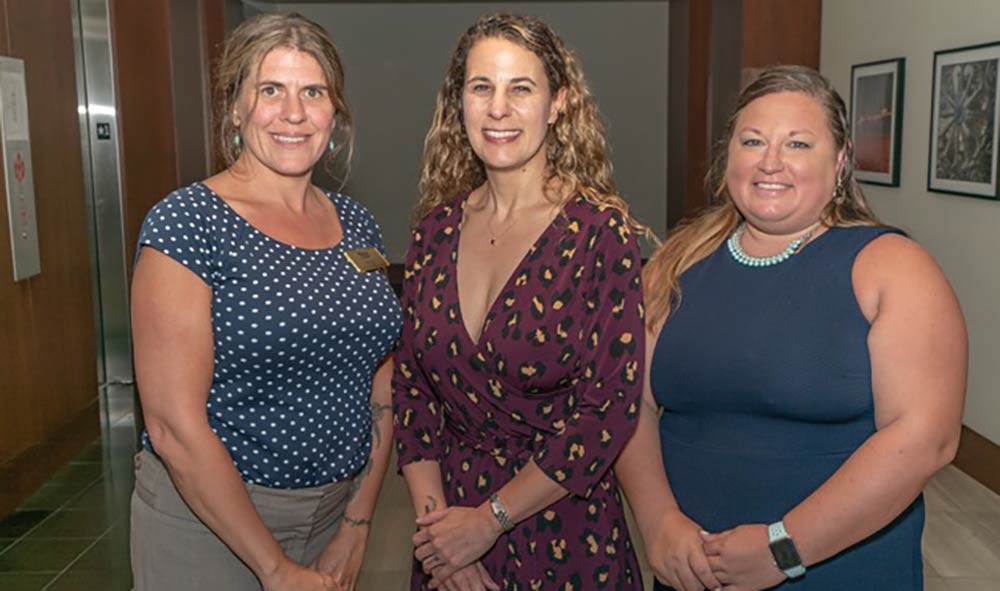 Founded in 1915, Webster University is a private, nonprofit international university with a network of campuses worldwide and a main campus based in St. Louis, Missouri. Its Charleston Metropolitan Campus has been a part of the community for more than 30 years, originally sited at the Navy Base, but now located off Leeds Avenue in North Charleston.
Webster University positions students to gain degrees that meet high standards, propelling them forward in their respective careers, said Dr. Laura McMaster of Webster's George Herbert Walker School of Business & Technology. The campus recently received accreditation from the Council for Accreditation of Counseling and Related Educational Programs. Dr. Julia LaCubbert, clinical coordinator with Webster's mental health counseling program, explained that this is a specialized accreditation that puts them on par with every counseling program in the nation.
McMaster, along with LaCubbert and Sarah Hull, comprise the core faculty of Webster's Charleston campus. The trio is responsible for hiring and training the university's adjunct instructors, advising students and coordinating terms and class schedules. It is their goal to maximize opportunities for students while maintaining high academic standards.
All adjunct instructors are experts in their respective fields with high academic credentials and professional accolades. They are well connected, working at some of the largest and most influential organizations in the Charleston community. Their experience provides a practical application in the classroom.
The Charleston campus's primary student population consists of professional learners returning to school to pursue a career change or promotion. Graduate degrees include clinical mental health counseling and a variety of business degrees, including the MBA, MHA and MA in procurement and acquisitions management. One can also complete their undergraduate degree in management or psychology at the Charleston location.
McMaster said Webster's term scheduling provides ample flexibility for students and tries to accommodate busy lifestyles. "I would say that our greatest strength is that we have worked out a niche market with the professional student."
Webster's academic year is divided into five nine-week terms, including two fall and spring terms, and a summer term. Classes meet once a week Monday through Thursday evening for four or five hours depending on the program.
Most business graduate degrees can be completed in a year and nine weeks if students are enrolled full-time (two classes per term). Additionally, the business program offers a dual degree option where you can earn your MBA along with an additional degree like the MHA, within a two-year timespan.
Adding to the campus' flexibility, students can move between part-and full-time class loads as their schedule permits or take time off and return next term as needed.
"I encourage students to return and finish their degrees if they started," advised LaCubbert. "A graduate degree is something that's very valuable in our world."
Class sizes are small, so students receive individualized attention. "Students are not just a number here," stated Hull. "We have an investment in the students' future."
By Colin McCandless