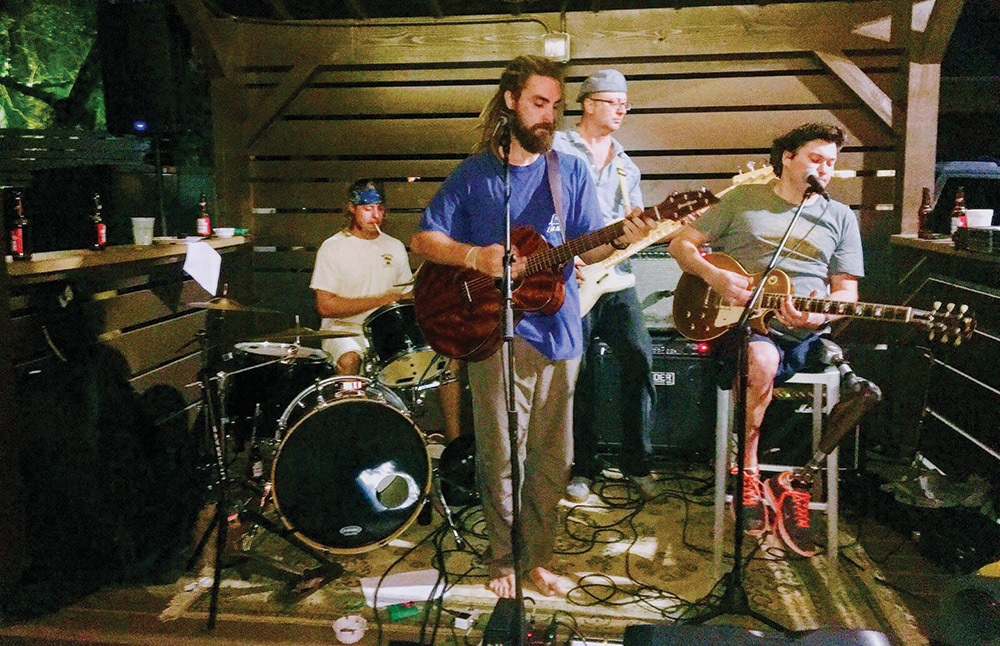 If you're hungry for good local music, Sol Food serves up great tunes to bar patrons and music lovers around East Cooper. Musicians Lonnie Greene with lead vocals and guitar, Nick Collins with guitar and vocals, Scott Funkhouser on bass and Scott Bell on drums have been playing together for about two years, gaining a faithful following of their rootsrock style.
Not only do they play roots rock, but their roots run deep in Mount Pleasant. Greene and Bell grew up as friends here and have been playing music together for about 10 years. Collins also grew up in Mount Pleasant, playing gigs throughout college at Clemson University and continuing later at home as part of local favorite Fowler's Mustache, followed by The Hibachi Heroes. That's how he met Funkhouser, who was also in the band. Though from Virginia, Funkhouser has lived in the area for a long time.
Sol Food's seeds were planted one fateful afternoon about two years ago when Greene — who used to go to Collins' gigs at Clemson — happened to show up at Finz (formerly on Coleman Boulevard) one Thursday when Collins was playing.
"He got up and sang and played, and it was awesome," Collins smiled. "He and Bell played a duo at Triangle later.
I just hopped on with them and started jamming. Pretty soon after that, the three of us started booking all over." Funkhouser joined the trio soon after.
Sol Food regularly plays around the East Cooper area at places like Locals, My Father's Mustache, Mainland Container and The Windjammer.
"We have a good amount of originals and cover everything from Grateful Dead and Widespread Panic to classic rock, blues and jam bands," said Collins. "We've done a lot of weddings and receptions, surprisingly, for friends and friends-of-friends."
They all work day jobs — Greene and Bell work in construction, Collins is a property manager and Funkhouser is a college astronomy teacher — but music and their band are their passion and provide an outlet for all of them.
Sol Food recently played at Mount Pleasant Magazine's Best of Mount Pleasant party.
That show was a lot of fun. We've grown up going to a lot of the places that got voted 'Best Of,'" Collins said. "Growing up here and now working here, you get to know — or at least recognize — so many of the great businesses in town. We were really glad to help the winners celebrate."
The band recently recorded five EPs at Charleston Sound Studios. Look for their music on www.reverbnation.com, or find out where they're playing next at @solfoodband on Facebook.
By Anne Schuler Toole