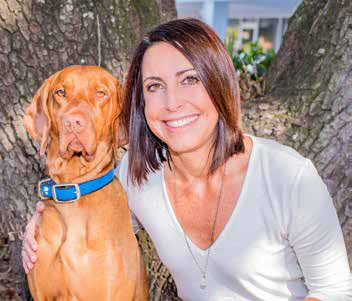 Brightway insurance agency owner Jenny McKenzie is an experienced businesswoman who transitioned her consultant, accounting and management skills and focused on small businesses within the insurance industry to provide reliable and cost-effective insurance coverage for all clients – and in particular members of her community, as well as their four-footed friends.
McKenzie opened her independent insurance agency, The McKenzie Agency, in May 2017, and relayed, "The reason I chose this avenue in my career is that I wanted to help people – and pets – and really feel that this is the way for me to do just that by building long-term relationships and getting to know clients to help them to protect their livelihoods and what matters most to them."
After earning her bachelor's degree in accounting from Flagler College in St. Augustine, Florida, she relocated to Mount Pleasant, where she and her husband Bret – who owns Blackwater Construction – enjoy all outdoor activities.
As a Brightway insurance agency, policies are designed and sold through local agents, which provides those agents with access to multiple insurance carriers to design the plan that works best for the client's needs, desires and requests. That access allows McKenzie and her team to create expert, customized policies. Additionally, and to the great pleasure of her 4-year-old vizsla, Rudder, who is the official office manager of the McKenzie Agency, pet insurance coverage is also available to clients.
Policies include home, auto, flood, condo, renter's, motorcycle, RV, boat, personal articles and even "umbrella coverage to fill in the gaps between different policies."
McKenzie said, "Whether you're looking for a competitive rate for homeowners insurance or need help determining the right amount of auto coverage, you'll receive personal attention from industry experts committed to your satisfaction. We are happy to offer pet insurance as well, and, as a pet owner for many years, it brings me great personal pleasure to offer this additional accommodation to our clients."
There are a number of factors to weigh and consider for insurance for your pet, and the team at The McKenzie Agency will be sure that your furry pals are covered and you are protected against what could sometimes be exorbitant expenses for this important member of the family.
The other members of McKenzie's team include Jamie Seville and Kristin Caudle, who stated that she particularly enjoys "… helping clients understand what they are actually receiving with their policy and the importance of having certain amounts of coverage."
It is always a positive and satisfied feeling when those who work and live among us express their commitment to the community. The McKenzie Agency not only offers clients the comfort that their insurance needs are expertly covered at affordable rates but also the confidence that this team intimately understands and appreciates that what is most valuable to the individual or family is valuable to them as well.
Brightway, The McKenzie Agency is located at 426 West Coleman Blvd., Unit F, in Mount Pleasant. Call 843-408-4554 or visit www.brightway.com/agencies for more information.
By Eileen Casey