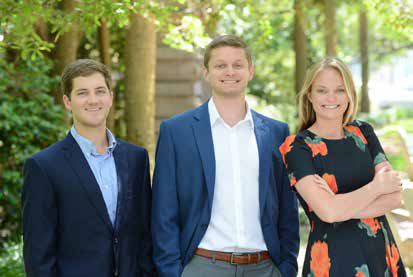 Buying a house is cause for celebration. But long before you can pop open a bottle of champagne in your new home's kitchen, you'll need to find a mortgage lender. The first step in the home-purchasing process isn't what most would consider to be fun. To be blunt, it can be painfully grueling. However, it doesn't have to be that way.
The key to a smooth, painless lending process is to start by finding a trustworthy, well-respected lender with an excellent reputation. That's precisely what you'll get with Mortgage Network. Don't take our word for it – take your neighbors'. Mount Pleasant Magazine readers recently voted Mortgage Network the "Best Place to Get a Mortgage" for the fifth year in a row.
Branch Manager Ethan Lane credits his close-knit team of three for the company's continued success. Chris Cardamone, mortgage specialist, and Marina Bundy, mortgage processor, work alongside Lane at the Mount Pleasant office.
"I can't say enough about how valuable they are," said Lane of his colleagues. "Everything runs through them."
The team at Mortgage Network recognizes that purchasing a home or even refinancing a mortgage is much more than a simple transaction. It's a major life event, and it's deeply personal. That's why they approach the entire lending process with exceptional attention to detail and care. Mortgage Network is a direct lender, so they do everything in-house, from the first phone call all the way to the closing table.
"We treat our clients like family, and we want them to have a great experience every time," Lane said.
Together, the team digs deep to tackle each client's "goals, fears, opportunities and obstacles." The result is a seamless lending experience that continues to win the title of "Best" in Mount Pleasant year after year.
After two years at the company's Hilton Head location, Lane moved home to Charleston to work at the Mount Pleasant branch. He was a loan officer before being promoted to branch manager last year. Lane originally joined the company after meeting David Crowell, who began the Southeast division of Mortgage Network more than 20 years ago. Crowell has since built the organization from the ground up by nurturing relationships and focusing on a dedication to customer service.
The company culture at Mortgage Network is that of a family, and Lane expressed his gratitude to work for an organization that never loses sight of what's most important.
"Service is the priority from the top down," he said.
With approximately 50 people moving to the Charleston area each day, the demand for mortgages in the Lowcountry is high, with no signs of slowing down. Between the booming real estate market and the company's plans to expand the team as they continue to grow, Mortgage Network is optimistic for what the future holds. They recently celebrated their 15th year in Mount Pleasant, and they're looking ahead to another 15.
Mortgage Network is located at 321 Wingo Way, #101, in Mount Pleasant. To learn more, visit www.mortgagenetwork.com or call 843-388-1772.
By Daniela Johnson