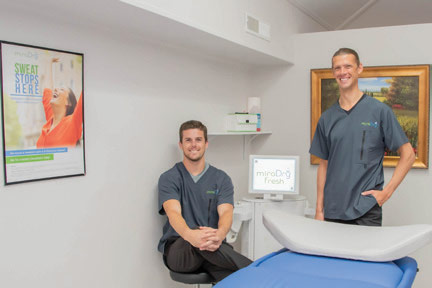 It is often said that there are only two things in life that are a sure thing: death and taxes. However, there is another unavoidable pitfall — sweat!
For everyone, and in particular those here in the South, underarm sweat and odor are often an embarrassing compromise while enjoying year-round warm temperatures and sunshine. As that thermostat climbs and climbs during the summer months making physical activity, strenuous labor or just moving about exhausting, one usually ends up feeling sticky and stinky. Changing tops and shirts three to four times a day while your laundry basket doubles in size only exacerbates the situation; however, a solution is here to keep our underarms sweat and odor free.
The FDA-cleared miraDry® can be completed in just about one hour by using thermal heat energy that targets and eliminates the sweat and odor glands in your underarms. And the best part? Once those glands are eliminated, they do not grow back. According to miraDry research, "The treatment is clinically proven to have an average of 82% sweat reduction and 89% odor reduction."
The human body has about two to four million sweat glands that are necessary to cool the body, with underarm glands compromising only about 2% of thattotal. So while you will sweat elsewhere, as miraDry targets underarm sweat glands only, you can now actually consider wearing that great silk blouse or starched linen shirt in August — no sweat, no stains.
Excessive underarm sweating is a medical condition known as primary axillary hyperhidrosis, and miraDry is the No. 1 treatment of choice recommended by the International Hyperhidrosis Society.
In our area, Dr. Marshall Allyn White, located at 1470 Ben Sawyer Blvd., Suite 8, in Mount Pleasant, is the only medical professional doing the miraDry procedure. Dr. White is an American Board of Psychiatry and Neurology board-certified physician who has been practicing medicine for over 30 years. Dr. White has also been using miraDry for about seven years.
According to Dr. White, there is a wide age range for the miraDry procedure, making this great news for anyone who has ever been bothered by underarm sweat.
Dr. White further advises that miraDry is an easy, cost-effective way to significantly and permanently reduce underarm sweat and odor, rather than undergoing costly temporary treatments, using prescription-level deodorants, or even surgery, and relayed, "About 95% of our patients are satisfied with one treatment; however, we do offer subsequent treatments at half-price, which can take your underarm sweat reduction well above 90%."
Although typically not covered by insurance, miraDry is a safe, nonsurgical and one-time permanent investment in not only your physical comfort, but your emotional comfort level, too. So raise those arms as high as you'd like to applaud a procedure that significantly reduces sweat, odor and the need to replenish your wardrobe, as well as expensive deodorants and powders.
For more information, visit stopsweatforever.com or call 843-800-2007. Dr. White offers free consultations to anyone interested in miraDry.
By Eileen Casey