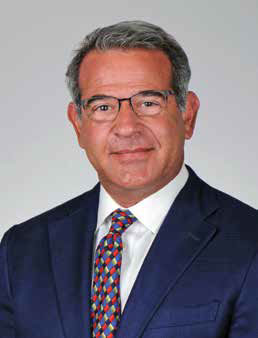 In 1999, Dr. Marcelo Hochman, a facial plastic and reconstructive surgeon, opened The Facial Surgery Center after working 10 years in academic medicine. Originally from Venezuela, he attended school at Stanford, worked around the globe and chose to settle in the Carolina Lowcountry after Hurricane Hugo.
"Some people would argue that one's heart and soul are far more important than what appears on the outside," explained Dr. Hochman. "But that doesn't change the proven fact that your appearance affects the way you feel about yourself and how you interact with the world."
Dr. Hochman's motivation in reconstructive surgery began during his residency treating cancer patients.
"I loved the technical aspect. Later, I came to the realization that whether the patient wanted or needed the reconstructive surgery, how similar their expectations really were. We all want to look our best and feel normal."
With his extensive background in facial plastic and reconstructive surgery of the head and neck, as well as pediatric vascular malformations, he created The Hemangioma & Malformations Treatment Center. To continue and formalize his charitable work, Dr. Hochman established The Hemangioma Treatment Foundation in 2003.
"In this way, we have been deeply involved in giving back to over 1,000 children from the United States and around the world, transforming their lives by treating the facial differences," shared Dr. Hochman. "It is this combination of high-level quality, verifiable reputation and honest dedication to charitable care that distinguishes my practice from other facial-plastic practices in South Carolina."
Further, Dr. Hochman opened The Migraine Treatment Center because he understands the misery of chronic and cluster migraines and facial pain sufferers.
"My interest in the field of migraine relief comes from personal experience with family members who suffer from chronic migraines," he explained.
Working with neurologists, Dr. Hochman performs migraine surgeries and treatments that offer a great integration of his cosmetic skills, vast reconstructive experience and the ability to perform highly technical surgery through small, hidden incisions.
"This group of patients is at 'wits end,' and it is extremely gratifying to be able to give them and their doctors a path forward," he said.
Hair-loss restoration has increasingly gained importance for women and men. Keeping up with the best, most up-to-date practices, Dr. Hochman incorporates follicular unit extraction and implantation technology, along with nonsurgical medical therapy, working closely with dermatologists around the state.
Dr. Hochman is the recipient of several prestigious awards from the local, national and international medical community and is a leader who advocates legislatively for doctors and patients. He is passionate about the work he brings to the tri-county area every day.
The staff at The Facial Surgery Center is equally dedicated and offers a level of care that patients appreciate.
"My staff has a caring attitude toward my patients that is crucial from the very first phone call," said Dr. Hochman.
To learn more about the many services available from the most experienced facial and reconstructive physician and practice in the Lowcountry, visit www.facialsurgerycenter.com or call 843-571-4742.
By Stacy Domingo