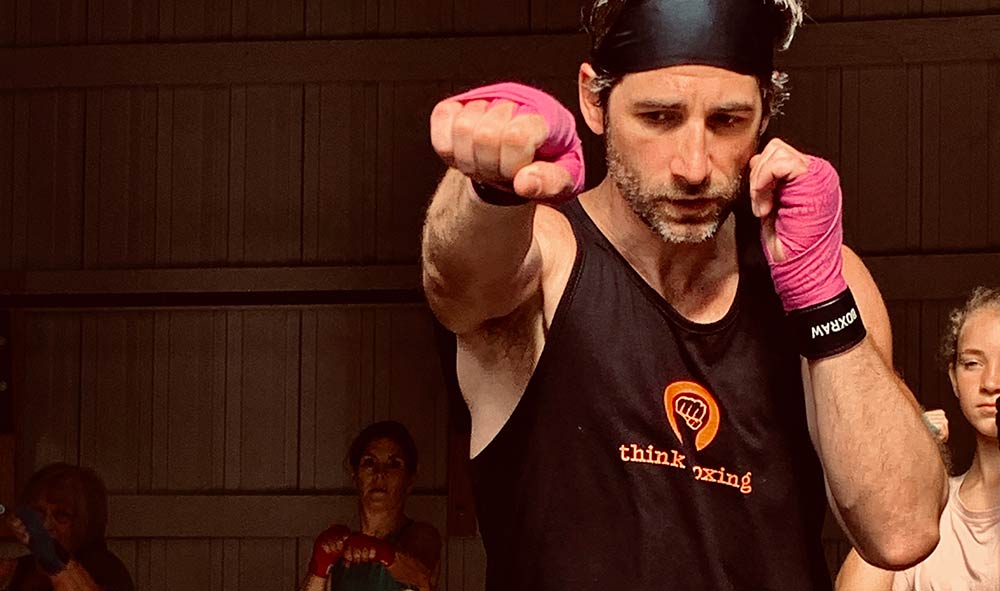 Boxing is often called "the sweet science" – a sport that requires mental and physical fortitude, discipline and the power to step away when the timing is right. Boxers must be present, forward thinking and tactical in their command of the ring. It's a sport of survival, and one that Think Boxing founders Beth Matenaer and Jason Scalzo believe can transition beyond the ring and into the lives of children and adults who've experienced their own opponents in life.
The Think Boxing program is a non-contact curriculum that teaches the fundamentals of boxing – the patterns of movement, the discipline, the mental awareness – to help heal and empower those struggling with trauma, depression, addiction and other mental health challenges.
Matenaer is no stranger to out-of-the-box therapy techniques. As a trauma therapist, she has worked with adults and kids in complicated healing situations for over 25 years. From her office in Mount Pleasant, she practices animal-assisted therapy, is trained as an equine therapist and applies experiential approaches to psychotherapy to address mental health issues.
"I feel really passionate about wanting mental health to be a conversation we're having outside of the office," shared Matenaer. "A different approach can really have a huge impact."
A first-time boxing lesson with coach and entrepreneur Scalzo created the perfect opportunity to take the practice of healing beyond the office walls.
"I'm a product of what I believe is so important about boxing," shared Scalzo, "I believe it can change lives, and I believe it can save people. But it wasn't until Beth explained the physiology, what actually happens to the brain through these pathways of motion, that it really clicked."
Scalzo is founder and executive director of Boxing is Love, an organization that uses boxing to help children overcome social epidemics. With a degree in psychology, he has trained in and coached boxing and taekwondo for 30 years. Leaving behind a 12-year career in medical technology, Scalzo traveled to West Africa to begin Boxing is Love, working to rehabilitate childhood soldiers in Liberia. When he returned to South Carolina, Scalzo gave Matenaer that first boxing lesson and a powerful collaboration took shape.
The Think Boxing curriculum teaches the fundamentals of boxing, combining high-intensity interval training, mindfulness practices, relationship-building exercises and other character-forming techniques.
"There are particular movements and repetitive patterns, ways that we move our body when boxing," explained Matenaer, "that are very regulatory for the brain."
This synchronization of body and mind helps to mitigate stress, control emotions and process situational trauma. And because there is no contact involved, patients may feel less wary of walking into a boxing gym.
"This modification disarms people," Scalzo explained. "It eliminates that intimidation factor and really creates an environment of belonging that a lot these children and young adults lack."
Matenaer and Scalzo apply a structured set of principles intended to set participants up for success both in the gym and beyond. "The opponent who will matter most in your life," shared Scalzo, "is the one staring back at you in the mirror."
Participants learn to establish their own space and to associate their boxing stance with a sense of calm. "We're teaching people basic regulatory movements, how to really help themselves emotionally," explained Matenaer. "We might teach how to get emotional but also how to calm down."
Participants typically begin in one-on-one-sessions with a trainer and eventually transition to a group session to help maintain and build on existing skills. This growth is critical to the program.
"We really want to teach people a sustainable skill," said Matenaer, "to teach people how to fish rather than giving them a fish. It's helping them to be able to function differently."
Matenaer continues to develop her curriculum, forming programs for parent-child relationships, symptom-specific groups, an empowerment program, an executive skills session and even couples' therapy.
And to roll out these programs, Think Boxing has developed a team of mental health-savvy boxing trainers who are educated in and able to safely apply that curriculum. Trainers undergo a multi-day certification program that teaches them about trauma, how movement affects the brain and examines various mental health diagnoses, enabling them to effectively and safely work with participants.
"The coaches all have extensive life or clinical backgrounds. They're mental health safe," said Matenaer. "They really know how to help people, which is an incredible specialty."
Think Boxing currently works with roughly 75 individual participants. Their youngest is 5 years old; their oldest is 75. And patients come from a range of communities and life experiences.
Matenaer has received referrals from local first responder networks, area veterans' organizations and other mental health providers. Think Boxing is also working with area schools to deliver a curriculum suitable for children. They're currently in Porter-Gaud, Charleston Day, Orange Grove and Carolina Voyager, and will enter East Cooper Montessori in the spring.
"The response from the community has been remarkable," expressed Matenaer.
"And by no means are we creating fighters," shared Scalzo, "but we are creating a boxing mindset."
By Jen Glekas