Helping Veterans Trade Nightmares and Flashbacks for Golf Dreams and Friendships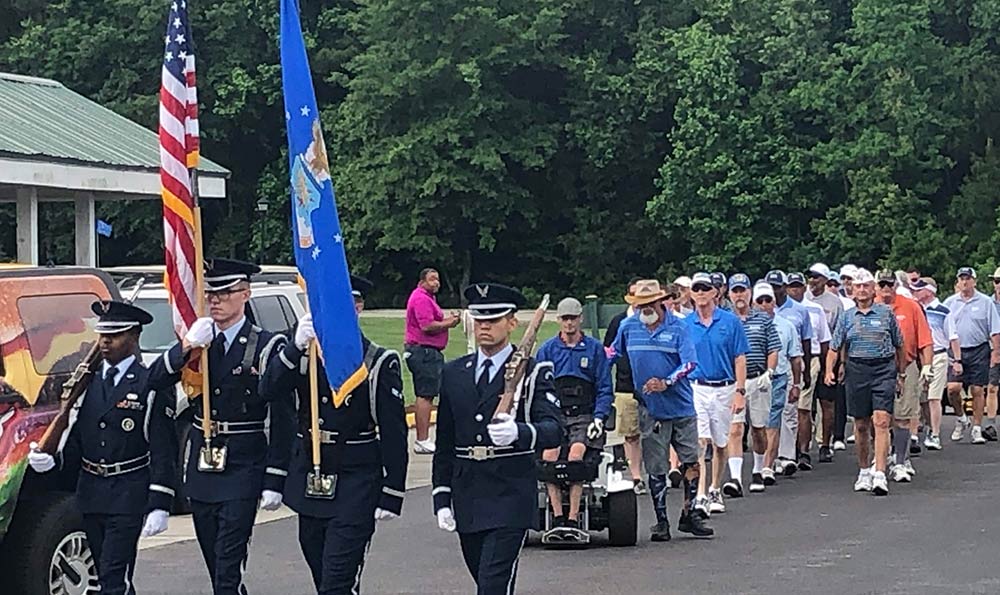 According to the Charleston Veterans Association, there are over 3.5 million disabled veterans nationwide, .including more than 40,000 who live in the Charleston area.
Following their military service, many veterans struggle to reintegrate back into society as they battle conditions such as post-traumatic stress, traumatic brain injuries, loss of limbs or paralysis. In many cases, after veterans leave military service, they feel alone in their struggles as their family and friends cannot understand what they experience. Sadly, approximately 22 veterans commit suicide nationwide daily, having lost their battle with post-traumatic stress. In the Charleston area alone, more than 28,000 veterans are currently receiving treatment for PTSD through the Ralph H. Johnson VA Medical Center.
To help combat this problem, a chapter of PGA HOPE (Helping Our Patriots Everywhere) was founded in Charleston in 2015. The mission of the program is to introduce golf to veterans with disabilities to enhance their physical, mental, social and emotional well-being.
PGA HOPE Charleston quickly became the national model for the PGA's flagship military outreach program. The golf therapy program currently has over 300 veterans participating in the Charleston area. Camaraderie has been the key as veterans no longer feel alone. Through the program, many veterans have been able to trade nightmares and flashbacks for golf dreams and new friendships.
The popular program now has six host courses throughout the Charleston metropolitan area. Four of the sites (Wescott, Daniel Island, Redbank Plantation and Stono Ferry) offer a seven-week series in the spring and fall. The fifth site, Kiawah Island Resort, joined the program this past summer and now offers clinics during the winter and summer. PGA HOPE leaders are currently working with additional courses to offer training classes for veterans outside the Charleston area. For example, Parris Island has just begun their training sessions.
In addition to the courses where clinics are held, other courses in the greater Charleston area provide special access for veterans when playing with peer mentors. There are also paramobiles available through the program, when requested, for veterans with extreme disabilities.
At the Daniel Island Club, Ron Cerrudo, director of instruction, has led a team of PGA professionals and volunteers teaching and mentoring the veterans for the past three years. "I just think anybody that can get involved with this program should. All you have to do is get involved one time and you're stuck in a good way. You love the guys and the camaraderie. To see the look on their faces, especially with fellas that have PTSD, is so gratifying. When you see the impact this program has had and how it changes their perspective, I think it's very rewarding," he said.
It has truly been a great community effort and it is wonderful to see how veterans, PGA professionals, and the community have wrapped their arms around the veterans to give them a helping hand. Several major contributors support the program so that the clinics are provided to veterans at no charge. PGA HOPE is truly grateful for their support.
Annual fundraising events support this growing program with proceeds going to help the increasing number of veterans participating. Please contact PGA HOPE if you would like to become a sponsor and be involved with this worthwhile program.
The annual fall clinic series is now underway. The Daniel Island Club clinics will be held on Mondays from 4-6 p.m. starting on March 11 and continue through April 26. Other clinic sites begin training in the same time frame. Details are available upon request.
If you would like to participate, volunteer or financially support the program, contact Rich O'Brien, outreach coordinator, at 843-826-0837, or Jack Taylor, veterans committee chairperson, at 703-463-7589.