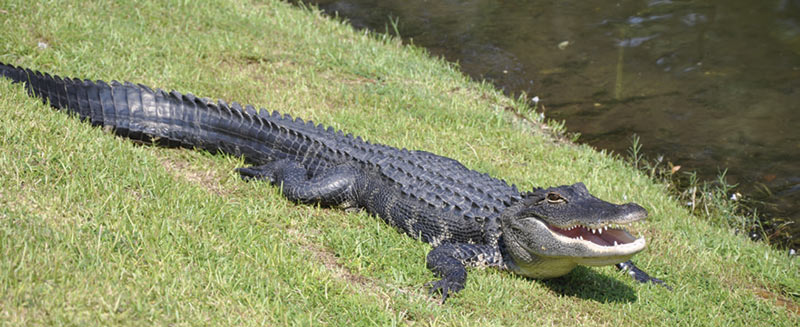 The beauty and charm of the Lowcountry draws visitors from near and far. Many residents take respite from the stifling heat and humidity to cooler vacation getaways, always returning home to the sound of the ocean and smell of the salt marsh. Oftentimes, visitors have made the transition to full-time residents with the added allure of the steady, consistent economic and business-development growth. New and enhanced business brings new opportunities, new people, new development, as well as new challenges. … One such challenge is the coexistence with one of the oldest predators on the continent: the American alligator.
What draws alligators to a particular area, and how did we get into their space?
The increase in growth, construction and development has driven humans into close proximity to these amazing animals. The attractive ponds that draw eager real estate purchasers to Lowcountry neighborhoods also attracts old Mr. Alligator and company. Mount Pleasant is full of these neighborhoods that are appealing to both the human and the gator: Both like living on and near water surrounded with lush, green vegetation. These environments are ideal for the alligator, as there is an abundance of small animals such as fish, crustaceans, birds and rodents to provide a steady food supply. Tragically, domestic pets such as cats and dogs can sometimes be seen as food as well.
As the alligator has adapted to its crowded habitat to survive, so have the people who reside in those communities through state laws and defined HOA guidelines and protocols regarding "nuisance" alligators. When are alligators considered a nuisance? Nuisance alligators can be defined as any alligator that presents a significant safety risk to the public, typically those that have lost their natural instinct to avoid human contact. This normally occurs as a result of being fed by humans. According to seasoned local alligator hunter, Matt Nodtvedt, "Alligators are typically reclusive and lazy bottom dwellers." He stated that alligators are usually "skittish" and will avoid humans. When hunting alligators, Nodtvedt said that he is lucky if he can get within 50 feet of a gator.
A former security guard at a local resort said nuisance calls were a routine part of the job because the resort was full of alligators. He said, in many cases, the calls resulted from people feeding the alligators, causing them to lose their fear of man. He recalled one specific call where two medium-sized alligators immediately swam up to him as he approached the scene. Their unique response was an example of their keen ability to adapt. Unfortunately, this adaptation was not a positive one. In most cases, education could have prevented the problems. According to South Carolina law 50-11-750, "It is unlawful for any person to feed or entice with food any American alligator …"
When are grounds of removal considered?
If you feel you have a nuisance alligator, check with your neighborhood homeowners' association (if applicable) to see if they have specific protocols and procedures. Liability is a big issue. Some neighborhoods have plans in place to deal with the issue, such as an approved nuisance animal removal contractor. When in doubt, call local law enforcement or the South Carolina Department of Natural Resources. In the Charleston area, the Region 4 wildlife number is 843-953-5291, according to the DNR website.
Once the proper authorities have been contacted and are on the scene, they will likely perform an evaluation of the situation to see if the alligator displays aggressive behavior that would warrant removal. They will assess the animal's size and degree of aggression. If removal is recommended, there are few options available. It is illegal to transport live alligators in South Carolina because alligators, especially those that reach a length of 6 feet or more, develop a keen "homing sense," and can return to their home if moved. Most nuisance alligators are euthanized. The South Carolina DNR highly regulates this industry and requires contractors to be trained and licensed.
What types of safety strategies can we employ in dealing with alligators?
According to the University of Georgia's Savannah River Ecology Laboratory, the following are tips for being safe around alligators:
Don't feed or harass alligators.
Keep your distance.
Keep your children and pets away from alligators.
Do not disturb nests or small alligators.
Do not keep alligators as pets.
Avoid swimming in areas that are known as alligator habitats.
As Mount Pleasant and the rest of the Lowcountry continue to expand, we will continue to gain more and more "alligator neighbors," for better or worse. Residents and visitors benefit from being educated and prepared in dealing with these powerful reptiles, when to call for help and when to just let a gator be in its natural habitat.
By Michael Cochran