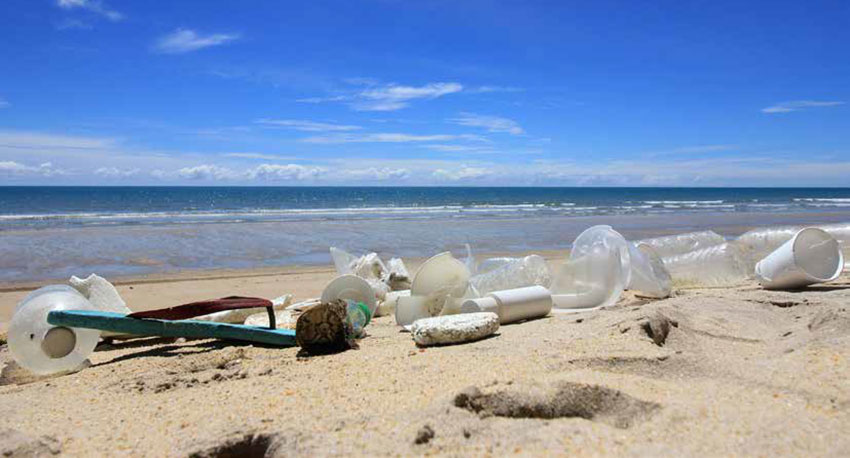 Mount Pleasant is a community where waterways – filled with marine life – glisten, palms grow tall and sea oats sway in the balmy breeze. It's also a place where plastic straws, lids and cutlery are the most common items recovered during beach-side cleanups. Come April, those trash culprits will hopefully not appear as often as they do, scattered upon the coasts and roadsides. On April 16, Mount Pleasant's Environmentally Acceptable Packaging and Products ordinance goes into effect. Soon, eateries won't be allowed to pack your leftover po'boy in a Styrofoam box, and your local supermarket won't dare slip your Duke's Mayo in a plastic bag.
With Earth Day approaching, we caught up with a couple of community members who are changing the way the Lowcountry thinks about eco-consciousness and impacting just how residents reduce, reuse and recycle.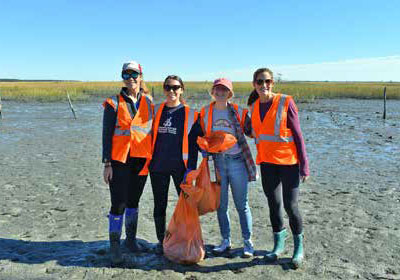 "I was definitely dialed into a hyperconscious awareness of the ocean from a young age," said Lia Colabello, founder of Plastic Pollution Solutions – a Charleston-based organization dedicated to helping a variety of businesses reduce their global plastic footprint.
She grew up on the North Shore of Oahu, which is famous for its "amazing" surf breaks. The rhythm of the ocean was a dominant factor in her life, and her love and appreciation for the sea would ultimately influence her career path later on.
"In the wintertime, it was all about playing in the waves with friends. Or, when it was too big, watching the most incredible surfers challenge Mother Nature at her most powerful and feeling the Earth shake under our beds at night with the force of the waves pounding the reef," said Colabello, recalling her days in the Aloha State. "On flat days in the summer, we would dive and sail down the coast on our double-hull canoe. Even though the ocean's mood would change from day to day, it was a constant presence in our life."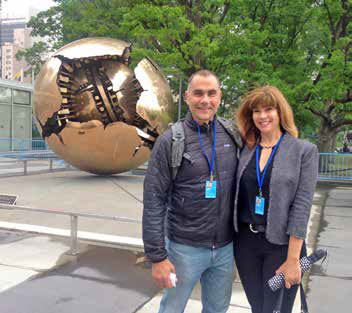 Colabello's first taste of environmental activism came when her community rose up in opposition to a massive subdivision, complete with golf courses, set to be constructed in the pristine hills above Sunset Beach. Erosion from the proposed project and the runoff of chemicals from golf course maintenance would ultimately damage the effervescent coral reef systems below. Her parents took her to multiple meetings, where she witnessed devoted Hawaiians come up with strategies – over a 20-year period – to protect the land.
"However, it wasn't until later in life, after spending the first half of my career in international sports event management, that I had an epiphany while working on an event in Latin America along a very polluted waterway," said Colabello. "That experience kick-started my career in ocean conservation, where I focused on the rise of ocean plastic, ultimately launching Plastic Pollution Solutions, as I view business as an essential partner in finding solutions to this global issue."
Colabello and her team have helped Klean Kanteen, LUSH Cosmetics and Whole Foods, among others, keep their eco-friendly game on point. Helping orchestrate plastic-free events and plastic-free workplaces, Plastic Pollution Solutions is morphing the way companies package their products and creating a dialogue about how to successfully cut down on superfluous items that have a green alternative.
In addition to assessing the amount of single-use plastics a company uses, her team works with their clients to implement strategies and alternatives and communicate their success stories to customers. She pointed out that simple changes can forge a lasting impact.
"Single-use plastic items such as bags, takeaway containers, utensils, straws and bottles are some of the most commonly found items during beach cleanups," said Colabello. "The very nature of their use as a throwaway item means that they are used on the go, often improperly discarded and easily accumulate in the environment before eventually making their way to the ocean."
Colabello looks forward to watching the ban take effect, ultimately creating a more pristine and clean Mount Pleasant for all. She pointed out that single-use plastic bans work and lauded the communities across the Lowcountry that have passed ordinances similar to Mount Pleasant's.
"It will take all of us to turn the tide on plastic entering into the ocean," she said.
Mount Pleasant Town Councilman Jim Owens, a man dedicated to the environmental well-being of the area, first brought the idea of the ordinance up in 2015.
"It's rewarding to see the work that we do finally become a reality," said Owens. "During the years of preparation, we didn't have a Council at the time of its inception that was willing to pursue or even make the effort. That comes from not understanding or being connected to the character of the town they were serving at the time. In the end, patience and perseverance is worth every moment."
Seeing the waterways of a town where he has put down strong roots polluted by plastic and other waste motived Owens to find ways to implement change, even if a plastics ordinance wasn't considered a high priority by those around him.
"I'm a native son of Mount Pleasant who has enjoyed the marshes, rivers, creeks and ocean my entire life," said Owens. "I've witnessed firsthand the plastics pollution that surrounds our community. My generation allowed the use of single-use plastics; it should be my generation that brings about the change which provides alternative products that no longer harm the environment, animal, marine and even human life."
Many restaurants in town have already embraced the new rule and are on board with a law that will ultimately make the community cleaner and local seafood free of unwanted debris. Owens said he has received very little pushback from local businesses and has received the support of the Mount Pleasant and Metro Chambers of Commerce.
"The town rolled out the ordinance to give merchants and restaurant owners time to deplete their current inventories and find alternatives to provide the same level of service for takeout packaging and products. We've made concessions to the ordinance for those with disabilities and given business owners more time to comply if they can show a hardship. Our goal is not to hurt but to help our businesses be successful at the same time by taking pride in partnering with the town and promoting a healthy environment."
While Owens recognizes the progress that has been made, he remains humble regarding his role in bringing about the change. He said having a deep appreciation for the environment doesn't qualify him as an environmentalist.
"These men and women have dedicated their lives to the heightening of awareness and providing scientific evidence for the preservation of humanity," said Owens. "We shouldn't discount, but rather embrace, the scientific proof that affects us all as it relates to single-use plastics and microplastics pollution. Let's bring about a positive change that will give our future ages the promise of a cleaner community and allow the message to spread throughout the state."
By Kalene McCort