You might be pleasantly surprised to hear that in Charleston, kids of all ages have access to free jazz through the Charleston Jazz Academy (CJA), an educational arm of Charleston Jazz. Charleston native David Carter is the director of education and outreach for the CJA. He is currently working on his Ph.D. in music education with a focus on jazz studies. When Charleston Jazz decided to strengthen its mission of promoting jazz through education, they only had to look in their backyard for the perfect fit. In turn, Carter, a former high school director of bands, is thrilled to work with students outside of school settings — and especially with those in need.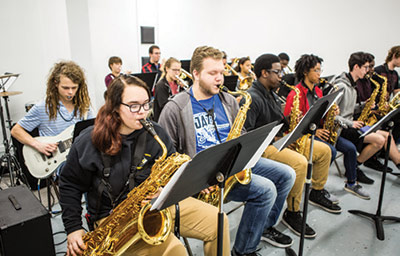 You can trace jazz in Charleston back to the Jenkins Orphanage Band that started in 1892 thanks to the Rev. Daniel Jenkins. Inspired by the positive effects of this nationally recognized band, Charleston Jazz started its educational arm in 2017, taking over the long-standing Leonard School of Music that served the local community, to offer classes and workshops and prepare students for music auditions at all levels. Since then, the newly named CJA has grown rapidly.
"I have visited over 6,000 students in the tri-county area in the past couple of years," said Carter enthusiastically. This includes elementary to college level. He is excited about recent partnerships with schools funded by corporate and arts-commissioned grants, such as the Melodica Program, which teaches students to use air (blown through a mouthpiece that fits into the side of the instrument) and incorporate reading music to press keys on the keyboard to release the air flow.
Carter wants kids to experience the music, as well as play it, and he explained the many ways this is possible: "Every November we invite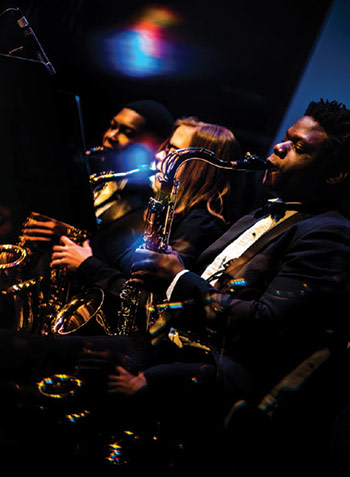 elementary schools on a field trip to come see jazz at the Gaillard Center. Last year, we had over 1,700 students at Jazz Day for Kids."
The last day of the Charleston Jazz Festival culminates with Family Day where parents are encouraged to bring kids big and small to see local jazz bands, as well as performances by local schools including the Charleston High School All-Stars. Watching kids play jazz at this level is both inspiring and contagious, and that is all Carter can hope for. Throughout the year, Lowcountry music teachers are encouraged to reach out to Carter for tickets to various Charleston jazz shows through the Jazz Pass Program. Carter encouraged, "If you have a student (in sixth to 12th grade) who is showing promise in music or overall in studies, or you want to give them some incentive, what could be better than tickets to see a live show?"
What is most compelling about Charleston Jazz Academy is their goal to help underserved communities and those in need. "We have a number of donors who provide students with a full scholarship to take music classes," said Carter. The offer is available to children from second grade through 12th in the tri-county area. Carter continued, "If you attend a Title I school, qualify for free or reduced lunch or come from a low-income family, you qualify for a scholarship." A recent anonymous benefactor pledged 100 scholarships to the academy, prompting them to start a "Road to 200" campaign to boost donations.
"We want to give kids a reason to love jazz through exposure to real-life experiences they can't get anywhere else," said Carter, whose mantra is "rigor and relevance." "I also want to be the place teachers can come to get jazz resources or use us as a supplement to either a band program or by sending us students to get that extra jazz education." It's an exciting time for jazz in Charleston — especially if you are a kid.
By Pamela Jouan