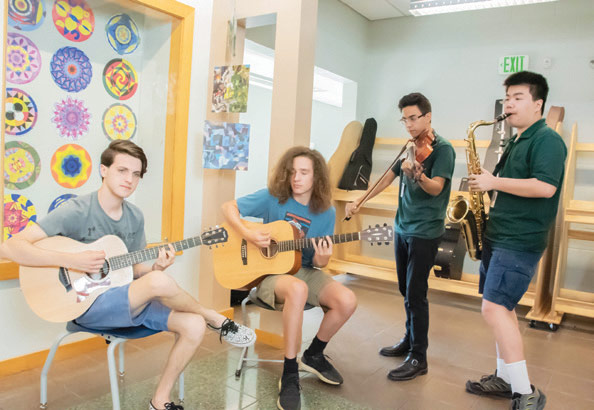 Academic Magnet High School is not for everyone. There is no marching band and no theater or dance program, and, though 60% of the students participate in athletics, few of them move on to compete at the major college level.
AMHS is, however, the jewel of the Charleston County School District. Its students face numerous academic challenges, including a senior-year thesis. All of them earn a college scholarship, and, though many attend Clemson or the University of South Carolina, some attend prestigious institutions of higher learning such as Duke, Stanford, Yale and Harvard.
The hard work and dedication of Academic Magnet's students, teachers, administrators and support staff has paid off. Always rated near the top in South Carolina, AMHS was ranked this year by U.S. News & World Report as the best high school in the entire United States. The honor was no surprise to Catherine Spencer, principal for the past two years.
"This is not a school for everyone," she said. "You must be committed to be exceptional. I've been in a lot of schools, and you can feel it as soon as you walk in the door. We require well above and beyond."
Spencer pointed out that the senior thesis is the cornerstone of AMHS' academic excellence. Eleventh graders do research and hone their writing and presenting skills, then they choose and develop the topic for their thesis, which they must defend in the spring of their senior year. The rigorous curriculum includes four years of math, science, English, social studies and a foreign language — either French or Spanish. Students also must complete at least four Advanced Placement courses and a minimum of 90 hours of community service.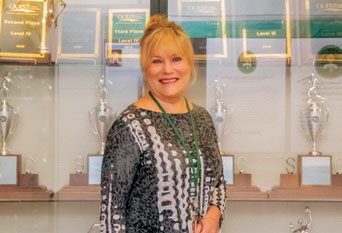 Academic Magnet students have had their work published in academic and professional journals, and Spencer noted that a 10th grader developed an arsenic filtration system that was used in his hometown, while a senior designed and published a brochure on dental hygiene for children in a village in Guatemala. She added that a robotics team developed a rover that searches the deep water of flooded areas so rescuers can concentrate on shallow water. In addition, AMHS has produced a concert pianist and the winners of national writing awards.
"These are really well-rounded kids," Spencer commented.
Faculty openings are rare at Academic Magnet. Spencer said the school's 40 teachers have been at AMHS for an average of 15 years.
In 2018, Academic Magnet's 162 graduates together earned more than $13 million in scholarships, as well as seven National Merit finalists.
The U.S. News & World Report rankings, following a review of more than 23,000 schools in all 50 states and the District of Columbia, were based on six criteria: college readiness; college curriculum breadth; math and reading proficiency; math and reading performance; the performance of black, Hispanic and low-income students; and graduation rates.
Established in 1988 and in its current location on West Enterprise Street in North Charleston for the past 12 years, Academic Magnet High School's student body is expected to grow from 650 to 700 next year. The majority of students attend the school for four years, though they can be admitted in their sophomore or junior year if there is space, according to Spencer. Most AMHS students live in Charleston County, but, if they own at least $300 of real property in Charleston County, they can pay tuition and attend AMHS. Spencer said 600 to 700 teens apply to Academic Magnet each year, with fewer than 200 being admitted.
One major challenge Spencer faces is establishing racial diversity at the school. Currently, 22% of the students are minorities, but only 7% are African Americans — in a district that is around 40% black. With the help of a $100,000 grant from the Jack Kent Cooke Foundation, which "is dedicated to advancing the education of exceptionally promising students who have financial need," AMHS is aggressively seeking talented students from minority and low-income families.
"We're getting the word out to the African American and Latino communities," said Spencer. "We're telling them what it means to come to Academic Magnet. The payoff is huge. You get into the college of your choice."
Prior to taking a position at Academic Magnet, Spencer was the principal of private international schools in Egypt and Mexico. She pointed out that both of them were ranked as the best schools in the country. A West Virginia native, she also has served the world of education in Greenville, Beaufort County and Oregon.
She pointed out that Academic Magnet's motto, established by students, is Eruditio et Honor, which translates from Latin to mean "Scholarship and Honor."
By Brian Sherman