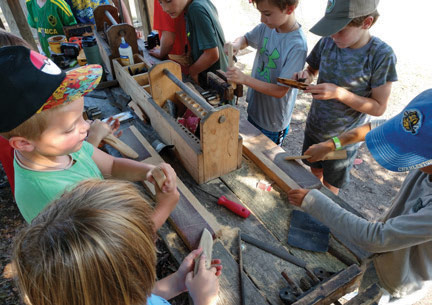 Let's face it, most of the school year, our kids are over scheduled. They crave summer as much as we do; a change of routine, a time to unwind. But a lot of parents are still at the mercy of work schedules and have to find something to occupy their kids' time. Lucky for us, Mount Pleasant has plenty of summer camp choices that aren't simply regarded as babysitting options. In fact, they just might be as educational as time spent in a regular classroom.
Take the Huck Finn School (huckfinnschool.com) with locations on Sullivan's Island and Awendaw. Founded by Michael and Holly Bronco, their summer camp themes are based on historically significant events (like World War II) with an emphasis on DIY skills using tools and lots of imagination. "We want our campers to be inspired and to learn things in a new and different way," explained Michael. "We provide an atmosphere for reflection, appreciation and engagement. Our 'hands-on' and 'outof- the-box' approach is different from the traditional school/learning setting, but it fosters independence and confidence. Learning new skills and trying new activities in a low-pressure, fun and safe environment is the key."
And isn't that what summer is all about — fun with no pressure? Imagine how cool it would be to go to camp and learn to build and fix things — skills you can keep for the rest of your life. In fact, Michael pointed out that he has former campers who are pursuing careers that they were introduced to at Huck Finn School. "Being exposed to opportunities at a young age provided the confidence and experience to set them on a path to fulfilling, nontraditional careers."
For national sports broadcaster, youth coach and mom Debbie Antonelli, summer camps were a place where she learned new skills, met new friends and was instilled with the confidence to try. "I played multiple sports growing up, and I still love sports. It's my career, my passion and my responsibility to give back."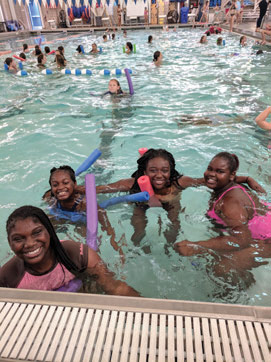 Her Girls Only Sports Camp at the Park West Gym through the Town of Mount Pleasant Recreation Center is in its fourth year with plans to expand beyond a two-week offering. Besides being introduced to the fundamentals of a variety of sports (about 20 in all), campers are exposed daily to speakers on topics like self-esteem, teamwork and nutrition. "It's important for girls to see women in leadership roles so they can think, dream, visualize and be exposed to the many different options they will have in their future."
The beauty of Antonelli's camp, much like the Broncos', is in providing a peer-pressure free environment to foster teaching, learning and confidence building. "I have two important rules: The first that you have to try — there is no sitting and watching. You don't have to compete against anyone but yourself. The second is to have fun. If you try a new sport and you enjoy it, that is a major step toward building self-esteem, which, in turn, builds positive habits and can be so empowering."
Antonelli is overwhelmed by the response girls have when they find something they love. She pointed to a young lady who initially refused to try lacrosse but gradually handled the stick and found her new passion. "She ended up doing a lacrosse camp and eventually made a travel team. It made me so proud of what we do at this camp."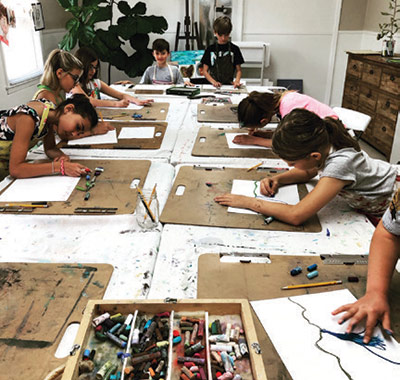 If you want to work with your hands this summer but sports aren't your thing, head over to Creative Arts of Mount Pleasant on Bowman Road, otherwise known as CAMP (creativeartsofmp.com). Run by artist, writer and former teacher Kathleen Fox, CAMP emphasizes small class sizes for maximum individual attention. The only prerequisite is imagination and creativity, which Fox easily molds into fantastic visual-art and creative-writing experiences. "Building those two attributes gives children the confidence to take risks, problem solve and think in new ways," she explained. "Kids with imagination and creativity change the world."
Fox also stressed that summer camps are a great place to "test out new things in a low-pressure environment, where the focus is on experiences versus achievements." She does not want her campers to follow directions but take "artistic risks to create their own styles. That's when kids truly become artists."
Summer camps are a wonderful way for your children to discover their gifts, nurture their talents and be encouraged to have fun in a safe, stress-free environment. Keeping their young minds active and their interests engaged might just be the perfect kind of schooling you want them to experience while on summer break: an education that instills values that they can carry with them throughout their lives.
By Pamela Jouan