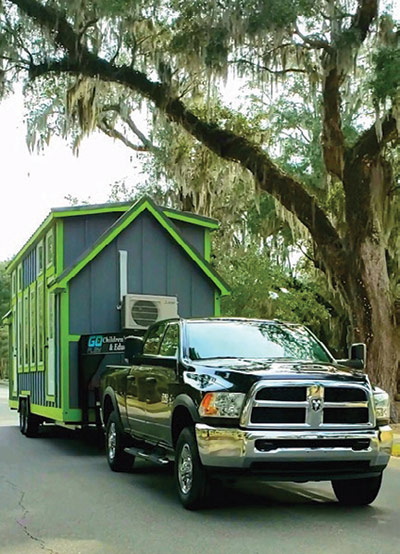 Mitzi Perkins, co-owner and operator of GO PLAY Tiny Gym, was born and raised in Sylacauga, Alabama. A child gymnast trained by her mother, Kitty, a gymnastics coach, and her father, Dan, a physical education instructor, Perkins shared, "My mom coached 18-month to 5-year-olds and shared that love with me."
Eventually Kitty began teaching out of a converted school bus called TUMBLEBUS — a bus where all seating is removed and the interior is retrofitted with padded walls, floors, gymnastics mats and other fitness equipment which then travels to day cares and preschools for weekly classes.
After Perkins met Jeremy Limberger, her "partner in life and business," the couple spent the next eight years working for TUMBLEBUS Central Alabama while honing their coaching and business skills.
In 2016, they were asked to consult on a new TUMBLEBUS in Greenville. "We fell in love with South Carolina and saw a great opportunity for what we had in mind, so we started our own company. After considering many cities near the coast, we chose Mount Pleasant, and we love it here, as everyone has been so welcoming and friendly," conveyed Perkins.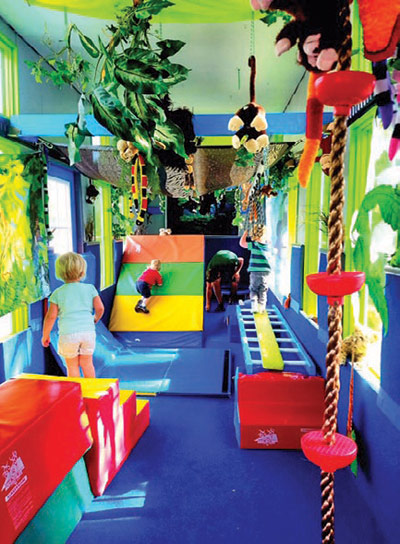 While planning and designing their company, they were hampered by the limitations of a bus. "Maintenance and operating expenses were high, and we did not have the size or adaptability we ideally wanted," Perkins shared. Inspiration struck while watching HGTV's "Tiny House Nation," when they realized they could build a tiny gym instead. Drawn to the craftsmanship of well-known tiny-home builder Doug Schroeder of Timbercraft Tiny Homes, they set out to meet Schroeder, tour a few homes and were thrilled that he was able to implement all their ideas and requests.
They settled on their current Tiny Gym design, which is a 250-square-foot gooseneck trailer that is 13 feet, 6 inches tall, 30 feet long and 8 feet wide, with ample doors and hurricane-proof windows for natural light and strength. Perkins elaborated, "We wanted the gym to look approachable to children and blend in the area, so we chose board and baton siding to go with our metal roof, and the shell was completed in about eight weeks."
They continued the remainder of the project themselves — painting the exterior, insulating and installing the padded floors and walls and mounting a track system, which allows for endless adaptability. With additional gymnastics equipment, monkey bars, rock-climbing walls, a zip-line and much more, they created a space that provides the optimum fitness experience for their tiny visitors.
Offered as an enrichment activity at day cares, preschools and after-school programs, GO PLAY's Tiny Gym arrives at a scheduled time each week decorated with a different theme and different equipment. Registered students, 15-months to 6-years-old, are escorted to the gym in groups by age with up to 15 students at a time where they work on things such as upper-body strength, hand-eye coordination, flexibility, balance and spatial reasoning accompanied by themes such as Under Water Adventure, Dinosaurs and Superheroes.
The primary goal is a space where children can be active; however, the couple also focuses on "improving self-esteem and allowing kids to test their own limitations and continue a lifelong love for fitness," Perkins said. They assist with emotional development, imagination and social skills — concepts such as working together, sharing, reinforcing cognitive skills, counting, color recognition, vocabulary and other related activities.
Perkins and Limberger agree, "One of our favorite moments is seeing a child's expression the first time entering the Tiny Gym and the look they have when they accomplish something like a flip for the first time."
To learn more, visit Facebook @goplayfitness or Goplayfitness.com. For themed events, such as birthday parties, email [email protected] or call 843-936-1446.
By Eileen Casey