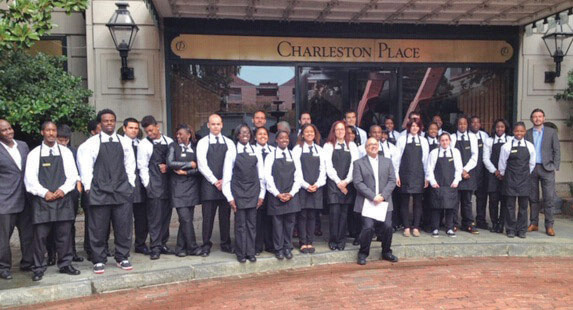 Kenton Kelley never in his wildest dreams thought he could work in a fancy . restaurant like Halls Chophouse in the swanky corridor of Upper King Street in downtown Charleston. After his father was killed at age 5, he grew up in a single-parent home in North Charleston. In 2014, during his sophomore year at R.B. Stall High School, an assistant principal stopped him in the hallway and told him to report to the auditorium for a presentation.
Little did Kelley know, that moment would change his life.
Presenting in the auditorium that day was Mickey Bakst, general manager of Charleston Grill at the prestigious Belmond Charleston Place. He was talking about his new program, Teach the Need.
And what is that "need?" It's employees for hospitality jobs in Charleston. With the boom in tourism stemming from the many accolades our great city has received, staffers for all the restaurants and hotels has indeed proven to be a "need."
At the presentation, Bakst announced, "Who wants to make $600 in two weeks?" That peaked Kelley's interest, and, instead of thinking this was just another boring presentation that his high school assistant principal was forcing him to attend, suddenly, he was interested.
Teach the Need was an idea that came to the mind of Bakst in 2014 because he saw a real problem with finding good staff for the many wonderful restaurants and hotels in the Charleston area. Bakst had also spoken to Michael Miller, a school board member at that time, about how many high school seniors do not go to college but instead join the local workforce after they graduate.
They knew people were out there who were willing and ready to work. Bakst decided to seek them out on his own, rather than waiting on them to apply. He began his job in the restaurant business as a teenager, so he decided to present his craft to local high schools and hopefully recruit great staff that way.
Teach the Need is an eight-week program that meets on Saturdays at Trident Technical College. Bakst has different speakers come for each two-hour session. The last class is their graduation at the Belmond Charleston Place, where they eat a fine-dining meal at Charleston Grill and tour the hotel.
"It is good for the kids to see all the different positions available to work, so we show them the marketing department, concierge, accounting, the spa, the kitchen and hotel positions, like front desk," he said. "I don't want them to think they can't work the front of the house because they might be intimated by those positions."
Some of the lessons they learn during the program are how to shake hands, how to speak properly and skills they need to be a server, like how to hold a tray and set the table. He said they will also do mock interviews and show them how to apply for jobs and create a resume. He even goes over how to make their social media pages look professional because "bosses do look them up," he said.
One aspect of the program that impressed Kelley the most was that each student got a letter of recommendation they could present to a job.
The program is free, and, right now, Bakst recruits students through local churches as well as high schools. He said he usually has about 16 kids per session but would like to have more.
Tommy Hall, owner of Halls Chophouse, can't say enough about Teach the Need. "We are sitting here in arguably the best city in the country for restaurants, and we are having a hard time staffing them," he said. "This program has taught these kids that they don't need to be intimidated by fine-dining restaurants or nice hotels. They can eat at restaurants like this, work in them and even own one someday."
As Kelley's boss, Hall has enjoyed seeing his confidence grow. "Everyone has to start somewhere, and I am very proud of these kids. Kenton has been great."
Kelley said that if it wasn't for Teach the Need, he knows he would have never applied to work at a place like Halls Chophouse. He now attends Morris College in Sumter and comes home every weekend to work at Halls. He is majoring in recreation administration with a minor in political science. He said he would like to go on to study public policy after he finishes his undergraduate degree and someday work in Congress.
"This program changed my life," he said. "It alleviated some of the burden off my mom. Halls has helped me make a living. I would advise anyone who is interested in working in hospitality after high school to contact Mickey Bakst about Teach the Need. Be ready to work, take the time and be willing to listen. And just enjoy the process."
If you are interested in attending or volunteering for the next session of Teach the Need, contact [email protected].
By Theresa Stratford