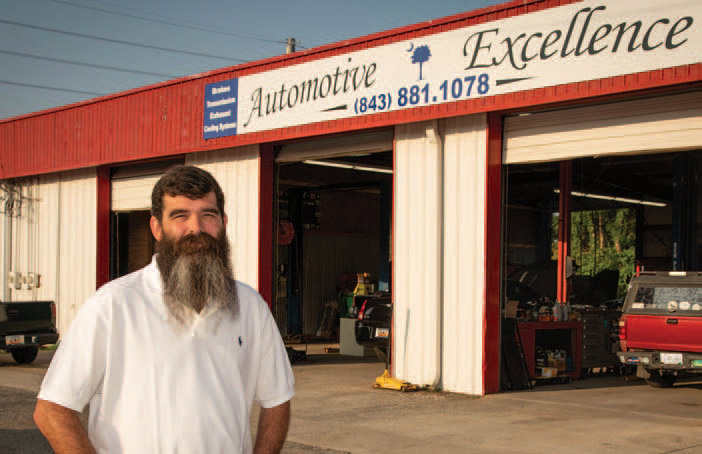 If online reviews are any indication, Automotive Excellence is doing an excellent job of living up to its name.
Customers want honesty, quality and fair prices out of an auto-service shop, and, according to their web writeups, Automotive Excellence consistently delivers on all three.
With two locations to serve customers — one on Ben Sawyer Boulevard (originally opened on Sept. 17, 2001 on Coleman Boulevard but moved to its current Ben Sawyer location one year ago) and the other off Johnnie Dodds Boulevard (open since 2017) — owner Johnny Page prides himself on their exceptional customer service.
"I want my counter guys to know every customer and to meet the next generation of that customer — children and then grandchildren," said Page. "If you don't see the next generation come through, then you're not doing something right."
And in terms of car-maintenance services, they offer everything but body work. So, whether your automotive needs require electric, transmission or brake work; new tires, a tire repair, or an alignment; or even an oil change — Page and his team at Automotive Excellence will have your car running at its best.
As for types of vehicles, they work on anything, from a Toyota Prius to a Ford F-150. They also feature the latest diagnostic equipment.
"We are your one-stop shop," noted Page, who grew up in the nearby tiny rural town of McClellanville.
Automotive Excellence does accept walk-ins on a first-come, first-serve basis, but Page recommends that people call in and schedule an appointment. Having two locations affords them the luxury of being able to shuffle customers between shops to get them a quicker appointment time, should a person have no preference for a particular location.
So why should you bring your car in to Automotive Excellence?
Where they really stand out is in their straightforward approach, noted Page. "Trying to be honest with people and always shooting from the hip. We're nothing without our customers. The best advertising is good word of mouth or a good review." One satisfied reviewer perhaps summed it up best: "Top-notch work and top-notch no-nonsense customer service."
While Page will always appreciate the nod to their professional craftsmanship, he recognizes that there is more to the business than just performing the job well. There is the personable service element and a willingness to go above and beyond and exceed customer expectations.
"I don't want us to be known just as great mechanics," stated Page. "I want us to be known as great people."
Visit Automotive Excellence at one of its two locations: 1237 Ben Sawyer Blvd. in Mount Pleasant (843-216- 1599) or 1084 Johnnie Dodds Blvd. in Mount Pleasant (843-881-1078).
By Colin McCandless