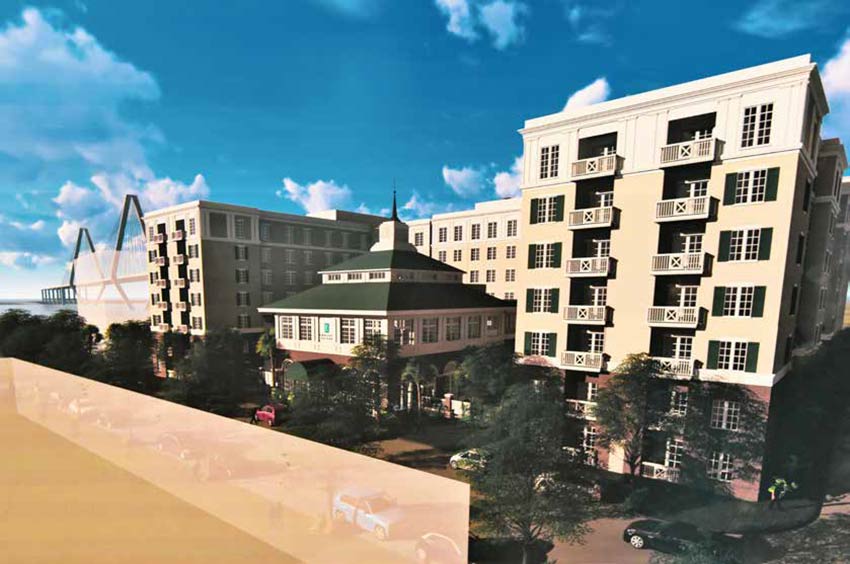 It took him a decade to buy the land and a few more years before the first dirt was turned, but local developer Michael Bennett of Bennett Hospitality has unveiled the first installment in what eventually will be an innovative mixed-use project that looks out over Charleston Harbor.
Ground was broken in 2017 on Ferry Wharf, which basks in the shadow of the Arthur Ravenel Bridge on the Mount Pleasant side of the Cooper River. In September 2019, the first tenants moved into Portside, a five-story, 120,000-square-foot office building. A parking garage, three hotels, restaurants, retail shops and private residences will soon follow on the 18-acre site, which is connected to Mount Pleasant's Memorial Waterfront Park by a walking trail that meanders beneath the bridge.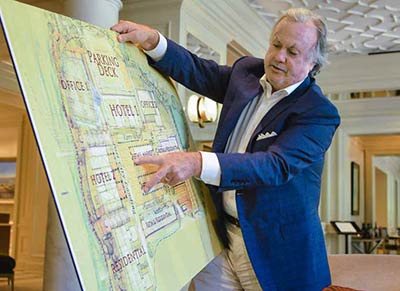 "Charleston Harbor is one of the greatest harbors in the world," said Bennett, explaining part of what makes Ferry Wharf special.
The real estate taxes Ferry Wharf is expected to produce will benefit the town and its residents and will "help us with our infrastructure," according to Mount Pleasant Mayor Will Haynie.
"The taxes those buildings will generate will make up for a lot of residential development," said Haynie. "We are moving away from expansive residential development in Mount Pleasant. To have an economy for the 21st century, we have to grow our business base."
Bennett pointed out that Portside was already 75% to 80% preleased in late July. Among the first tenants in the building, managed by Holder Properties of Atlanta, are Merrill Lynch and Serendipity, as well as a mortgage company. Work on the second office building is expected to begin near the end of 2019.
The name of the development, a $325-million investment, is a nod to the mode of transportation that almost a century ago provided the only method for people to cross the Cooper River between Charleston and Mount Pleasant. That was prior to the construction of the Grace Memorial Bridge, one of the Ravenel's two predecessors and now also only a memory, in 1929.
"Before there was a bridge, ferries landed in that general area of Mount Pleasant," Bennett explained. "My mother, who lived in downtown Charleston, remembers those ferries."
Bennett, a lifelong Charleston-area resident, explained that he had a contract to buy just one acre of land on that area of the harbor in 2005. His plans to develop a small part of what eventually would become Ferry Wharf were derailed by the recession a few years later. The deal fell through, but he never gave up on his dream of building something big on the Mount Pleasant side of the river. He ended up purchasing the entire 18-acre site in four separate transactions between 2012 and 2015.
In addition to the two office buildings, plans call for the construction of three hotels — a Hilton, a Marriott and one other brand — waterfront parks, high-end condominiums and additional residential options. Ferry Wharf 's "main street" area will feature retail space on the first floor and a boutique hotel on the second and third floors.
Bennett said Ferry Wharf is zoned for 80-foot-tall buildings, but he pointed out that only the office buildings, one of the hotels and the parking garage will soar that high into the air. In the main street area, for example, Bennett chose to limit heights to only 35 feet.
"Where he could have built 80-foot buildings, he is putting up smaller buildings, and I want to thank him for that," Haynie said. "Another good thing about Ferry Wharf is that I've been told that the majority of the people who will work in the office building live in Mount Pleasant. Since they work and live here, that will cut down on traffic."
Another innovative aspect of Ferry Wharf will be a building created to mimic a warehouse next to the development's first hotel. The ground floor will house the hotel lobby, while the second and third floors will serve as conference space.
"This isn't Charleston. It's Mount Pleasant," Bennett pointed out. "Ferry Wharf should kind of reflect the Old Village."
The first hotel in Ferry Wharf, scheduled to open in October 2020, will be "the grandest hotel in Mount Pleasant," according to the local developer, who recently opened the five-star Hotel Bennett in downtown Charleston.
"My goal is to create the finest hotels in the place I'm from — the Lowcountry," he commented.
Bennett Hospitality already owns 19 hotels and eight restaurants in South Carolina, Florida, Georgia and Montana, with plans for more on the way. Bennett opened his first hotel, the Hampton Inn on Meeting Street in downtown Charleston, on July 4, 1992.
Thinking along the lines of building only the best, Bennett pointed out that the condominiums at Ferry Wharf "ought to be the finest residential building in the city, selling for $1,000 a square foot and up. In order to sell for that, it has to be a building of great quality."
Bennett launched his career in the hospitality business in 1977, renting bicycles and mopeds while he was still a junior in college. More than four decades later, big dreams and a blue-collar work ethic drive him to continue to build … and build … and build. What is the driving force behind his obsession with developing properties, specifically those in his native Lowcountry?
"Why does the painter paint? Why does the musician play?" He answered the question with two more questions. "I love what I do. I just love it. I'd be lost if I weren't doing it."
By Brian Sherman