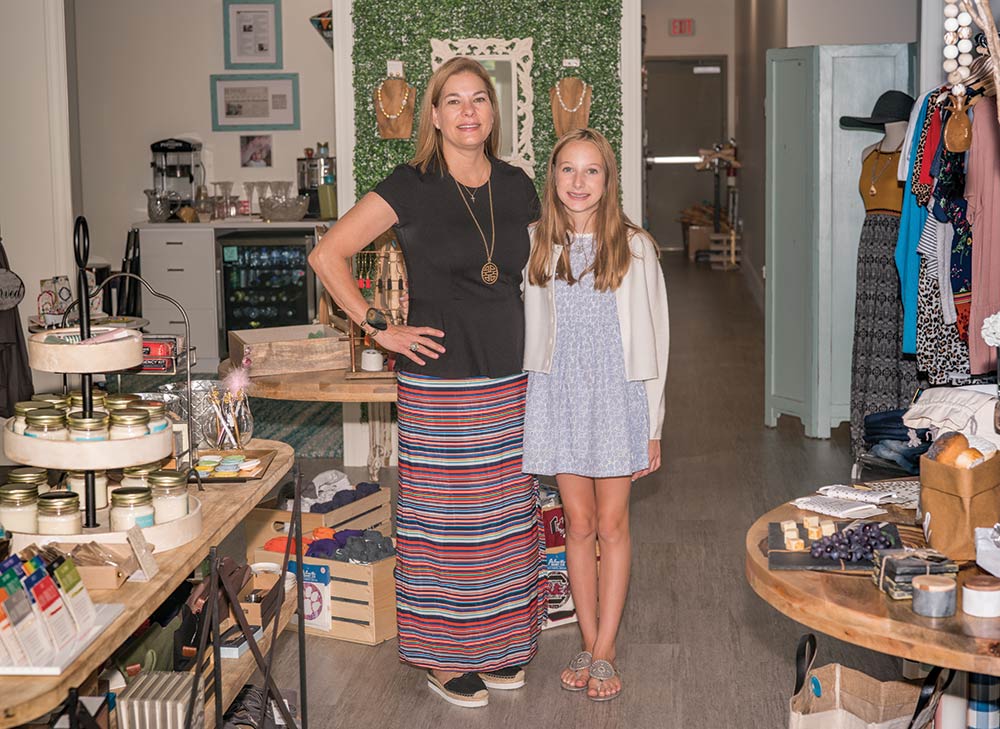 While most 13-year-old kids are navigating their way through middle school and all the challenges that come with it, one local girl has navigated her way through opening her own unique business this summer and is now making quite a name for herself and her specialty store – Bubbles Gift Shoppe.
Located in the Market at Mill Creek Shopping Center on Hwy 41, Bubbles is owned and operated by entrepreneurial teen Mary Brennan Wilkinson and her mother, Jenn. The idea behind the business came about when Mary Brennan began to transition out of being a young girl with hairbows into a teen looking for something different. "I wanted clothes that no one else had and just couldn't seem to find anything around here," she said.
Jenn said her daughter has always been creative, and after struggling to find the right kind of clothes that were stylish, yet age appropriate, they decided to test their business idea and began holding pop-up shops at local events. "We were getting a great response," Jenn recalled. "We decided to take it step further and started to learn everything we could."
Having never been in the retail industry, this mother-daughter team said they didn't realize the difficulty and time required of researching, planning and starting a business. "It's definitely harder than I thought it would be," Mary Brennan said.
Branding themselves as a one-stop shop, Bubbles carries a variety of items and styles for all ages, offering something for everyone. "Whether it's for a birthday, bride or baby, we have it all here." Every item is carefully chosen, and as Jenn explains, has been "Mary Brennan approved."
In addition to offering unique clothing and gifts, Bubbles is hosting a bi-weekly support group on Friday mornings, starting Sept. 13, for middle school girls called the Bubbles Breakfast Club. "It will be peer lead, allowing a group of up to 15 girls to get together and just talk about anything," Jenn said. "I think it's a good way for girls my age to have a place to be themselves and talk with others in confidence," Mary Brennan added.
Bubbles is a place for people to host parties and events. "We were frustrated with the lack of places to have a birthday party," Jenn explained. "We wanted to have a place where people could host a party, a game night, a baby shower or even a fun fashion show." Offering a variety of packages, Bubbles will provide just the space or take care of everything down to the food and décor.
As for how the store got its name, Mary Brennan explained the reason goes back to when she was just a toddler. "When I was about 3 years old, I went to a tea shop with my grandparents but instead of tea, I asked to have bubbles," she said with a smile. "They figured out I was asking for Sprite, but, from that moment on, that was my nickname. It seemed like the perfect name for our shop."
For more information on Bubbles Gift Shoppe, go to BubblesGiftShoppe.com.
By Diane Pauldine