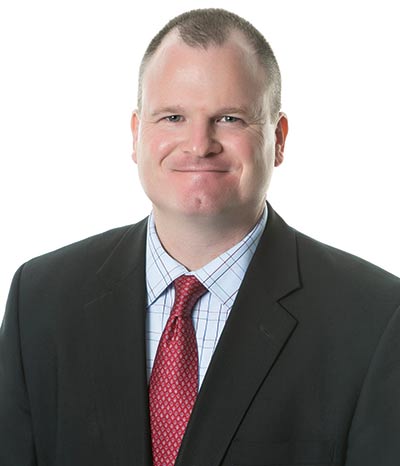 Shane Griffin was in a new sales position and fresh on the scene of the Mount Pleasant business world 14 years ago when his boss at iHeartMedia gave him networking advice.
"He told me to check out this little group called the Mount Pleasant Business and Professional's Association. He said to get involved and own it," explained Griffin.
Griffin, a senior marketing consultant at iHeartMedia, met many businesspeople, made important contacts and gradually became more involved in the association (now the Mount Pleasant Chamber of Commerce). He helped organize the annual Mount Pleasant Expo and chaired the marketing and membership committees. When the Chamber's former president, Chris Staubes, was looking to step down, Griffin felt ready to take on the top leadership role. He became president in January 2019.
And the timing to lead the Mount Pleasant's Chamber couldn't be more exciting, as the organization is undergoing a major growth spurt.
"Membership is growing at a fever pitch. We went from 175 members at the beginning of 2016 to 450 members now," said Griffin. "Lately, we've been averaging 11 to 13 new members a month."
Griffin said there are several reasons for the boost, first noting the hard work of the many members who volunteer their time for the Chamber. Changing the name and moving the monthly luncheon meetings to a larger venue were factors. The group also responded to member requests for more networking opportunities, like morning and evening meet and greets. Since Griffin took over in January, the Chamber has started a new annual event called Know Your Lawmaker for members to meet local political leaders. They also began hosting after hours social events at local athletic games, like a recent gathering at The Joe to watch the RiverDogs and to provide an opportunity for conversation to flow in a more casual setting.
The sports-team connection came natural to Griffin, who is the public address announcer for the South Carolina Stingrays and The Citadel football team.
Griffin said his initial dream was being a play-by-play radio sports announcer. He lived out his dream for four seasons announcing for the Delmarva Shorebirds, a baseball team in Salisbury, Maryland.
"After four years of bus rides, bad motels and cheap food, I was ready for a new challenge," explained Griffin.
He has also been a sports talk show host, a financial talk show host and a radio DJ.
Griffin moved back to the Lowcountry in 2005. He has been married to his college sweetheart, Andrea, for four years. "My No. 1 activity outside of work and the Chamber is spending time with my wife," he said.
Since joining 14 years ago, Griffin has come a long way with the Chamber. There are only three or four members who have been with the organization as long. Griffin is modest about leading the group and repeatedly stated that running the Chamber is a team effort. But, by most standards — and his original boss at iHeartRadio would probably agree — he now "owns it."
For more information or to join the Mount Pleasant Chamber of Commerce, visit mountpleasantchamber.org.
By Tonya McGue