Owner Sara Rossi To Open A Women's Boutique In Mt Pleasant, SC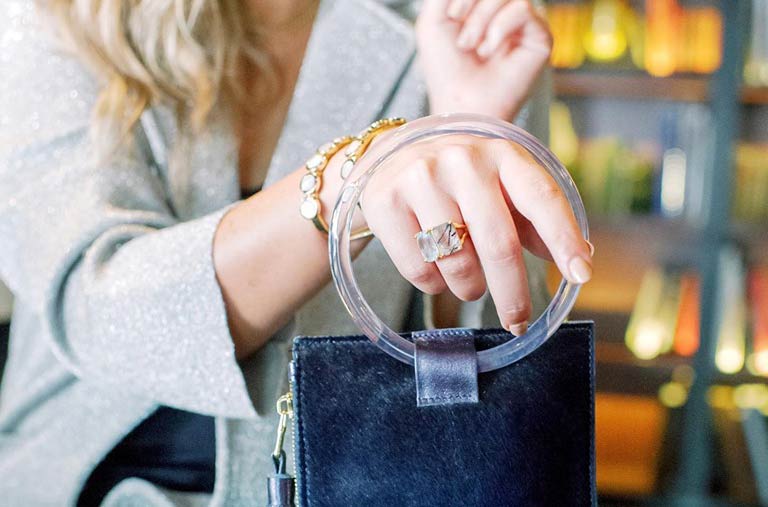 CHARLESTON, SC — OCTOBER 22, 2019 — In early November, Charleston-based women's handbag and accessories brand Beau & Ro will open its first store in Towne Centre, Mt Pleasant. Beau & Ro was founded by Sara Rossi in NYC in 2014, before she co-founded the innovative Skinny Dip retail collectives, including the store on King Street in downtown Charleston. This experience inspired her to relocate to Charleston in 2017.
The Beau & Ro brand first launched with its signature leather styles, all made in NYC. Since then, the line has expanded to incorporate globally-sourced handbags, hats and earrings made by artisans in Colombia, Morocco and Vietnam. The store will offer Beau & Ro's entire collection including its best-selling styles, a clutch that can be converted into a crossbody and the ring wristlet, which come in an array of leathers, pony hair and animal and reptile prints for fall. The Beau & Ro line will continue to expand this spring to incorporate shoes and dresses along with new bag silhouettes and styles.
In addition to Beau & Ro products, Sara has carefully curated brands that she loves to round out the offerings in the shop. This includes clothing from Mirth, Tucker, SZ Blockprints, Farm Rio and South Parade, jewelry from Holst + Lee and Van H and everyone's favorite headbands from Lele Sadoughi. The shop will feature great gifting ideas for the holidays, like cashmere sweaters, tons of candles, coffee table books from Assouline, and Various Keytags with witty Charleston-centric sayings. The shop will also include some amazing treasures that Sara found on a recent trip to Morocco. And stay tuned for fun new brands rolling in for spring like Freedom Moses sandals!
"Building a permanent store gives me an opportunity to think about how my collection lives," says Sara. "What brands does it sit next to? What wallpaper sets the mood? What music does it dance to? Our Instagram and website allows for great lifestyle images and content, but brick and mortar allows me to bring that to life so my customers can step inside and feel it. If online is a world of glamour shots and airbrushing, then brick and mortar maintains that coveted authenticity. Nothing can replace the experience of physically stepping inside a brand's environment."
Sara is excited to refocus on Beau & Ro in her new location and showcase the brand alongside other brands that she loves, in a beautiful new space. The shop will feature a well-designed living room style set up with elevated design details throughout, making it a comfortable and inspiring environment. From oversized rattan light pendants to floral wallpaper and authentic Moroccan carpets, the space is designed to feature story telling as a key element.
Beau & Ro's store will open the first week of November at 1242 Belk Drive, Suite 101, located between Soft Surroundings and Zoe's Kitchen. Visit beauandro.com/theshop for more details on the store!
About Beau & Ro:
Since launching in 2014, Beau & Ro has expanded into an all-encompassing line that includes artist collaborations and globally sourced products. Beau & Ro takes great pride in American craftsmanship, but also sources seasonal bags from artisans around the world to create a dynamic collection. After graduating from Boston College, followed by a decade in New York City, Sara now resides in Charleston, SC. Sara co-founded The Skinny Dip located in Nantucket, Charleston, and Palm Beach.