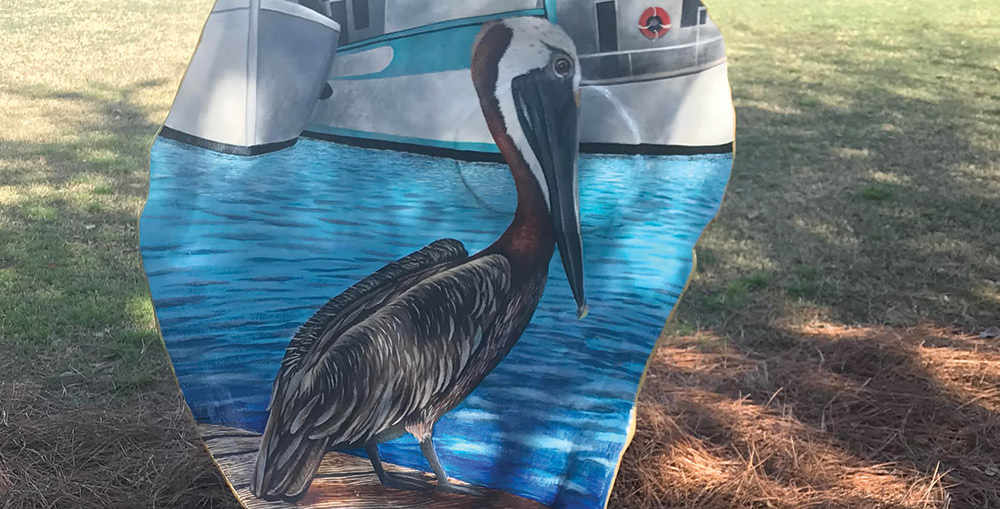 Chicago had cows, Lexington had horses, Los Angeles had angels and Charleston is getting its oysters.
These little shelled mollusks are not just the inherent seawater-filtration system and cuisine delicacy we know them as, but they have also been crafted into jewelry dishes, chandelier ornaments and many more decorative items. … And, in the Town of Mount Pleasant, oysters have become larger-than-life canvasses for a new city-wide art initiative.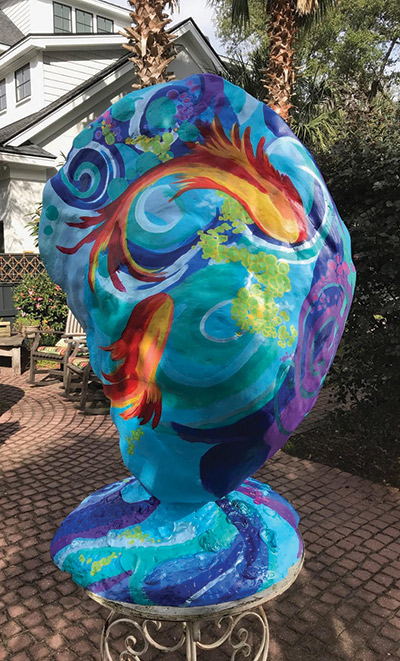 "One thing lacking in our town is significant public art, which I think can be a unifying force and an inspiration to our citizens," said Guang Ming Whitley, councilwoman for the Town of Mount Pleasant and the initiator behind its new Art on the Half Shell project, which debuted at the Oyster Festival in January, headed by local Culture, Arts & Pride Commission (CAP) and funded by an Accommodations Tax Grant. "My hope for this project is to have these oysters all over town and to encourage businesses to sponsor an oyster and have them at their business locations."
Already this year, five 4-foot-tall sculpted oysters have been turned into pieces of unique art and installed around Memorial Waterfront Park.
"I had seen this kind of public art project in Chicago, Los Angeles, and Lexington, Kentucky," said Whitley. "It seemed to me that it would be a perfect public-art project for Mount Pleasant."
Like the shells their canvases are molded after, each artist's take on the oyster theme is one-of-a-kind. On a stroll through Waterfront Park, you'll find the massive shells decorated with all kinds of Lowcountry signifiers — magnolia blossoms and a pelican, a diver in deep-blue waters and bright, swirling fish.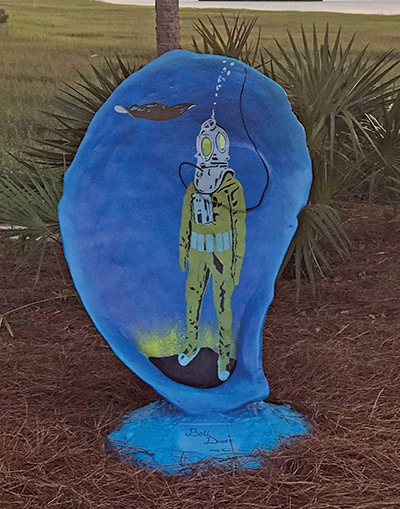 One shell in particular seems to blend into its surroundings, despite its size. The magnolia-covered oyster shell is a collage of greens and warm hues that might disappear into the leaves and bushes around it if it weren't for bright pops of yellow that shine in the sunlight.
The paintbrush behind those Magnolia blossoms belongs to Mackenzie Howard, a student at University of South Carolina studying criminal justice with a background in photography.
"All the others have sea themes, so I decided to do something different. … You know going down that road to Boone Hall Plantation? All the (trees) create, like, a tunnel." stated Howard.
Not far from Howard's sunny blossoms, the shell decorated by Phillip Hyman pays homage to a deep-sea side of the Lowcountry, reminiscent of a graphic novel or an H.P. Lovecraft tale. Hyman's oyster tells a story of bell divers in Charleston's past. On it, a stoic figure in old diving gear floats against a blue background with two jellyfish keeping him company in the deep.
"There is a rich history which includes the Naval Shipyard and the Grace Memorial Bridge inspections and maintenance," explained Hyman of his inspiration. Peering around the back of Hyman's shell, you'll see a sea nettle jellyfish, its glowing golden crest and burgundy tentacles bright against the water.
Harkening back to Whitley's motivation for the project — to use art as a unifying force to inspire citizens — Hyman said the public aspect of this art initiative is what drew him in.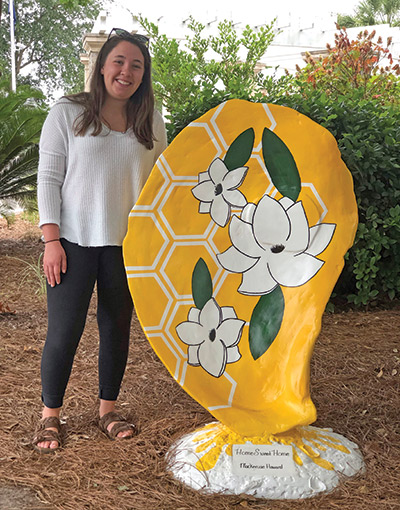 "As an artist, I have always been about public art," said Hyman. "Public art is there for the common man; you don't have to pay to go see it, and you can interact with it. There isn't a better way to communicate with people as an artist."
A search for public art is exactly what led Kris Manning, another Art on the Half Shell painter and the businesswoman behind local Black Tie Music Academy, to Mount Pleasant's new art initiative. Like Hyman, her art cannot be contained to one medium, genre or even scale. On the day we talked, Manning had recently painted pianos for the Spoleto festival, muralled a children's play room and crafted an immense dragon for a parade. She was glad to find another atypical canvas in the plaster oyster shell.
"I paint all kinds of crazy stuff," laughed Manning, mentioning her newfound love of prosthetics and a recent guitar project. "Anything I can get my hands on."
She credits Charleston for that artistic impulse: "This place is magical, and I feel like I can do anything here. I never made art before I moved here. I was always a musician and a business person. When I moved, it felt like suddenly I could do whatever I wanted! I ask myself all the time, 'Do I live here? Is this real?'"
Looking for a way to be involved in even more public art, Manning found the oyster shells and quickly solidified her idea of covering it with swirling koi fish. They swim around the edges of the oyster shell and across the back, giving a sense of motion to the sculpture. Inspired by the fish at her own Charleston home, Manning also wanted a symbol that was universal.
"(Fish are) peaceful and tranquil, and it crosses all languages," she said, hinting at Charleston's tourism culture.
When walking the streets of an unfamiliar town, coming across unexpected gems of street art can say a lot about the place. When it's your own home, they're little nuggets to brighten your day or bring the gallery to you.
Charleston's own publicart symbol could have been a palmetto or a shrimp boat, and both were ideas the council contemplated. In the end, larger-than-life oysters seemed the most fitting symbol for the city — and yet another way for oysters to be enjoyed in Charleston.
By Enid Brenize