For many of us, the dog is the "firstborn" of the household. That creature can do no wrong, despite the initial pee stains on the carpet, pairs of shoes destroyed or sleep-deprived nights trying to crate train. We learn what it means to love something unconditionally, to adjust our schedules and to be less selfish with our time. It's an invaluable lesson in parenthood, before parenthood.
But what happens when a real-life baby comes along to comingle with that "first baby" that stole your heart? How will they get along? Will life change forever? … Well, yes, probably. But for the better. Better than ever, and these Mount Pleasant families are the only proof you need.
BABY BROOKS AND DOG, MAKO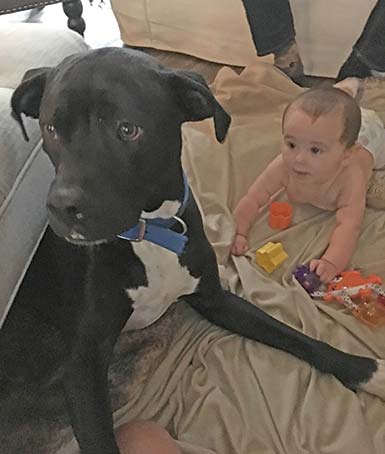 Six-month-old Brooks Boatwright found a quick friend in his fur brother, Mako. According to his mother, Holly Boatwright, Brooks is "obsessed with trying to gain Mako's attention!"
---
BABY MARGARET AND DOG, HENRY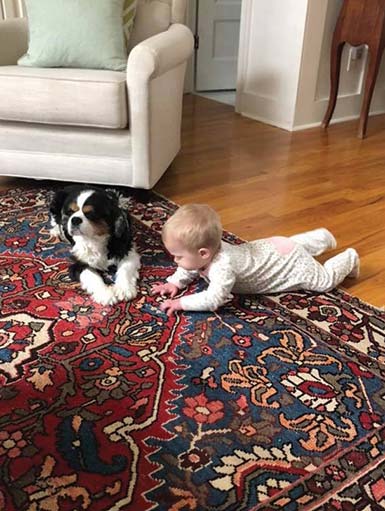 Henry, an 11-year-old King Charles spaniel, has been a longstanding fixture in the Vaigneur household, and he does not take his job lightly of protecting his 10-month-old sister. According to Margaret's mother, Maggie, "Margaret adores him, and he is very protective over her! Henry was an only child until Margaret came along, and he adapted so well to the new addition!"
---
BABY BEN AND DOGS, PIPER AND ALICE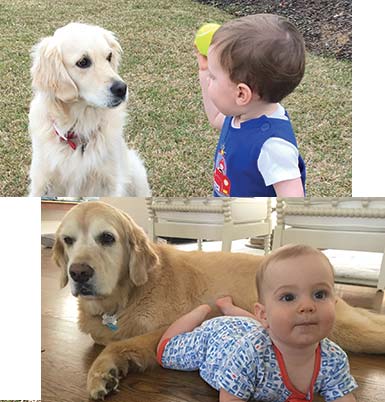 Life is golden in the Curran household with Piper and Alice around, always keeping Ben entertained and happy. Piper, an 11-year-old rescue from Grateful Goldens, was adopted by Adam and Claire Curran just before Ben arrived. They have had 3-year-old Alice since she was a puppy. Most mornings, Alice hops in the car to go to work with Adam, while Piper stays home to tend to Ben. "Piper is the maternal one," joked Claire.
---
BABY REES AND DOG, WILLIAM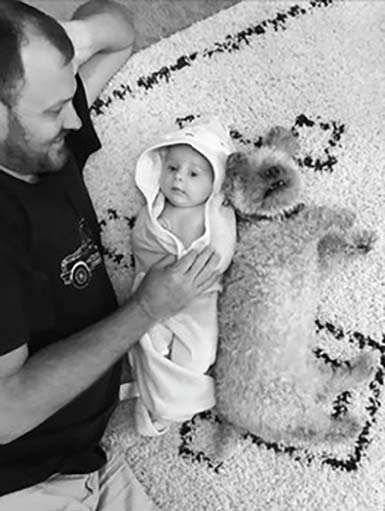 Not all transitions are easy for our sweet pups, but they do adjust over time. And the result is sweeter than ever. … A scenario that was most certainly the case for the Campbell family. Mother Caitlin shared, "We brought our son home almost a year ago, and our 12-year-old cockapoo cried every time the baby cried for two weeks. It was a hard transition on our senior dog, but the bond quickly grew!"
---
BABY CALLAN AND DOG, HARLEY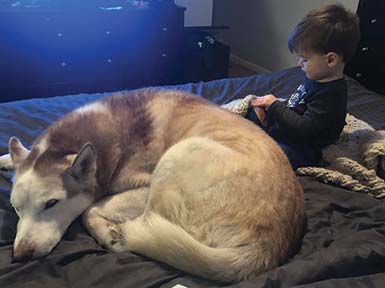 Christie Kerrigan certainly is a dog lover and has always considered them her babies. "Before baby, our dogs were our babies. They were doted on and spoiled rotten. They were able to choose when to eat, as they are all three 'grazers' with food and drink. They have their own doggie door. They would get tons of snuggles and kisses and could sleep wherever they wanted. Now, the laundry room door stays closed most hours of the day, and that's where we have to keep the dog food and water — away from Callan."
Christie also revealed that her husky, Harley, sensed she was in labor. And, for about the first month after Callan was born, Harley kept her distance, only occasionally sniffing him or attempting a little kiss. Things are on the upswing now, and the two are best pals. Harley tolerates him always laying on her and playing next to her. "She gives him kisses, and she is very stingy with those kisses. I feel like he has made her sweeter," said Christie.
---
ALIETTE, BABY LOGAN AND DOG, LUKE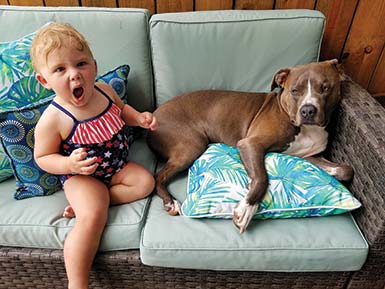 Laura Steele is the proud mother of three children — her pit bull, Luke, her 2-yearold girl, Aliette and new baby Logan. She explained the sibling-like relationship her dog has with her daughter, "Our pit was just short of a year old when we had our daughter, and he wouldn't leave her side. They now pretty much act as siblings, fighting over being the center of attention and where they get to sit on the couch. When it's nap and bedtime, she can't go down without him, and he will cry until he gets to be next to her. … It's an amazing bond they have."
---
SYDNEY, BABY HAZEL AND DOG, HOUSER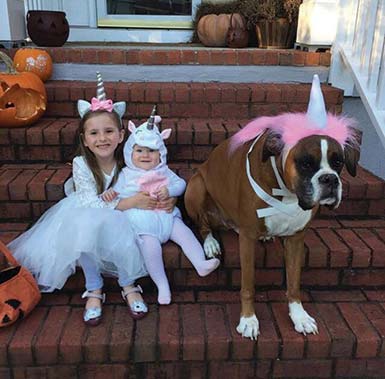 Kristan Leader described Houser, her 8-year-old, 92-pound boxer as "the biggest teddy bear," but when she became pregnant with Sydney, he knew things were changing and became a little protective. "I think he knew when I was pregnant that something was going on. He just came over, and he would not leave Sydney's side. He sleeps in her room on her trundle bed. We didn't want him to feel left out, so we kind of immersed him in baby stuff and put the baby next to him, and they would snuggle."
When 1-year-old Hazel came along last year, Houser extended the same loving behavior.
Sydney calls Houser "her brother," and when people ask who her siblings are, she simply replies: "Houser and Hazel."
---
BABY ANDERSON AND DOG, BAILEY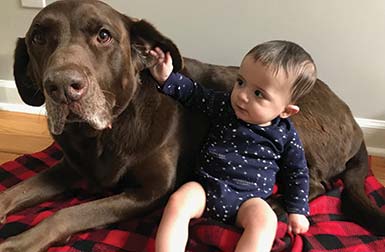 Chocolate Lab Bailey knows he has a best friend in his new pack member, Anderson, who is 6 months old, and he wants to be there for everything his little friend does. Bailey "celebrated" Anderson's first roll over last August. Anderson's favorite thing to do is pet his four-legged pal. Laura Berthiaume, Anderson's mom, said, "They undeniably share a special bond and have been so in love with each other since the day they met."
By Helen Harris