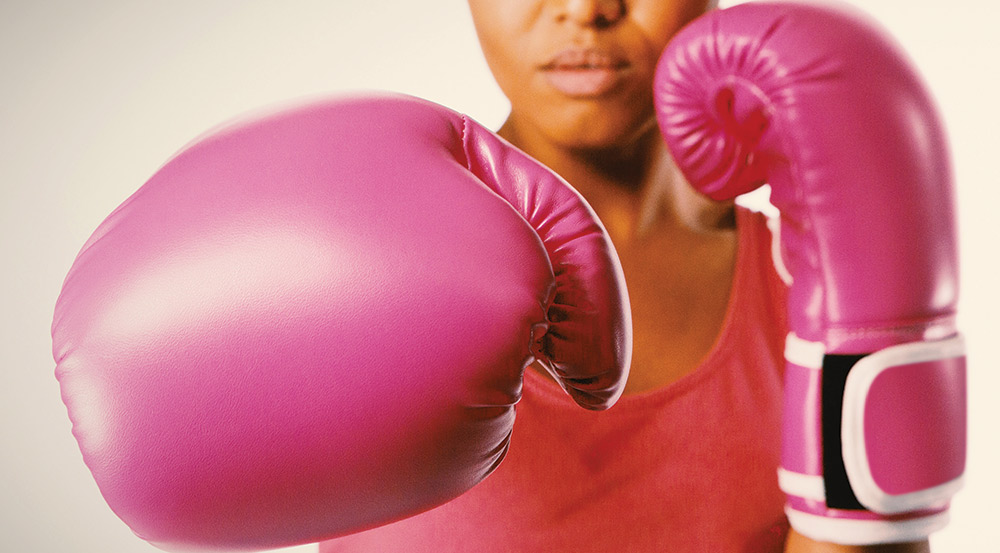 September is Prostate Cancer Awareness Month, followed by Breast Cancer Awareness Month in October. While you'll notice a flurry of light blue and pink ribbons in their respective months; colorful accents worn by celebrities, football players and newscasters, there are many who carry those colors in their hearts year-round: those fighting cancer, those lucky to have survived cancer and those caregivers and affected family and friends whose lives are also forever changed. While the ribbons and colors are welcome beacons that enhance awareness, donations and support — and indeed these "awareness" months have contributed to lowering cancer-related deaths thanks to empowering people with health knowledge and an emphasis on the importance of early detection — a cancer journey knows no bounds, no set months or time constraints.
Every cancer journey is different, just as every person is different. The stage of cancer, the stage of life, the affects, the healing, the outlook. Everything. Four Mount Pleasant neighbors shared their stories in hopes of inspiring others — others with cancer, care givers and those whose future has yet to reveal a similar diagnosis.
These are their experiences.
JoAnn Anthony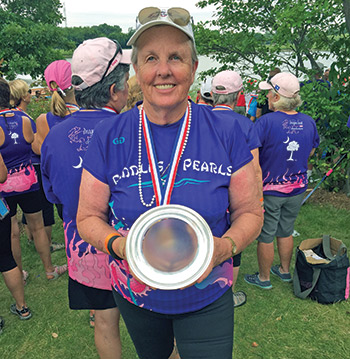 "I don't care how strong a person you are. When the doctor says, 'We think you have cancer,' or 'You have cancer,' your heart misses a beat. There's all this fear. What's treatment going to be like? What are my odds for survival? Will I have a normal life?" Anthony expressed.
She credits MUSC for having a "tremendously supportive" program, but said her fears grew exponentially when she got home and looked it up on the internet. "I know they say not to, but you can't not get on the internet and do your own research. There's all kinds of bad information out there that heightens your fears." Anthony recalled a particular internet article that said to buy an electric toothbrush because she would not have enough energy to make the brushing motion herself.
During testing, a second cancer site was found, so Anthony opted for a full mastectomy. In retrospect, she feels lucky to not have had to endure the side effects of chemo and radiation that many others must.
Following the surgery, she wondered how her life would change. "I had recently retired, and I had plans for a beautiful garden and looked forward to having fun working in my yard," she said, but she worried she wouldn't be able to work in her yard anymore. A neighbor told her about Dragon Boat Charleston, a nonprofit "floating support group" made up of cancer survivors and other members of the community. Eight weeks after her 2012 surgery, she showed up for Dragon Boat, and her perspective on life after cancer changed dramatically.
"I really didn't have anyone close to me who had had breast cancer surgery, so the support of knowing everyone in the boat has gone through what you've gone through — the same fears, surgeries and follow-up care — it's very reassuring. Everyone pulls together and changes your whole mental outlook," she beamed.
The physical activity improved her healing after surgery, and she grew to thrive on the group's mission and support. She has since traveled as far as Australia and Italy to compete in dragon boat races.
"The support system is awesome. The best thing about it is because you had this real scare. People in dragon boating have a very positive outlook because they know the alternative. To be around a large group of people where JoAnn Anthony. everyone has a positive outlook is so special these days."
Betty Pigott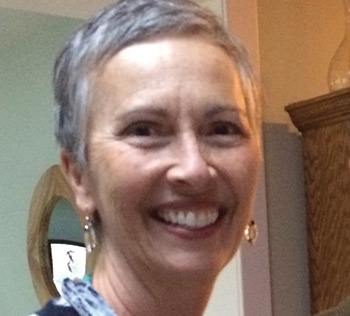 As if a cancer diagnosis wasn't enough, the timing of Pigott's unexpected one couldn't have come at a worse time. "It started in March 2011. My mom — on the eve of my father's open-heart surgery — suffered a massive stroke and died two weeks later. Two weeks after that, I was diagnosed with breast cancer. Three weeks later, my dad went into his delayed surgery and was gone two days later. I call it my 'seven weeks of emotional upheaval.'"
The onslaught of devastations brought her to her lowest point. "It's crazy. Of course I wanted to live, but somehow the deaths of my parents made me feel — in a strange, comforting way — that it would be fine if I didn't. Sounds twisted, but that's how I felt," Pigott shared.
She had a mastectomy and underwent chemo, radiation and reconstruction, and a supportive web began to form around her. Friends, family and church groups buoyed her, and meeting fellow cancer survivors through Dragon Boat Charleston helped her develop a new appreciation for living.
"Having cancer does change your perspective on life. My intention is to live it to its fullest and not sweat the small stuff," she smiled. "You become more health conscious. You buy more organic food, certainly put your sunscreen on, you go for your six-month or yearly mammogram, and you're more diligent about checking. All the things you put on the back burner, you bring forward and you do as much as you can. All those things that you wanted to do 'one of these days' moves forward."
Pigott emphasized the importance of caregivers being involved in support groups for themselves as well. "That's one important thing most people don't realize. I was lucky to have my partner and family and church as my caregivers, and they were all there supporting me, checking on me and bringing me meals. The focus has been on the patient, and rightfully so with a life-threatening disease, but it's an emotional pain the caregiver suffers through," she said.
Amy McCandless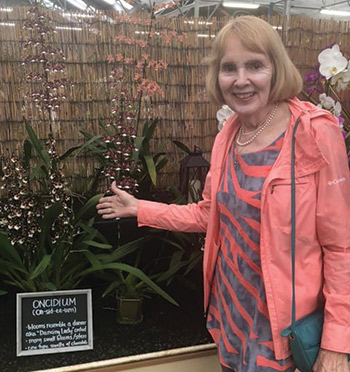 McCandless was diagnosed with ductal carcinoma in situ (DCIS), a stage 0 cancer that had not yet invaded, in both breasts in 2006. "I am a classic example that mammograms save lives," she said. "There are never lumps with that — it's in the milk duct, so it is something you would never see and never feel." It was later elevated to a stage 1 when a small bit of estrogen-fueled cancer was found.
She met with her surgeon, Stanley Wilson, to discuss the options: a lumpectomy with radiation, or a mastectomy only, because there was no evidence the cancer had spread.
"All signs pointed to the mastectomy being the best choice for my situation. Dr. Wilson said he didn't really like doing radiation on slim, athletic women — I think it was a nice way of saying flat-chested, because the radiation would be so close to the heart," she said. "And I thought to myself, 'I don't know what's in there, I can't see it. I don't want to go back every year. If I have cancer, get it out.'"
She underwent the double mastectomy and reconstruction, though her thin frame was a hindrance to the reconstruction process. "That's when they rebuild your breasts. People have done it with their own tissue, but that was another disadvantage of being thin. I didn't have fat in my butt or my stomach, which is where they usually take it," she continued.
Instead, stretchers, also known as tissue expanders, were inserted during the mastectomy. For the next six months, the stretchers were filled with small amounts of fluid to stretch the skin, before silicone implants were inserted.
"Few people even know because I don't look any different. I was very, very fortunate it was caught so early, and I cannot emphasize enough the importance of mammograms. There's so much that can't be seen."
Mat Matson
After being diagnosed with prostate cancer in 2007, Matson had radiation seeds implanted, which eliminated the cancer. For 10 years, he continued having his prostate-specific antigen (PSA) levels tested every few months, but in January of 2017, soon after moving here from Colorado, he was diagnosed with a new, vicious, fast-growing tumor on his prostate.
He was treated by a urologist for over a month before being turned over to an oncologist. A heavy combination of chemotherapy brought his PSA down as low as 36 — still a dangerous level, though it has recently increased again. The roller-coaster of levels, treatments and emotions continues as PSAs are monitored from month to month.
"One thing that was astounding to me is how technology is increasing day by day. They wanted to do a biopsy — where they would go in my bone and dig some out and haul it to the lab. It's a painful thing," Matson explained. "Within the last three months, there is now a new technology where they can get the data from my blood instead of going in for bone marrow."
He credits the local medical community for their dedication to improving health.
"I feel very fortunate to have landed in South Carolina with the medical profession operating as it does here in Charleston. I have a sinking feeling in my heart that if I had stayed in Colorado I would have been gone by now. There, I was treated like I had had a good life and that I would be gone by now. Here, it's more like, 'We've got to get you fixed.'"
Matson continues to fight his latest bout with prostate cancer as PSA levels are monitored and oncologists report the news and alter the chemotherapy plans.
"I know I'm in good hands, and the battle goes on," he grinned.
By Anne Shuler Toole