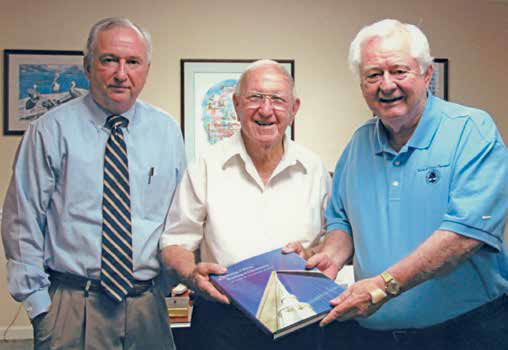 Would Mount Pleasant have an array of roundabouts, a law protecting trees and the financial advantage of development impact fees if Mac Burdette had decided to put down roots elsewhere? Would Patriots Point be struggling to survive today if it were still trying to make it as a 20th-century museum in a 21st-century world?
We'll never know the answers to those hypothetical questions, but what we can be certain of is that for 25 years as Mount Pleasant's town administrator, Burdette never lacked the vision to guide one of the nation's fastest-growing municipalities in the right direction – and that for nine years after that, as executive director of the Patriots Point Development Authority, he had the foresight to see that changes were necessary to ensure the future viability of a museum anchored by an iconic aircraft carrier that has earned its place in U.S. history, from World War II to Vietnam to the space program.
Burdette, who will retire at the end of June after a collective 34 years with the town of Mount Pleasant and the PPDA, prefers to reserve the credit for his success for the people he worked with.
"That's my story," said Burdette. "I was fortunate to know people who were well thought of to mentor me when opportunities came along. I've worked with some of the smartest and most dedicated public servants, who made sure I didn't screw things up."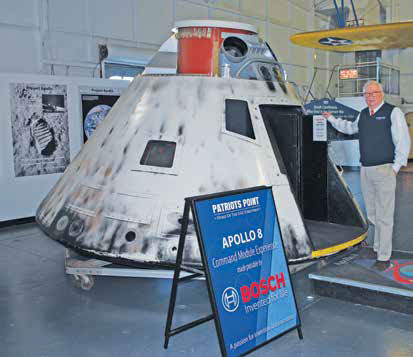 "Good people are the key to anyone's success. It's all about the people you're around," he added. "I've been damn lucky to be in the right place at the right time."
A native of Simpsonville, South Carolina, Burdette earned his bachelor's and master's degrees at Clemson. He served in the Army, on active duty and in the reserves for three decades, spending time in Saudi Arabia during Operation Desert Storm in the early 1990s. After holding down a government job in Georgia, he worked with the South Carolina Coastal Council for six years, beginning in 1980.
The little town across the river from Charleston wasn't on his radar until Mount Pleasant Director of Planning Joel Ford called him to let him know the municipality was seeking an administrator. Not long after, Mayor Dick Jones got in touch with him as well, though Burdette insisted that "I don't know anything about running a city."
"Don't worry," Jones told him. "You'll learn."
Still conflicted, Burdette called an acquaintance, Goose Creek City Administrator Dennis Harmon, to ask his advice. He learned that "Mount Pleasant is an up-and-coming place with challenges and opportunities."
That was good enough for Burdette, who took the job but later learned that the position had been offered to Harmon, who turned it down.
Ford, meanwhile, worked with Burdette to move Mount Pleasant forward. Town officials enacted the state's first tree ordinance, and, for the first time in the Palmetto State, developers were charged an impact fee to help pay for services such as recreation, transportation and fire protection.
"I can't tell you how much tax money was saved by impact fees," Burdette commented.
Burdette said he and Ford, who passed away in 2016, brought roundabouts to Mount Pleasant. To show local residents how traffic circles would help with traffic problems, they used hay bales to set up a temporary roundabout near the intersection of Anna Knapp and Highway 17.
"We had a Town Council that was willing to take a chance," Burdette pointed out. "And Joel Ford was nothing short of brilliant. He was the only man who could tell off the Town Council, and, when he was done, they would say, 'Thank you Joel. We appreciate it.'"
"Everything that's good about Mount Pleasant has Joel Ford's fingerprints on it," he added.
In Burdette's opinion, there's a lot about Mount Pleasant that attracts residents from elsewhere, including its schools, hospitals, libraries and recreational opportunities. The one thing he thinks his adopted hometown lacks is a downtown area, a place where people can use their feet instead of their cars to access restaurants and shops. That was part of the plan put together more than a decade ago by the Coleman Revitalization Advisory Board – also known as the CRAB – a group of local citizens whose efforts were aimed in part at returning Coleman Boulevard to its previous place of prominence in the community.
"It's unfortunate that the CRAB wasn't followed up on," Burdette lamented. "It's not a popular thing to say, but Coleman Boulevard should be our downtown. It could have worked, and it still can work."
After a quarter of a century as Mount Pleasant's town administrator, Burdette decided it was time to move on and turn the job over to his assistant, Eric DeMoura. Despite his leadership during the town's meteoric growth, he downplayed his personal accomplishments.
"We built a foundation. There was a vision and people wanted to be part of it," he explained. "The people who were moving here had a vision, they had standards and they had expectations."
"We had elected officials and boards and commissions like the Planning Commission with the guts to try things," he added. "We didn't get it right all the time. Some government leaders were voted out of office because of their vision, but nobody can show me a town that's better to live in than Mount Pleasant, South Carolina."
Burdette wasn't out of work long. A week after he left the town, Mayor Billy Swails called him to gauge his interest in the executive director's position at Patriots Point. He took the job, and his board gave him the authority to hire a talented staff. Together, they undertook the task of making the USS Yorktown, the USS Laffey and the Vietnam Experience more attractive to the technology-minded younger generation while maintaining their innate appeal to history buffs and to the men and women who had worn the uniform of the Army, Navy, Marines, Air Force and Coast Guard.
"It all starts with an understanding of what we are and where we need to be going forward. If you stay in one place, you probably will lose," Burdette said. "You can't overlook emotions – these are places where men died – but you have to recognize that this is a business. You have to have a plan to sell your product."
As part of Burdette's efforts to maintain Patriots Point as one of the top attractions in the Lowcountry, an elevator was added to the Yorktown to make the ship accessible to more people. The main reason attendance has spiked to 308,000 visitors a year, however, has been a concentration on using technology to make the exhibits more interactive. For example, the Laffey, a destroyer that saw action in World War II and the Korean conflict, now offers an interactive experience where people can feel, hear and see what it was like when a Japanese plane took out a gun mount during the Battle of Okinwa, killing six U.S. sailors.
Burdette said Patriots Point has spent about $2 million "to make things come alive," which includes renovations in the Laffey's Combat Information Center, where a lifelike naval officer – really a hologram – gives visitors a taste of the Cold War, when the ship's crew played a constant game of cat and mouse with Soviet planes and submarines.
After a $10,000 makeover, the Yorktown's most popular exhibit now is a replica of the Apollo 8 capsule, where, thanks to audio and video provided by NASA, visitors can take a three-and-a-half minute trip to the moon and back. The Yorktown retrieved the real Apollo 8 capsule, along with astronauts Frank Borman, James Lovell and William Anders, from their aqueous landing spot in the Pacific Ocean in 1968.
Technology also is evident in The Vietnam Experience, a two-acre display that was rebuilt and re-opened in 2014. Visitors can watch movies about important battles in the war and listen to actual transmissions from soldiers in the field, aboard riverboats and in helicopters.
"It's not Disney, but a little bit of Disney helps," Burdette said. "Kids today have more technology in their bedrooms than was on Apollo 11. They're not satisfied with looking at a static exhibit or a picture on the wall."
With his 69th birthday approaching, Burdette said he is ready to retire and turn Patriots Point over to new blood with new ideas and start another chapter in his life, which, so far, is nothing more than a blank page.
He and his wife, Ann, currently live on the north side of Mount Pleasant. They have two children: Ben, who is in Greenville, and Sarah-Butler, a resident of Raleigh, North Carolina.
"To be able to raise our kids in a place like Mount Pleasant has been a gift," he said.
By Brian Sherman