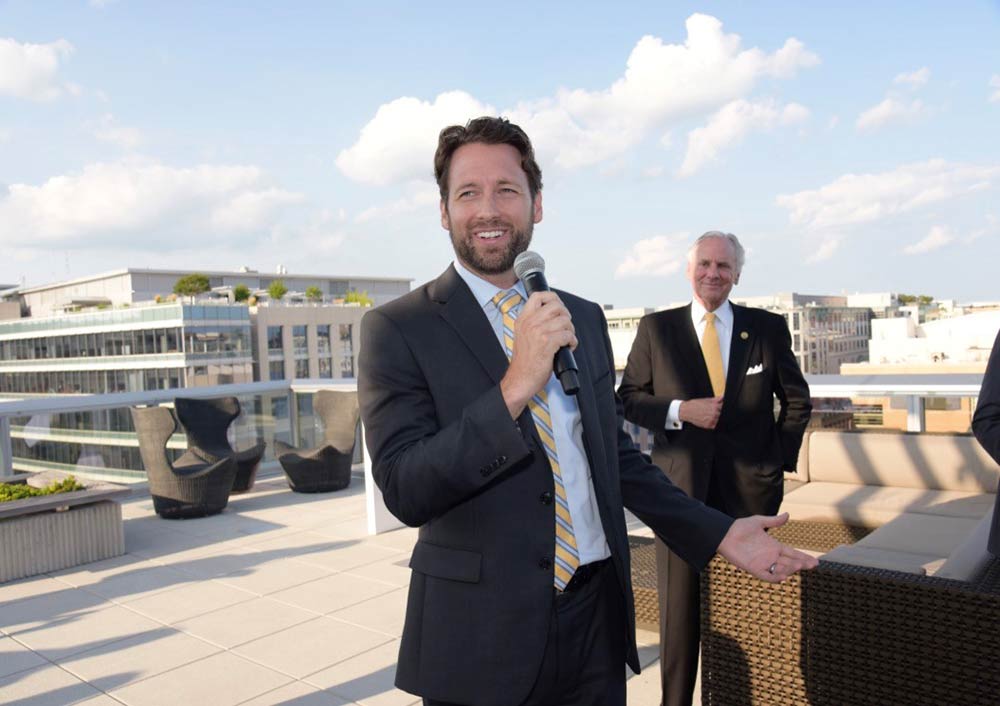 It's not unusual to run into someone I know when I'm back in Charleston, but when the man who had been following his toddler through the refrigerated aisle at Harris Teeter picked up the boy and waved at me, it took me a second to place him. The only other time we'd met, I was the one trying to keep up with him as we walked from his office to the floor of the U.S. House of Representatives. "Hi Joe," I said, waving back.
These days, Congressman Joe Cunningham is always in motion. When he's not walking back and forth between his office and the Capitol building for votes, or running off to his committee assignments for hearings and then back to his office again to meet with constituents, he's flying home to Charleston every weekend to be with his wife, Amanda, and their young son, Boone.
When I first caught up with Congressman ("call me Joe") Cunningham in July, our scheduled sit-down interview became an Aaron Sorkin-esque walk-and-talk from his office to the House chamber when an unexpected vote was called late in the day. Walking through the labyrinth of hallways, elevators, stairs, tunnels and more elevators, Cunningham described his abrupt transition from candidate to congressman.
"It's been a whirlwind, all in a good manner. When we walked into this role we were in the middle of the longest government shutdown in history, and so we walked right into it and started negotiating a resolution to that," said Cunningham. "In the first four or five days, we introduced a bill that would stop offshore drilling."
His offshore drilling bill has since passed the House of Representatives with bipartisan support, a remarkable feat for a freshman congressman to accomplish in his first nine months. Perhaps even more remarkable was the "victory lap" press conference following the vote in the House that was attended by Democrats as well as prominent Republicans, including Governor Henry McMaster and former Governor and Congressman Mark Sanford, Cunningham's predecessor in the House.
Politicos may be surprised by Cunningham's crossover appeal, but he's unfazed by it.
"Our whole campaign and presence in Congress has broken a lot of traditions in the sense that it's not often Democrats get endorsed by Republican mayors. So, is it surprising?" asked Cunningham. "I guess not so much in that sense."
On the surface, Cunningham seems very different than his predecessor Sanford, but the two talk often and share one peculiar practice.
"I'm continuing Mark Sanford's legacy," said Cunningham, referring to Sanford's custom of sleeping in his Congressional office instead of renting an apartment. Cunningham hasn't ruled out renting a place in Washington, but that's not a priority. He said that when he was elected, "our first priority was staffing and legislating, offshore drilling and healthcare. Sleeping was down the list."
When it came to staffing, he knew just where to turn.
"We wanted to hire the best people possible to serve the first district, and we're very fortunate to have a couple people from (Sanford's) staff stay on with us in Charleston and in our Beaufort office," said Cunningham. "And we have Republicans there too, because we're going to show folks that our office is putting action behind words: Lowcountry over party and people over politics."
He explained, "We wanted to make that transition as seamless as possible, so that from day one when people had issues in Goose Creek or Summerville, they knew where to go and who to contact, so that when someone picked up the phone there was a familiar voice."
August was Cunningham's first big Congressional recess since he took office, and traditionally the most likely time to find your senators and representatives enjoying some down time. Our congressman was not so lucky.
"When I'm back (in the Lowcountry) my schedule is just as hectic, if not moreso, than when I'm up here," Cunningham explained. "My team has got me scheduled all across the district from sunup to sundown."
When he's back in the Lowcountry, Cunningham spends a lot of time in Mount Pleasant, and not just because that's where his Charleston office is located. In August, he visited and toured Alice's Clubhouse, a memory care day center on Bowman Road designed for adults with mild to moderate memory loss. "It's a great organization doing a lot of good work," said Cunningham.
Among the other recent stops East of the Cooper was a discussion with shrimpers and fishermen on Shem Creek, getting their input on legislation that would help combat climate change.
"I want to be their conduit to Washington, D.C. I want to know their stories and what concerns them," explained Cunningham. "It's a good reminder of how front and center our district is with climate change with rising sea levels, and talking to fishermen about the rising temperature of the waters. This past August, the surface temperature was 89 degrees where in the past it had only been 83 degrees… shrimpers are going out and bringing back 60 pounds of shrimp instead of 600 pounds. It begs the question: 'Is this sustainable?' What happens when you can't go out to a restaurant and order Lowcountry shrimp?"
Cunningham has a long relationship with the sea that goes well beyond beach walking and dockside dining. Although he was born in Kentucky, his professional life has always revolved around the water, working as an ocean engineer in Florida; and he met his wife, Amanda, when he was working as a deckhand on a yacht before going back to school to study law.
Wrapping up our second interview, this time seated comfortably in his office in Washington, I asked Cunningham, "If you could bring one thing up from South Car-," and he jumped in with "beer" before I could finish.
"I try to bring up some beer every time I come up," he explained. "I give it away to my colleagues, Democrats and Republicans. I find it's still a great way to make friends and forge relationships."
And then he was on the go again, off to another meeting.
By Brian Barrie