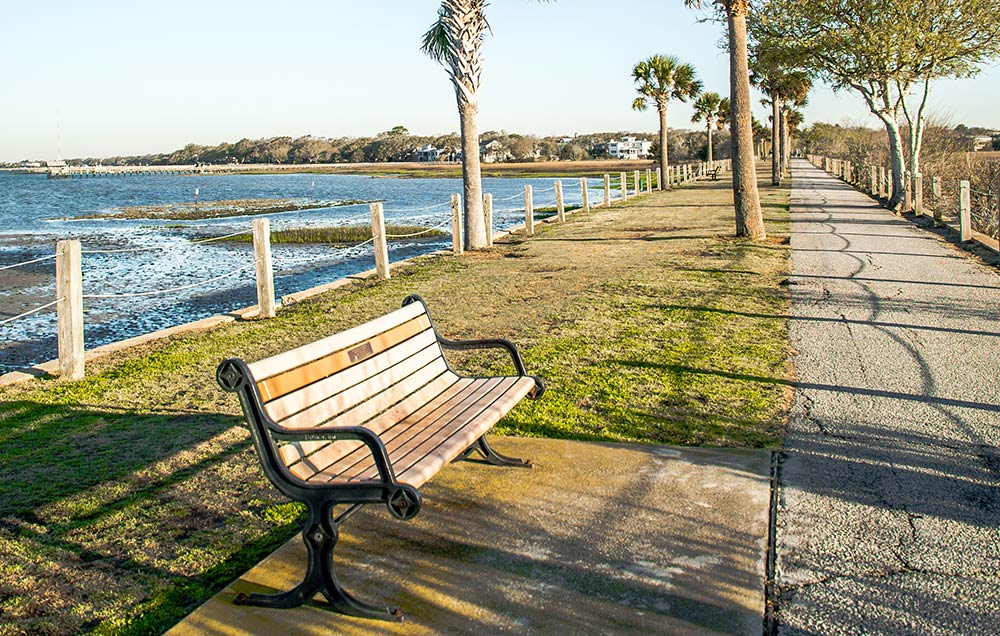 Oh, Mount Pleasant. How very interesting a town we live in – it's where people are flocking to come, and where locals are reluctant to leave. As with every one of these "We Are" features, we try to shed light on some of the people who make our town special. You don't have to be born here, you don't have to have lived here for any minimum number of years, but we like to introduce our readers to the people who make our town so very, well, pleasant. In this segment, we feature four people who have made impacts in very different ways: Judith Ewing, a chaplain who has been at the sides of many of us in our darkest times of need; Jack Hurley, a restauranteur whose iconic hot dog joint has anchored a point on Highway 17 for years; Anna Dassing, Lucy Beckham High School's first principal who is eagerly awaiting its grand opening in 2020; and Sparky Witte; a veteran and lifelong Mount Pleasant resident who remembers Mount Pleasant as a much different place than what we know today.
If you see them, say hello.
Judith Ewing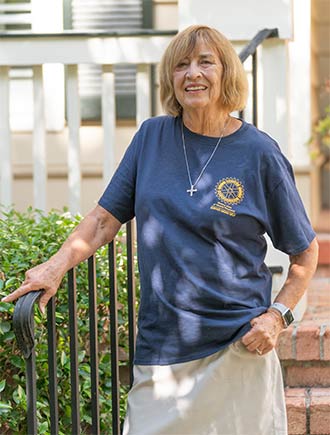 Hailing from England, Judith Ewing moved to South Carolina in the 1980s and made Mount Pleasant her home in 2006. An ordained deacon in the Episcopal church, she is now a chaplain with Lowcountry Community Chaplaincy, and provides a ministerial presence to people in the wake of tragedies like murders, suicides, drownings and accidents. She is also a chaplain with the Charleston County drug court system – work she finds fulfilling because her adopted son died of heroin abuse, and she always wanted to do something to prevent it from happening to someone else.
"You see them coming in from the jail in their prison clothes, shackled and handcuffed, shuffling in. Over time, with everybody working towards helping them, they come out clean from drugs, happy and responsible. They have their lives back together. To me, that's the most wonderful thing in the world. That is my main love," she smiled.
Jack Hurley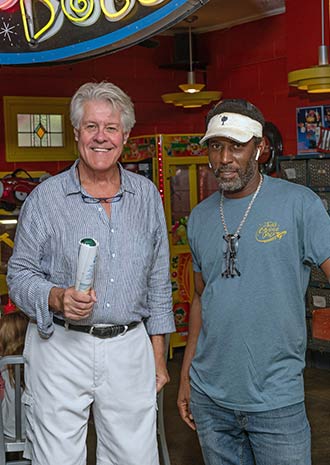 "I like to start things," said Jack Hurley. The creative restauranteur moved his family from Vermont in the 1990s because they were "too cold," he joked. They transformed an old cinderblock building on Highway 17 North – at the time in the middle-of-nowhere – into Jack's Cosmic Dogs, modeled after his favorite childhood hot dog joint. "We named it, trademarked it, created the recipes, painted it, outfitted it and created its character – and we did it in five weeks," he grinned.
The quirky theme, fresh, unique food and great staff have attracted national attention and celebrities like former President Bill Clinton and cooking personality Alton Brown. He credits his staff, especially David Jackson (pictured at right) manager for 19 years, as being the backbone of Jack's Cosmic Dogs. With their help, Hurley said, Jack's has remained a mainstay for the Mount Pleasant community even as its middle-of-nowhere-ness has morphed to become middle-of-town.
Anna Dassing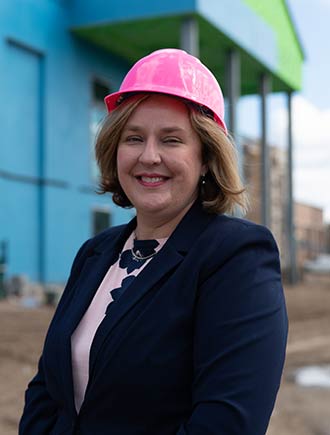 Principal Anna Dassing's dream job will become a reality in the fall of 2020 as the new Lucy Beckham High School opens its doors for the first time. She came to Mount Pleasant in 2002 to work as a teacher coach and soon became a principal. "I wanted to stay as close to the classroom and teachers as possible. Teachers make a tremendous impact on their students – when you help teachers, you impact it all, and it multiplies exponentially," she explained.
She credits the Mount Pleasant community for their enthusiastic support to shape Beckham's future and looks forward to students having the opportunity to create traditions that will live forever. "I'm so excited to bring Lucy's vision to fruition," Dassing beamed. "It's all I think about – it's historic – you don't have but one chance to make a first impression, and this is going to be a great one."
Sparky Witte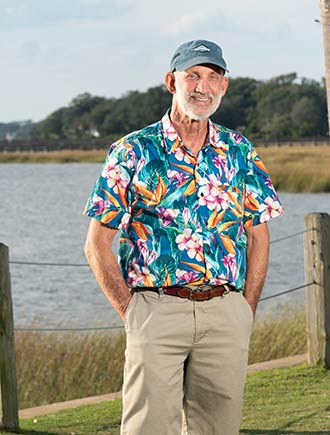 Sparky Witte knows a different Mount Pleasant than most – one he knew as a boy in the 1950s. Get him talking about it and the conversation turns into an interesting game of "what was there before," like the farm he worked on, riding a horse named Speckled Cloud before Creekside neighborhood was developed. Or working at Hardees (in the old Andolini's on Coleman Boulevard) when a Coke, fries and a burger cost 50 cents.
Witte is passionate about documenting our town through the years, and even documented the "unbuilding" of the Grace and Silas N. Pearman bridges. While the growth and changes in the town frustrate him, Mount Pleasant is in his blood, and he never plans to leave. "I love telling the story about growing up here to people who just moved here. I've never thought of not living here – smell that pluff mud? It's home," he grinned.