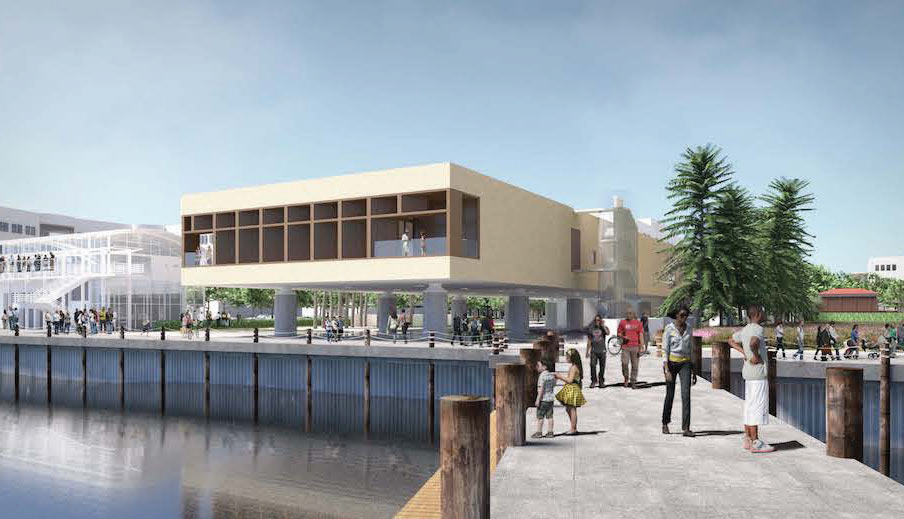 While Charleston is known for its rich history and distinguished restaurants, not all its richness is palatable to the soul. For many of her inhabitants' ancestry, Charleston's history and their connection to it are often unknown. The few stories shared and retold from generation to generation are incomplete tales of woe that include slavery, separation and heartache.
Henry Louis Gates, Jr., Harvard professor and historian, once said, "Forty-eight-point-one percent of all of the African slaves that came to the United States entered this country through Charleston."
The International African American Museum (IAAM) chose Charleston, the port of arrival for nearly half of all Africans forced to this country, to illuminate the history of those first-generation Africans and their descendants. This one-of-a-kind research center — scheduled to open in 2023 on the Charleston Harbor on the site of the former Gadsden's Wharf — will have a special focus on African-American genealogy. It will be an interactive place of education and discovery featuring exhibits, galleries and multimedia theaters with touchscreen displays designed to cater to visitors of all ages.
Brenda Tindal, director of education and engagement, stated, "The IAAM is poised to be a state-of-the-art museum and memorial to honor and interpret the rich and complex stories and experiences that shape the history and culture of people of African descent. In this way, the IAAM will be a site of pilgrimage for an international, national and regional community of visitors who are interested in learning about Charleston's African American heritage and its unique connections to other parts of the African diaspora, including West and West Central Africa and the Caribbean, to name a few. Our immersive exhibitions and menu of public programs, symposia, workshops, tours, school fieldtrips and special events will ensure that the museum is a hub for robust community engagement, dialogue and enrichment experiences for diverse and multigenerational audiences."
WHY CHARLESTON?
"Know from whence you came. If you know whence you came, there are absolutely no limitations to where you can go." — James Baldwin
Approximately half of all North America's enslaved Africans entered this country through Gadsden's Wharf, commonly known as the "Ellis Island of African Americans." It is now referred to as "hallowed land." Today, millions of African Americans can trace their ancestors to Charleston.
The IAAM's goal is to create a unique center of learning for individuals and families to advance their understanding and knowledge of their own family's lineage. Through resources and programs, people will learn the roles their ancestors played in shaping American history.
This museum will provide us all an opportunity to learn, understand and appreciate African-American history and the people who came ashore here. It will be a must see for everyone.
EXHIBITS AND GALLERIES
ATLANTIC CONNECTIONS
Atlantic Connections will allow visitors to follow the interwoven relationships between key port areas in Africa, Europe and America, including Charleston.
CENTER FOR FAMILY HISTORY
The Center for Family History will be the museum's main feature and biggest draw. Visitors will have access to state-of-the-art technology to help uncover information about their ancestors.
FAMILY HISTORY GALLERY
The Family History Gallery will attract visitors interested in tracing their genealogy, some for the very first time.
SOCIAL JUSTICE ACTION LAB
The Social Justice Action Lab will be a place to collaborate with local, national and international partners for discussions, outreach and resources for addressing social justice issues connected to people of African descent throughout the world.
AMERICAN JOURNEY
American Journey will be a timeline, punctuated with insights from individual and community voices and experiences. It will take visitors on a journey through South Carolina's unique history by looking at key moments and movements connected to the state.
POWER OF PLACE
Power of Place will feature exhibitions and artifacts as well as an interactive media table with a large-scale map of South Carolina.
ORIENTATION THEATER
When visitors enter the new museum, they will be able to view a short film in the Orientation Theater. The film will convey the emotional power of the IAAM's location at Gadsden Wharf and will orient guests to the significance of Charleston history. Viewers will learn about the African-American resistance, sacrifice, survival and achievements.
RICE CULTURE IN THE LOWCOUNTRY
Guests will learn how the enslaved West Africans brought a rich knowledge of rice cultivation to South Carolina's coastal wetlands and converted them into lucrative rice fields. Later known as "Carolina Gold," rice along with tobacco, sugar and cotton plantations in the South — based on enslaved labor — fueled the growth of the United States.
GULLAH GEECHEE GALLERY
The Gullah Geechee Gallery will celebrate historic African-American communities, their culture and diverse experiences.
STUDIO TIME
Studio Time will feature handson activities and collective engagement. Family programs, such as sweetgrass basket weaving or painting techniques, will be offered to educate visitors, particularly school-aged children.
GULLAH GEECHEE PRAISE HOUSE
The Gullah Geechee Praise House will present a series of multimedia elements that will bring Gullah Geechee culture and traditions to life through video modules.
ORAL STORY BOOTH
Visitors will have an opportunity to contribute their personal histories to the museum's database in the Oral Story Booth.
RESPONSE STORY BOOTH
Visitors will be able to respond to their museum experience by addressing prompts on the monitor in the Response Story Booth.
AFRICAN ANCESTORS MEMORIAL GARDEN
The African Ancestors Memorial Garden will fan across the IAAM grounds and be free and open to the public. It will commemorate the sacred location of Gadsden's Wharf and include a series of outdoor features to give visitors the opportunity to honor and reflect on the historic significance.
By Cathy Bennett