When you get that creepy feeling that something about your home or workplace is paranormal, "Who you gonna call?"
While one fourth of the original "Ghostbusters" team does reside in Mount Pleasant, if you don't have access to proton pack-wielding apparition exterminators, maybe you just embrace it and make it part of your story.
After all, a certain level of spookiness provides its own entertainment factor since many people enjoy the thrill of being scared, especially during Halloween.
The following places located East of the Cooper have some type of eerie connection, and, in one case, there are even special ghost tours incorporating alleged hauntings into a special visitor experience.
Yorktown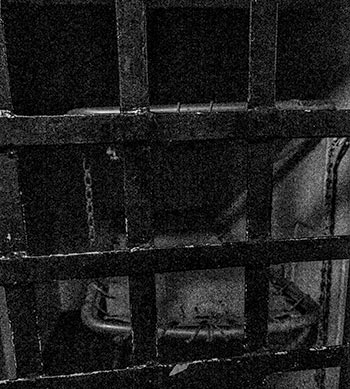 Bulldog Tours hosts 90-minute haunted tours of the USS Yorktown every night at 7 p.m. and 9 p.m. Haunted Yorktown Tour head guide, Andrew Kuhn, said the tour focuses on the history of the ship and the various hauntings that have occurred there. "The thing that sets this ghost tour apart from most is that the spirits in question are not pirates or criminals, but rather American heroes who fought and died to protect our freedoms," noted Kuhn.
Some unexplained sounds encountered on the tour have included footsteps in the hallways, banging on the doors and period music playing when there is no rational explanation for it. An added bonus is that the tour is allowed to take guests to areas of the ship that are normally closed to the day-visiting public, such as accessing the flight deck after dark to enjoy the beautiful nighttime views of the harbor and city. The tour primarily centers on World War II history, although the Yorktown was also stationed in Korea and Vietnam. Tour highlights feature an examination of Captain Joseph James "Jocko" Clark, the first captain of the ship and the first Native American to graduate from the U.S. Naval Academy. A native of the Cherokee Nation of Oklahoma, Clark had a Cherokee Chief bless the Yorktown to help protect it.
Then there is the incredible tale of Elisha "Smokey" Stover, an accomplished fighter pilot shot down and killed in the Pacific Theater during an airstrike at Truk Island in 1944. Upon reading Stover's journal, it was discovered that he had predicted even before the war that man would walk on the moon. Even when President John F. Kennedy delivered his famous moon speech in 1961 about sending U.S. astronauts to the moon before decade's end, many thought this ambitious goal preposterous. Then there is the story of the mysterious disappearance of Lt. Hummel (first name unknown). Pilots had been called to the ready room, a briefing area where pilots meet before a mission. The mission got scrapped, and the crew went back to their stations. But Lt. Hummel never reported back to his station. He essentially vanished from the Yorktown, and his body has never been recovered. The most accepted explanation for his disappearance is that he fell overboard, said Kuhn.
Just how haunted is the Yorktown? The "Fighting Lady" was once even featured in a 2012 episode of TV's "Ghost Hunters," where the crew spent several nights alone aboard the ship to document paranormal activity.
Fort Moultrie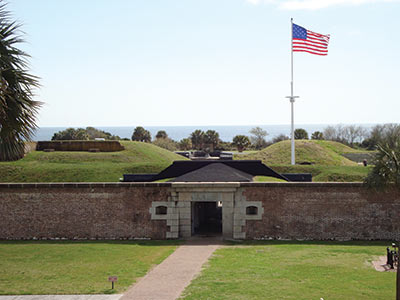 Okay, so there hasn't exactly been a flurry of paranormal activity reported at Fort Moultrie, but it does merit some spooky street cred. Master of gothic and the macabre, Edgar Allan Poe was once stationed at Fort Moultrie on Sullivan's Island from 1827-1828. A private in the U.S. Army, he learned his regiment was being assigned to the fort on Oct. 31, 1827, and he arrived on Nov. 18. He was based at Fort Moultrie for about one year, until Dec. 11, 1828. Later in life, he wrote several short stories based on his time there. The most famous of these works, "The Gold Bug," originally published in 1843, is set on Sullivan's Island and references Fort Moultrie. It follows the character William Legrand, who has been bitten by a gold-colored bug and begins to behave irrationally, convinced that the bug is the secret to finding a hidden treasure and recovering his squandered family fortune. One passage from the short story describes Sullivan's Island: "The island is a very singular one. It consists of little else than the sea sand, and is about three miles long. … It is separated from the main land by a scarcely perceptible creek, oozing its way through a wilderness of reeds and slime. The vegetation, as might be supposed, is scant, or at least dwarfish. Miserable frame buildings, tenanted during summer by fugitives from Charleston dust and fever, may be found." Poe's other stories referencing Sullivan's Island and Charleston include "The Balloon-Hoax" and "The Oblong Box."
Old Village Post House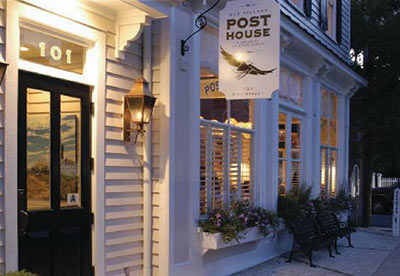 A website called hauntedplaces.org mentions that the Old Village Post House, the former restaurant and inn located at 101 Pitt St., was featured in the 2001 book "Haunted Inns of the Southeast" by Sheila Turnage under its previous business name of Guilds Inn. It suggests that a previous owner Captain Samuel Guilds still haunted the place and that the best time to see him was during a full moon. Another ghost sightings website, frightfind.com, lists the Old Village Post House as reputedly haunted. Unfortunately, the Old Village Post House is now closed and there is no one presently occupying the building to either confirm or deny whether there is still any reported paranormal activity. So, feel free to let your imagination run wild.
By Colin McCandless