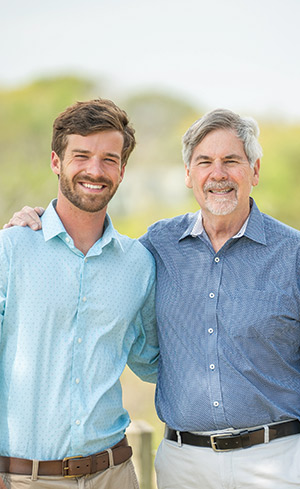 The Hunnicutt Team is a passionate, dedicated family business that is backed by the power of Carolina One Real Estate. Servicing the entire Lowcountry, Ed Hunnicutt has created a team of real estate agents who provide personalized customer service with enhanced efficiency for their buyers and sellers.
Ed Hunnicutt, Realtor® and associate broker, applies the same fervor to real estate as he does to his family. A veteran of the Charleston market since 1992, along with his wife, Cathy, he is always excited to show off communities in the tri-county area.
Seven years ago, Ed and Cathy's son, Matthew, joined the team and has found himself at home.
"Growing up as a kid, my parents worked real estate, and it was often dinner talk. It was natural for me to become a Realtor, and I enjoy helping people find themselves a home."
The Hunnicutt Team is rounded out with Realtor Georgieann Hoerner and Sandra Patrick, closing coordinator. "We offer the full experience and try to make real estate transactions as easy as possible," said Matthew. "Everyone on our team has their own role, and we help each other out."
Ed agrees and is proud of the team he has assembled. "We are always able to cover for each other, and we cover all the bases on marketing for our clients. Social media, direct mail, professional websites and photography are some of the tools we utilize. We believe in doing everything first class."
The great familial relationship definitely carries over to The Hunnicutt Team. "In order to have a happy, successful career, you have to have trust, and we have it," stated Ed.
The Hunnicutt Team services mostly East Cooper and West Ashley but works the entire tri-county area.
"We are available anywhere our clients need to go and will work with any price point," explained Ed. "We recently closed on a multimillion-dollar property as well as a quaint property for $130,000."
Ninety percent of The Hunnicutt Team's business comes from referrals and returning buyers or sellers. It is exciting for the team to know that they are trusted, and that message is spread through word-of-mouth.
"We are in the business of putting people in the right properties," finished Matthew. "We are not in the business of just selling homes. We are in the business of selling the Lowcountry lifestyle."
To learn more about The Hunnicutt Team or their many listings through Carolina One Real Estate, visit them online at www.EdHunnicutt.com, or call directly at 843-270-0292.
By Stacy Domingo