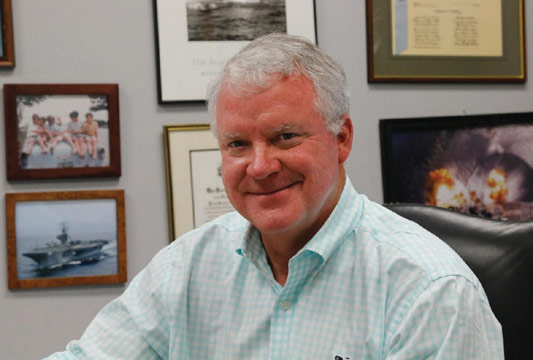 Protecting Charleston area residents' most valuable financial investment, their homes, has been a longtime business interest of Henry Hay, owner of The Muhler Company, Inc. Muhler, established in 1992, remains one of the Lowcountry's leading providers of windows, doors, shutters, storm protection and sunrooms.
Hay and his staff have developed groundbreaking proprietary products to safeguard a home's windows and doors during the worst storms — hurricanes. We all hope a big blow doesn't roll into the Lowcountry, but, if it does, Muhler has a way to keep you and your property safe and secure.
Here are some of the company's leading products:
Storm Fabric hurricane panels are fast and easy for installation by the homeowner and are code compliant. Storm Fabric panels are lightweight and snap in to Storm Trim anchors to hold firmly until screws are installed. The snap-in feature adds a level of safety to installing panels while on a ladder, allowing two hands to secure a panel before using the screw gun. Storm Fabric panels are convenient to store and can be rolled up, laid flat or hung due to the flexibility of the fabric. They are a highly effective alternative to plywood, aluminum or steel hurricane panels.
Storm Stud has been on the market several years and offers built-in hurricane protection. Storm Stud incorporates rated hurricane panels that attach directly to fasteners built into the window frame. Built-in Storm Stud eliminates more expensive and unsightly after-market hurricane anchors.
Storm Trim was developed and patented for Muhler and is a revolutionary code-compliant and economical
Storm Jamb, a patented window product developed for Muhler where the actual anchor points are extruded into the window frame, is the next evolution in storm protection. The attachment points on Storm Jamb are in the window frame when manufactured and ready for hurricane panels to be installed. Look for Storm Jamb windows in the third quarter of 2019.
In addition to its offerings of windows and doors with patented methods of attaching hurricane panels, Muhler also supplies windows and doors with hurricanerated impact glass — meaning hurricane protection is always in place.
So regardless of your home setup, budget or level of experience with installation, let Muhler help prepare your home for storm season.
The Muhler Company is located at 630 Skylark Drive, Suite U, Charleston. Call 843-572-9727 or visit muhler.com for more information.
By John Torsiello