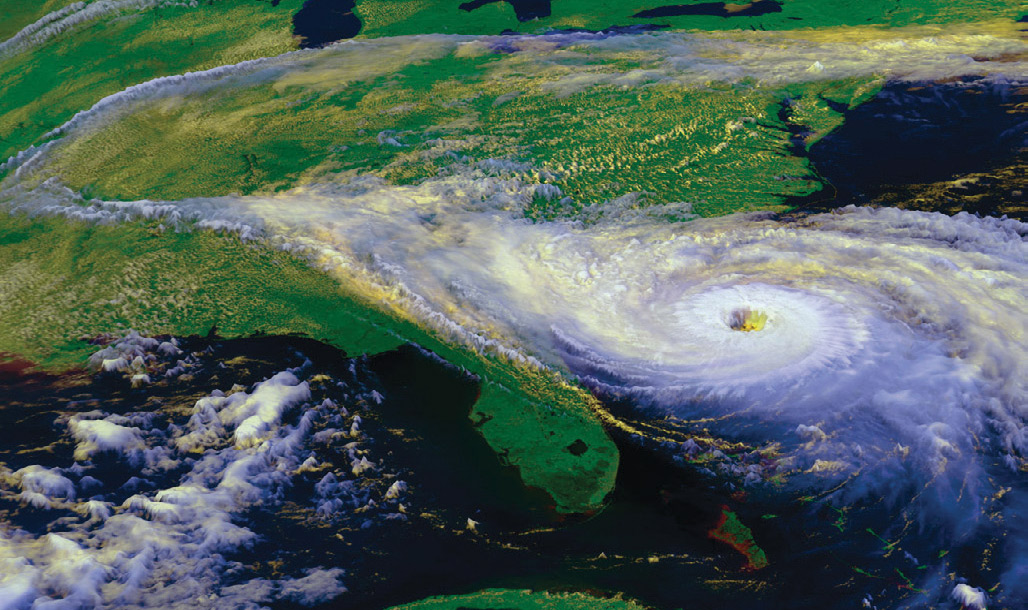 Late evening on September 21, 1989, a powerful Category 4 storm dubbed Hurricane Hugo raged ashore, bringing 135 mph winds, torrential rainfall and a towering tidal surge that flooded homes and businesses, washed out roads and bridges, reduced homes to rubble, toppled mighty oaks and snapped pines like twigs.
Isle of Palms Fire Department Chief Ann Graham was serving as fire captain during Hugo. She recalls that the fire department had relocated to Moultrie Middle School to establish a command post after securing the island and before it was too dangerous to drive.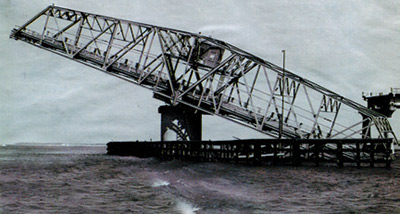 "I remember us huddling around a walkie-talkie in the dark while an Isle of Palms police officer gave descriptive information over the air from the island," recollected Graham. "I remember him saying the roof was coming off and the windows were getting blown out, and a gas-station canopy blew across the road as they were evacuating the island. We did not think they were going to survive. We prayed for their safety."
They would later learn that the police escaped the island just seconds before the Ben Sawyer Bridge went out. Graham recounted the ghastly aftermath upon returning to the island: "I was on the first boat back to Isle of Palms at daybreak. I was shocked to see refrigerators sticking out of windows in homes along the Intracoastal Waterway. As we approached the Ben Sawyer Bridge, it became very obvious it was going to be bad. The bridge looked like a super slide sticking out of the water. We arrived at the marina and found most of the boats and docks on the opposite side of the waterway. Power lines were wrapped in downed trees. Propane tanks littered the island. There was no drinking water. There were several flooded streets polluted with sewage. Several roads had collapsed, including Breach Inlet Bridge. Vehicles and boats were flipped over. Most of the structures had moderate to severe damage — many were gone — and there was no sign of life, except snakes."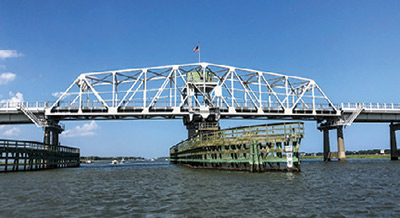 To put it succinctly, the islands and a lot of the Lowcountry post-Hugo resembled a war zone. Graham's own property was destroyed by Hugo. She just didn't know it yet. "I remember Chief Stith (Sullivan's Island fire chief ) calling me on the radio saying, 'Annie, if you ever want to see your house again, you better get over here. They are going to bulldoze it.' As I walked through the house, I picked up a ceramic boot, helmet and fire hydrant from the floor. These are my only personal belongings to survive the storm. I still cherish the ceramic items to this day, as they were given to me by a close friend."
It's not a matter of if, but only when, another major hurricane makes a direct hit on the Lowcountry. While we cannot control a storm's path, we can derive a plan to prepare for it.
Town of Mount Pleasant Emergency Manager Amanda Knight said that hurricane preparedness changed after Hugo and continues to evolve as the field of emergency preparedness grows and strengthens our resiliency.
"We have access to better forecasting and modeling of tropical weather. This has given us more accurate landfall predictions and more time to prepare," explained Knight.

Charleston County Emergency Management Director Jason Patno noted that the National Hurricane Center has made technological advances to more accurately predict storms, although there is still no way to precisely project where a storm makes landfall.
Preparedness has also improved since Hugo with respect to streamlining evacuation. After Hurricane Floyd in 1999, a plan was developed for lane reversal on I-26 that has been successfully implemented during Hurricanes Matthew and Florence, thanks to a partnership among local, state and federal entities.
Isle of Palms Mayor and island native Jimmy Carroll lost everything to Hugo. Both his home and business were largely destroyed, but he considers himself one of the lucky ones because he had insurance. And while tourism began to slowly rebound after two years, the island took five years to fully recover, recounted Carroll.
Carroll also added that, as bad as Hugo was, the islands were fortunate to have missed the worst of the storm surge — only getting hit with 12 feet compared to the 20 feet in McClellanville. Carroll further stated his concern that nonevents such as Hurricane Florence that skirted Charleston cause people to drop their guard and think, "We lived through a hurricane, so we don't need to leave."
Echoing this sentiment, Sullivan's Island Town Administrator Andy Benke admitted that, up until 1989, he had acquired a false sense of security when it came to hurricanes because previous storms he had seen threaten the islands before Hugo were nonevents. "I felt that storms either were not anything like the media reported, or they always made landfall somewhere else," reflected Benke, who has worked for the Town since 2003.
Benke continued, "The devastation when the sun rose Friday morning after Hugo is like nothing I could have ever imagined. The first few days after impact were the most difficult. The island faced additional challenges because the only access was by boat, and the Town Hall had been flooded out. Residents were anxious to attend to their damaged property; however, staff needed to be sure it was safe to return."
PREPAREDNESS IS KEY
An array of emergency-preparedness tools is available to aid in planning. The Town of Mount Pleasant partners with the South Carolina Emergency Management Division to provide a hurricane-preparedness guide (https://scemd.org/stay-informed/publications/hurricane-guide/) containing essential information for residents, businesses and visitors. Additionally, the Town communicates emergency-preparedness steps to residents via its notification system at tompsc.com, as does Charleston County, which has its Citizens Alert Notification System you can register for at charlestoncounty.org. Or you can follow their respective social media accounts for real-time information before, during and after an emergency. Another resource is the Charleston County Emergency Management Department mobile app, which you can search as "CCEMD." Residents of the islands can monitor their respective city websites during a storm emergency in addition to the information available through Charleston County.
Patno recommended that the public utilize the hurricane guide, which is available at charlestoncounty.org, to identify the different pick-up points where public buses will transport them to the nearest available shelter during a storm. One critical emergency-planning adjustment made after Hugo is that hurricane shelters are no longer located in areas that would be vulnerable to a storm surge. All shelters are now located in the northern end of the county, explained Patno. This was a difficult lesson learned during Hugo when Lincoln High School's cafeteria was used for a shelter and sustained severe flooding during the height of the storm surge, endangering the lives of its occupants.
Whether you live alone or with others, Patno advised preparing a disaster plan so that you know where you would go and what you would take with you in the event of a hurricane. "Our message is always to evacuate if you live in an area (forecasted to be) affected by a hurricane," Patno said.
HURRICANE COORDINATION AND EVACUATION PLANNING
Although we dodged a bullet with Florence, Patno cautioned that you "can't let complacency set in because each year is different." He said emergency teams have learned a lot from the floods in 2015, Matthew in 2016, Irma in 2017, as well as Florence last year — and continue to refine the emergency-planning process. Charleston County tests their emergency-operations plan annually in June. The Town of Mount Pleasant and sister municipalities also participate in this full-scale hurricane exercise.
When assessing the potential for a hurricane to impact this area, the Town of Mount Pleasant collaborates with local and state partners and begins preparedness activities well in advance, according to Knight. When anticipating a hurricane, constant attention is paid to the National Weather Service-Charleston, the National Hurricane Center and emergency-preparedness leaders for decision-making. As the hurricane threat increases, the Town of Mount Pleasant Emergency Operations Center will activate and focus activities on preservation of life, property and the environment.
Patno stated emergency-management leaders and elected officials meet as a tri-county region when making evacuation recommendations to the governor. The governor takes these requests into consideration and issues an evacuation decision.
Carroll advised residents that when an evacuation is ordered, "Don't wait until the last minute to evacuate and pack your valuables."
Graham added, "Please do not put the emergency responders' lives at risk by failing to evacuate. Do not count on anyone to help you if you decide not to evacuate."
When the next big storm comes, heed this firsthand knowledge from Graham: "Never underestimate the power of Mother Nature. … Have a plan before you need it, maintain your plan and let someone know your plan to keep them from worrying. You need to be self-sufficient for at least a week."
By Colin McCandless