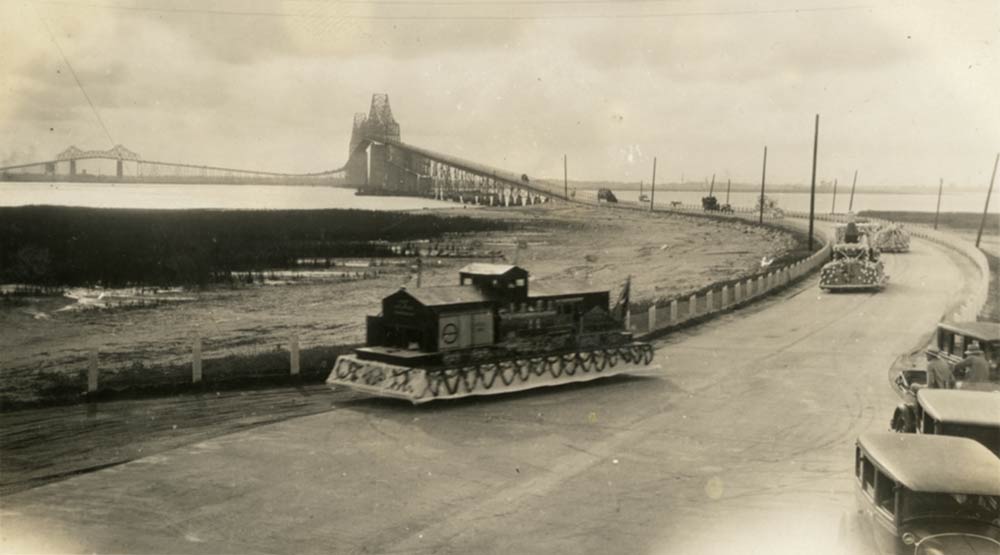 The Roaring '20s. The phrase suggests flappers, frolic and frivolity. But, the prosperity that much of the country experienced was not replicated here. Most local residents struggled in a stagnant economy. Droves of men left to find work in cities up North.
Tourism became the hope for economic growth. In 1923, Charleston's Mayor Thomas Stoney dubbed Charleston "America's Most Historic City" and promised that tourism would be a top priority. The News and Courier printed a highway map from the Northeast to Charleston and distributed it nationwide. Historical markers were placed along the route. Paved roads and electric street lighting enlivened the old city's worn and dusty appearance. By the end of the decade, tourism had become the area's largest industry, yielding $4 million in 1929.
Many wealthy Northerners purchased Lowcountry plantations as winter retreats. Notables such as John D. Rockefeller, Jr., Solomon Guggenheim, Henry Luce and A. Felix Dupont became known as "the Wall Street Planters."
In 1928, the Osgood family moved from Massachusetts and bought a home near Alhambra Hall. There, they created a public garden with thousands of camellias and azaleas. A 200-foot walkway framed the water's edge, complete with a huge anchor and chain. They called their mini paradise "Pierates Cruze Gardens," a reference to "pirate's pie," a breakfast dish from their native New England.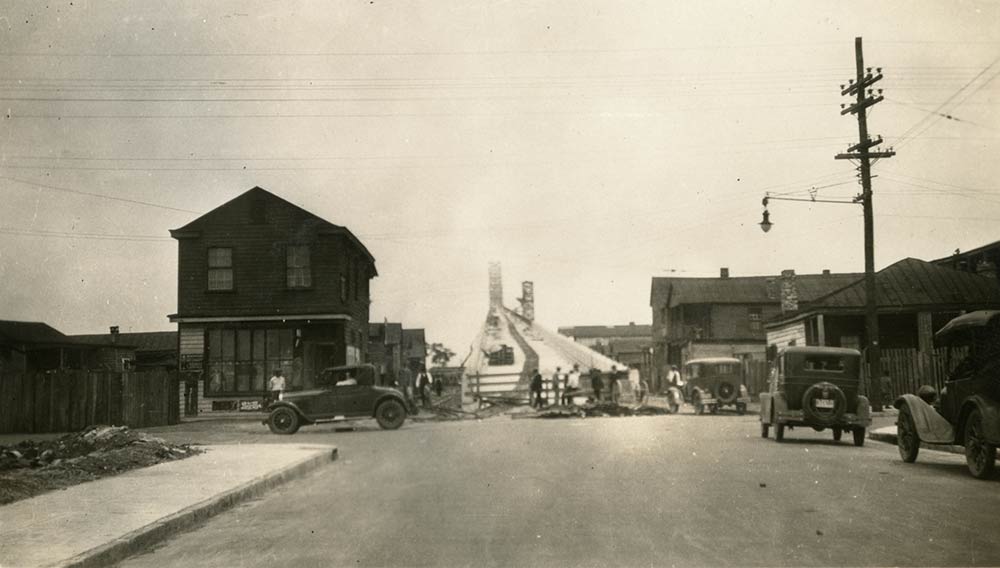 For most local folks, the decade was still a struggle – as it had been since the end of the Civil War. "Nobody had anything, but they didn't know there was anything else," recalled Inez Spalviero Cox. The late Martha Gaillard remembered her childhood picking vegetables and pecans on Boone Hall Plantation, earning a penny per pound. She went to school only from January through April. Black children attended Laing school on the corner of King and Whilden Streets in the Old Village. The old school's bell stands in front of the Miriam Brown Community Center.
White children attended Mount Pleasant Academy, a few blocks away on the corner of Pitt and Venning, and took a ferry downtown to Memminger High or Charleston High. The ferry from Hibben Street was the only way to get there.
Prohibition was barely enforced. There were very few speakeasies; instead, mom-and-pop groceries were gathering places that openly served alcohol. "If they had moonshine, they had customers!" recollected one old-timer. Many people also made their own wine and homebrew. Slot machines and lotteries were widespread.
The 1920s brought radio into homes, but locals also experienced the Jazz Age through live entertainment. While black residents had limited options until a dance pavilion opened at Riverside Beach (Remley's Point) in 1930, some white residents headed across the Pitt Street Bridge via trolley to dances at the Atlantic Beach Hotel on Sullivan's Island. The Isle of Palms was billed as the "Coney Island of the South," with its 50-room Seashore Hotel, dance pavilion and amusement rides – including a 186-foot Ferris wheel and carousel.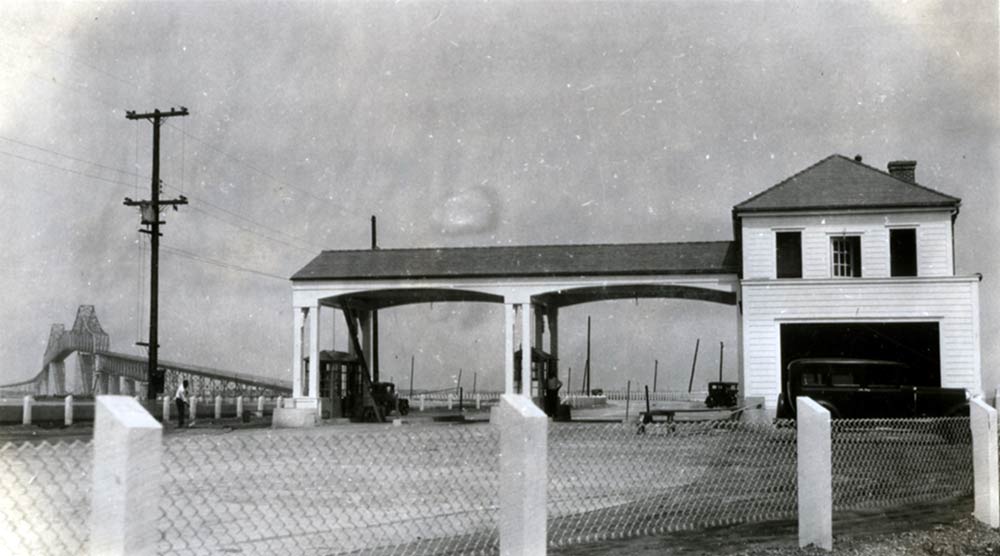 Lacy Miller of "The Gracie and Lacy Show" said that there were dance pavilions in Mount Pleasant, too. One was Alhambra Hall, and the owners even provided a ferry to transport folks from the city.
According to jazz historian Ben Franklin of the University of South Carolina, there was a racial divide in the Jazz Age. Besides the segregated venues, the musical style of blacks and whites was quite different. White jazz was ragtime, dance music, later evolving into the big band sound; black jazz was blues.
Local musicians often moved to the national stage. One of them was Charlestonian Fud Livingston, great-uncle of Charleston's current mayor, John Tecklenburg, who explained Livingston's distinction was his ability as a composer and arranger. Some historians even put him on par with Duke Ellington. His most famous work, "I'm Through with Love," has been recorded by many artists through the years.
Charleston's Jenkins Orphanage Band also contributed significantly to the music scene. With their frequent street performances, Franklin described the band as more like a marching band than jazz. Nonetheless, a number of the kids later played with the Duke and Count Basie. Contrary to local legend, the young musicians didn't devise the dance, the Charleston; that was conceived by Lowcountry native Charleston Brown, who performed a Geechie dance on street corners in New York City. James P. Johnson wrote a song to accompany it for the Broadway hit "Runnin' Wild" in 1923, perhaps after seeing Brown there.
In the 1920s, Mount Pleasant was mostly rural. Laurie Bonneau said her family, the Robinsons and Wilsons, owned land at Six Mile and delivered produce by wagon to area grocers. Another resident, Ruth Wright, explained that many East Cooper families sold their vegetables downtown at the City Market. Today, Wright sells sweetgrass baskets near the corner of Broad and Meeting Streets where, a century ago, her grandmother sold bouquets of flowers that she grew in her own yard at Six Mile. Black women also sold flowers door to door in the city's neighborhoods and are depicted in iconic paintings by Elizabeth O'Neill Verner. Other street vendors, called "hucksters," were known for the various chants they sang as they roamed the streets with their wagons of seafood, vegetables and fruit.
With the advent of tourism in the 1920s, many black women began selling sweetgrass baskets along what is now Highway 17. The coastal highway had originally been Highway 40, and U.S. 17 ran further inland through Moncks Corner. Charleston's former Mayor John P. Grace, was influential in having the highways re-routed, and a toll bridge spanning the Cooper River was built to connect automobile travelers directly with the peninsula. This new continuous route heralded a drive "all the way from Canada to Cuba." Mount Pleasant's Mayor T.G. McCants announced the bridge would "enlarge our world" and offer new opportunities for growth in his town.
A century later, the Roaring '20s have quieted and the 2020 vision sees things quite differently. From here, what will change and what will remain the same? Only time will tell.
By Mary Coy
RELATED: Mount Pleasant: The First 100 Years