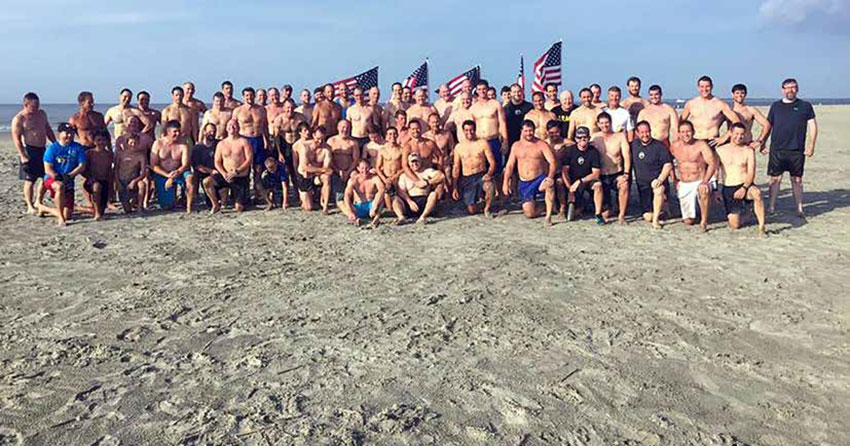 F3 Fitness groups are taking the country by sweat-inducing storm, and Charleston is not immune to the movement.
Featured in a recent issue of Men'sHealth magazine, these boot-camp style workouts are drawing men from across the country looking to improve not only their physical health but their mental well-being. F3 Fitness is a grass-roots, national network of free fitness groups offering peer-led exercises on a rotating basis. The person leading the workout on a particular day derives the exercise routine, which can include anything from pushups and sit-ups to burpees, planks and running.
F3 Fitness originated in Charlotte, North Carolina, in 2011, explained Joe Gough, who serves as a nantan, or lead communicator, for the Charleston region. F3 began with one man leading workout groups at a park on Saturdays, and the gathering quickly grew to more than 30 participants. From that initial site, F3 Fitness groups have exploded in popularity and now are scattered among 26 states, with 1,400 scheduled workouts a week.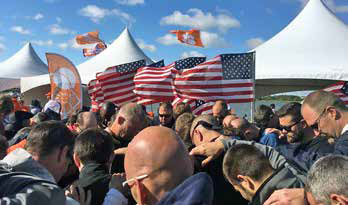 Charleston launched its first F3 Fitness group on March 16, 2013. It has since expanded to 16 sites in the area involving more than 400 men. The workouts last an hour and are always held early in the morning – at 5:30 or 6 a.m. on weekdays and between 6 and 7 a.m. on weekends.
There are five core principles to F3 Fitness: the workouts are free; they are open to any man regardless of fitness level; they are peer-led; workouts are held outside, rain or shine; and each exercise session ends with a Circle of Trust featuring announcements, a prayer or both.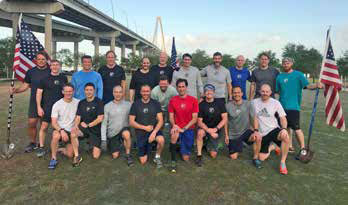 Additionally, everyone who participates in a workout gets a nickname. Gough earned his moniker, "Hotwire," because the first time he attended an F3 event, his car battery died and he needed a jump. Another member, Heath, who builds robots, is nicknamed "Rock'em Sock'em," and one of Gough's neighbors who sells lumber is called "Lumberjack."
F3 Fitness is more than working out. It's a community, and, once men take that first step to participate, they're hooked – driven by the underlying principles and camaraderie of the group. The F3 Fitness founders went so far as to write a book about the movement. "Freed to Lead" outlines the meaning of the 3 Fs: fitness, fellowship and faith.
Gough noted that the fitness aspect is what gets all the guys out there, while the glue is the fellowship – the strong bonds that develop among participants. He said, "F3 is a focus on looking beyond yourself and finding a purpose," emphasizing that the faith aspect of the group does not categorize them as a religious group. They do, however, offer a moment of prayer at the end of workouts, addressing issues or challenges any of the men may be experiencing.
The mission of F3 Fitness is to "plant, grow and serve men's small community workouts in order to invigorate male community leadership," with the goal of getting men into shape physically, then mentally.
"You start reflecting on how you can be a better part of your community," Gough said. "Looking outward … that's the faith part."
For the Charleston F3 Fitness region, faith has meant community-led activities to help important causes including volunteer efforts on behalf of Dragon Boat Charleston, Windwood Farm, the MUSC Toy Drive at Christmas and the monthly Star Gospel Mission Breakfast. Over the last couple of years, they have raised more than $12,000 annually for Dragon Boat Charleston.
While the majority of F3 Fitness events are divided among smaller groups, each quarter they host a convergence – a massive workout with nearly 100 men in attendance.
And all this fitness fun isn't just for the men: There is also a similar F3 Fitness group for women called Females in Action, with the same concept of free, peer-led workouts.
To those who might be intimidated by the phrase "boot-camp-style" workout, Gough offered some words of assurance: "We don't leave any man behind. It's no competition. Just do what you can."
Those interested in joining an F3 event should visit www.f3nation.com, find the free workout group nearest you and show up ready to break a sweat!
By Colin McCandless