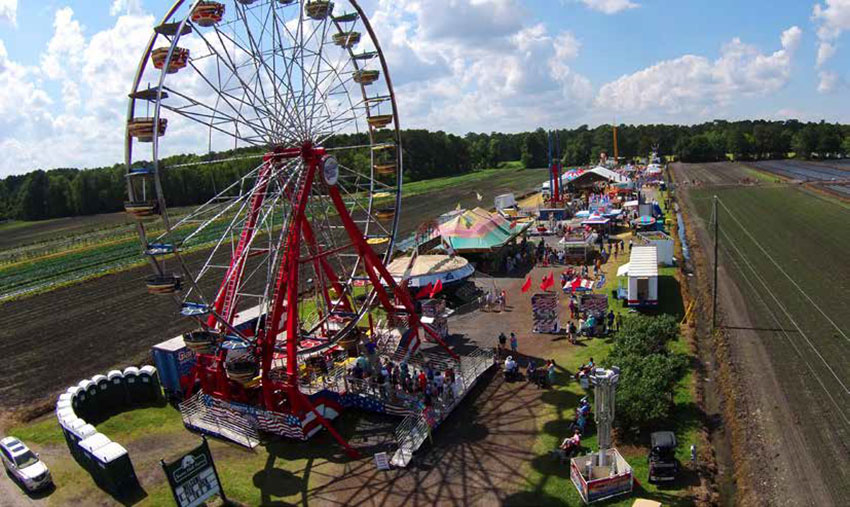 The Lowcountry Strawberry Festival at Boone Hall Plantation will attract thousands of residents, as well as countless visitors to the Charleston area. For four days, families will enjoy delectable strawberries, fun and entertainment.
"What started out as a two- to three-acre u-pick patch in 1997 has now grown into one of the largest spring festivals in the state, with acres and acres of fun for people of all ages," explained Rick Benthall, director of marketing for Boone Hall Plantation. "Despite the growth and additional attractions and activities added to the event through the years, this event has always (been), and will always be, about strawberries."
With a staff of 10, led by Boone Hall Farms Foreman Erik Hernandez, 135,000 plants were hand-planted in October.
"Last season, we introduced a new variety of strawberry plant known as Camino Real, which produced one of the best crops we have ever had. Since that species was so successful last year, we have brought the same variety back this year," said Hernandez.
The time it takes for strawberries to come to harvest creates some challenges, weather being the greatest because it can be unpredictable in the Lowcountry.
"The crop is harvested March through May if all goes well," explained Hernandez. "So the growth takes place during the changing-weather seasons, where temperatures can be mild and warm one day and very cold the next. During freezing temperatures, plastic covers are laid over the top of the plants, insulating them from the colder temps."
The care given to the strawberries is celebrated by all attendees of The Lowcountry Strawberry Festival, as are all of the attractions. The strawberry-pie-eating contests, the Miss Berry Princess Contest and the Mr. John Deere Contest have all become festival favorites.
"Family attractions, a petting zoo, pig races, acrobatic dog shows, a three-story slide tower, playground area, festival rides and, of course, plenty of strawberries are now featured on acres and acres of fun designed for people of all ages," said Benthall.
Boone Hall Plantation and The Strawberry Festival are home to the largest jump pillow in the state, and, this year, new giant inflatables will be introduced, while new thrill rides will be there for the very brave. Live music rounds out the perfect atmosphere for family entertainment.
The Lowcountry Strawberry Festival takes place April 25 through 28 at Boone Hall Plantation. Entrance to this event is located north of Long Point Road on Highway 17. Information on hours of operation (festival rides open day and night), events and attractions, as well as advanced tickets, can be purchased online at www.BooneHallPlantation.com.
By Stacy E. Domingo