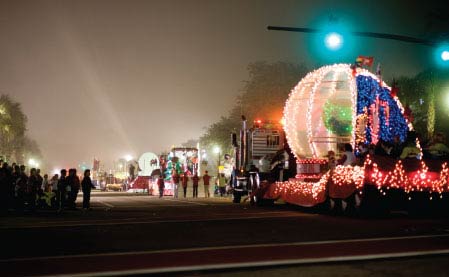 We love the Mount Pleasant Christmas parade, probably because putting together our Mount Pleasant Magazine float brings the spirit of the season to the forefront of our minds. I'm sure you've heard the saying "stop and smell the roses." Well, if you want to be immersed in the joy and excitement of the holiday season, take a break from the hustle and bustle, build a float and participate in the parade. You're sure to be among the roses of our community.
The energy and holiday spirit that surrounds the only local nighttime Christmas parade is incredible. For Mount Pleasant Magazine, it all starts with building our big red sleigh and adding some fresh paint. We top it off with plenty of lights, lots of decorations and plenty of magazines so the Mount Pleasant Magazine elves can hand out copies of our publication.
It's so much fun to stand atop our sleigh, loaded with our publishing team and lots of neighborhood kids, wishing everyone happy holidays and a prosperous New Year – and also treating the crowd to lots of Santa and holiday jokes.
It's a fun time, so save this date: Dec. 8. The Mount Pleasant Magazine family looks forward to wishing your family happy holidays as we travel down Coleman Boulevard in our big red sleigh.
… And don't forget to enter our ugly Christmas sweater contest to win a spot on our fun-filled float! Read more in the "Web Extras" section for details on how to enter.
By Bill Macchio